Entertainment,Arts,Fashion & Technology
The Cheetah Girls Outselling Rolling Stones and Barbra Streisand According To September's TicketsNow Entertainment Index
Holiday Season Upon Us With Radio City Christmas Spectacular Debut on List
Oct. 10 The Cheetah Girls, the all-girl singing group based on the popular young adult book series and Disney Channel movie, have sold more concert tickets on the secondary market than legendary musicians the Rolling Stones and Barbra Streisand, according to the TicketsNow Entertainment Index for September.

"The TicketsNow Entertainment Index is the definitive barometer for gauging the hottest trends in entertainment," said Kenneth Dotson, Chief Marketing Officer for TicketsNow. "Our September data reinforced that attending live events is frequently a family affair. Based on the number of tickets sold to The Cheetah Girls, many parents were treating their kids to what could possibly be their first concert-that's something they'll always remember."

In the latest index that was announced today, The Cheetah Girls took the number one spot on the Concert list with 12.1% of ticket sales, besting the Stones and Streisand who had 5.0% and 4.5% of concert sales, respectively. Following in fourth place was Eric Clapton with 3.9% and Roger Waters in the fifth spot with 2.9% of concert tickets sold.

In the Theater category, Wicked retained its position at number one with 32.1% of all theater tickets sold, with Jersey Boys in second place with 6.6%. In a sign that the holiday season is right around the corner, the Radio City Christmas Spectacular made its TicketsNow Entertainment Index debut at number three with 5.7% of theater ticket sales.

The New York Yankees, who had the best record in the American League this season, led the Sports list with 4.9% of ticket sales. Rounding out the top three in the category were the Dallas Cowboys with 3.7% and the Jacksonville Jaguars with 3.3%.

  Top September Events Overall   1.  Wicked                6.  Baltimore Ravens   2.  The Cheetah Girls     7.  Chicago Bears   3.  New York Yankees      8.  Rolling Stones   4.  Dallas Cowboys        9.  Seattle Seahawks   5.  Jacksonville Jaguars  10. Barbra Streisand    Top September Sports Ticket Sales   1.  New York Yankees   2.  Dallas Cowboys   3.  Jacksonville Jaguars   4.  Baltimore Ravens   5.  Chicago Bears    Top September Concert Ticket Sales   1.  The Cheetah Girls   2.  Rolling Stones   3.  Barbra Streisand   4.  Eric Clapton   5.  Roger Waters    Top September Theater Sales   1.  Wicked   2.  Jersey Boys   3.  Radio City Christmas Spectacular   4.  The Lion King   5.  Monty Python's Spamalot    About the TicketsNow Entertainment Index 
The TicketsNow Entertainment Index tracks proprietary secondary ticket sales on a monthly basis to provide a snapshot of entertainment trends for sports, music, and theater events nationwide.

About TicketsNow

Established in 1999, TicketsNow is the world's largest and most trusted marketplace for premium event tickets. More than 90% of all professional ticket agencies that list, buy, and sell secondary event tickets online utilize software developed by TicketsNow-creating the most comprehensive database of secondary event tickets in the world. Named in 2006 to the Inc. 500 index of the fastest-growing privately held companies in the U.S.-the second time in three years the company has been so honored-TicketsNow is a premium ticket provider for USA TODAY, Fandango, and AOL; an official sponsor of the Baltimore Ravens and Jacksonville Jaguars; an official sponsor of University of Louisville Athletics, Arizona State University Athletics, Texas Christian University Athletics, University of Cincinnati Athletics, and a corporate partner of Princeton University Athletics; a member of the Better Business Bureau; and a founding member of the NATB, which promotes the highest level of ethics in the secondary ticketing marketplace. For more information, visit www.TicketsNow.com.
Oprah Winfrey, Kimberly Elise, Angela Bassett and Ruby Dee Tapped to Present Honors at Film Life's 2006 BLACK MOVIE AWARDS - A Celebration of Black Cinema: Past, Present & Future, Premiering Wednesday, Oct. 18, on TNT
Tyler Perry Hosting Show, Executive-Produced by Suzanne de Passe and Jeff Friday
, Oct. 10 Oprah Winfrey, Kimberly Elise, Angela Bassett and Ruby Dee will be presenters at Film Life's 2006 BLACK MOVIE AWARDS - A Celebration of Black Cinema: Past, Present and Future, airing Wednesday, Oct. 18, at 10 p.m. (ET/PT), exclusively on Turner Network Television (TNT). The gala awards show, hosted by Tyler Perry, recognizes creative achievement by persons of African descent in feature-length motion pictures, both in front of and behind the camera, and honors outstanding films portraying the Black experience. It is being executive produced by Suzanne de Passe, CEO of de Passe Entertainment and Jeff Friday, CEO of Film Life, Inc. Returning for the second year are Suzanne Coston serving as producer, Ron De Moraes directing and Ruth Adkins Robinson segment producer and writer.

Winfrey will present the Distinguished Career Achievement Award to acclaimed actress Cicely Tyson, recognizing a career that includes such projects as The Autobiography of Miss Jane Pittman, Roots and Madea's Family Reunion, as well as Sounder, for which she earned an Oscar(R) nomination.

Elise will also pay tribute to Tyson. At the 2005 Black Movie Awards, Tyson presented Elise with the Rising Star Award. Tyson and Elise co-starred in the film Diary of a Mad Black Woman.

Dee will present the Ossie Davis Humanitarian Award to Spike Lee, recognizing among other things his work bringing to light the tragedy of Hurricane Katrina through his HBO documentary When the Levees Broke: A Requiem in Four Acts. Dee and her late husband, Ossie Davis, co-starred in such Lee films as Do the Right Thing and Jungle Fever.

Bassett will present her What's Love Got To Do With It? and Akeelah & the Bee co-star Laurence Fishburne with Excellence in Arts Award. Fishburne and Bassett are also nominees this year for their work in Akeelah & the Bee.

This marks the second year for the BLACK MOVIE AWARDS on TNT. Top award nominees for 2006 include Akeelah & the Bee and ATL, each of which earned four nominations, including Outstanding Motion Picture, and Inside Man, Madea's Family Reunion, Something New and Waist Deep, each of which earned three nominations.

Tyler Perry's movie Madea's Family Reunion, is a triple-nominee, for Outstanding Achievement in Screenwriting (Tyler Perry), Outstanding Performance by an Actress in a Supporting Role (Lynn Whitfield) and Outstanding Motion Picture. Other Outstanding Motion Picture nominees include Akeelah & the Bee, ATL, Four Brothers, Inside Man and Tsotsi.

Nominees for Outstanding Performance by an Actor in a Leading Role include Presley Chweneyagae (Tsotsi), Chiwetel Ejiofor (Kinky Boots), Tyrese Gibson (Waist Deep), Cuba Gooding Jr. (Shadowboxer) and Denzel Washington (Inside Man). Outstanding Performance by an Actress in a Leading Role nominees include Halle Berry (X-Men: The Last Stand), Meagan Good (Waist Deep), Sanaa Lathan (Something New), Queen Latifah (Last Holiday) and Keke Palmer (Akeelah & the Bee).

The 2006 BLACK MOVIE AWARDS will be taped at the Wiltern Theatre in Los Angeles on Sunday, Oct. 15. A prominent committee of film critics, entertainment editors and prestigious members of the artistic community choose nominees and recipients of the awards from a list of eligible films released in the U.S. between Aug. 1, 2005, and July 31, 2006. Jeff Friday, creator of the BLACK MOVIE AWARDS and the American Black Film Festival (www.blackmovieawards.com), has made a name in the film industry by providing opportunities for independent Black filmmakers to showcase their work to an ever-broadening audience through the American Black Film Festival (ABFF). Since its inception, the ABFF has explored, rewarded and redefined artistic excellence in international Black cinema. It has grown to be recognized as the #1 film market for Black and urban content. In addition to its film showcases, the ABFF is committed to nurturing artists in a variety of disciplines and offers educational workshops and seminars for actors, filmmakers and writers throughout the week.

The ABFF, founded in 1997, is a property of Film Life, Inc., a New York- based marketing, media and production company. Its mission is to spearhead the global distribution of quality Black films and be the leading American brand producing Black movies and related entertainment content.

Back for the second year, Oscar(R) nominee Suzanne de Passe will again serve as Executive Producer and Writer. Her long list of award-winning, high- profile shows and specials includes the Emmy(R)-winning Motown 25: Yesterday, Today, Forever and Motown Returns to the Apollo. Additionally, she executive- produced The Essence Awards in 2002 and 2003, as well as the annual NAACP Image Awards over a three-year period, concluding in 2003. She has also executive-produced such memorable television miniseries as Lonesome Dove, The Jacksons: An American Dream, Buffalo Girls, Small Sacrifices and The Temptations. Her Academy Award(R) nomination came for co-writing the screenplay for Lady Sings the Blues.

Turner Network Television (TNT), a division of Turner Broadcasting System, Inc., is television's destination for drama and one of cable's top-rated networks. It offers original movies and series, including the blockbuster detective series The Closer, starring Emmy(R), Golden Globe(R) and Screen Actors Guild Awards(R) nominee Kyra Sedgwick, and this summer's four-week television event Nightmares & Dreamscapes: From the Stories of Stephen King. TNT is also home to powerful one-hour dramas, such as Without a Trace, Law & Order, Las Vegas, Cold Case, ER, Charmed and Judging Amy; broadcast premiere movies; compelling prime-time specials, such as the Screen Actors Guild Awards(R); and championship sports coverage, including NASCAR and the NBA. TNT is also available in high-definition.

Turner Broadcasting System, Inc., a Time Warner company, is a major producer of news and entertainment product around the world and a leading provider of programming for the television industry.

Source: Turner Network Television
Mickey, Magic & Motivation!
                      Conjuring Up Fun & Inspiration    WHO:     Disney Live! illusionists Brad Ross and Alex Gonzalez and            children from the James Jordan Boys & Girls Club ...    WHAT:    will step inside a magical workshop where kids become magicians-            in-training.  The children not only will learn fun magic tricks            to impress their families and friends, but also be inspired to            find "the magic inside" - learning that anything is possible if            they just believe in themselves!             The motivational magic lesson will be followed with a special            appearance by the master magician himself - Mickey Mouse.    WHEN:    3:00 - 3:30pm    Wednesday, October 11, 2006    WHERE:   James Jordan Boys & Girls Club            2102 W. Monroe St., Chicago    NOTE:    Disney Live! presents Mickey's Magic Show, an all-new touring            stage production that combines favorite Disney characters and            world-class illusions, will appear Oct. 12-15 at the Rosemont            Theatre and Nov. 3-5 at the Star Plaza Theatre in            Merrillville, Ind.             Children at the James Jordan Boys & Girls Club are just a few of            the thousands of children in the Chicago area and across the            country that will benefit from a literacy program initiated by            Disney Live!, in partnership with First Book.  Through the            program, "Making Books Appear Wherever We Go," Disney Live! will            donate more than $40,000 to fund thousands of new books for            underserved children over the course of the tour. 
Ad-supported video model provides Warner Music Group with content
monetization opportunities and unmatched distribution in the online
world

Google developing technology to enable user-generated content

Oct. 9, 2006 - Warner
Music Group Corp. (NYSE: WMG) and Google (NASDAQ: GOOG) today announced
a strategic business relationship designed to give Google users the
ability to stream on-demand WMG's extensive music video collection
for free, through an ad-supported revenue sharing agreement, or to
purchase videos online for download. Starting this month, users in the
U.S. can watch any of the thousands of music videos, artist interviews,
"behind-the-scenes" footage and other artist-related content from
WMG on Google Video. In the coming months, users can also access
audio-visual content from WMG through Google's partner websites in
its AdSense network. In addition, Google will develop technology that,
when implemented, will enable users to include certain content from
companies such as Warner Music Group in the videos they create and
upload to Google Video.

"Our partnership with Google is rooted in the pioneering approach we've
used to offer fans more music, while benefiting artists and protecting
copyrights," said Alex Zubillaga, Warner Music Group's Executive Vice
President, Digital Strategy and Business Development. "Viewing the
online world as a significant opportunity, we are transforming Warner
Music from a traditional 'songs-and-records' company into one that
delivers rich music-based content on multiple platforms, in a variety
of ways. We are proud to partner with an online innovator like Google
to further our efforts in this space and we are gratified to see that
other major music and technology companies are beginning to embrace
these new models as well."

"In support of our mission to organize the world's information and
make it universally accessible and useful, we're excited to organize
and make available to Google Video users the music video library of
Warner Music Group," said David Eun, Google's vice president of
content partnerships. "This agreement also allows us to realize a
threefold goal of meeting online user demand, providing advertisers
with a new way to communicate with their customers, and giving content
holders a way to monetize their content; we achieve this by combining
Google's network of hundreds of thousands of advertisers,
unparalleled distribution via our publisher network and high quality
content like Warner Music Group's music-video library. At the same
time, this agreement is a highly visible platform to highlight our
continued commitment to protecting copyrights."

Monetizing through Ad-Supported Content
WMG will be able to monetize its music video content online by
leveraging Google's extensive advertiser network of hundreds of
thousands of advertisers. WMG's music video catalog will be
sponsored by Google advertisers, making it free to all users. The
resulting generated advertising revenue will be shared by WMG and
Google. Besides providing ad-supported content on Google Video, select
WMG's music videos will immediately be available for purchase as
downloads on Google Video for $1.99.

Unmatched Distribution through AdSense Partner Sites
In the coming months, WMG will also work with Google to distribute its
substantial video collection to websites around the world via Google's
extensive AdSense publisher network, making it even easier for users to
access free premium content while surfing the Web. Web publishers will
be able to easily display videos that match the tone of their sites
adding value to their online content and creating a new way to earn
revenue from their sites. For example, a fan site devoted to a
particular WMG artist can run ad-supported music videos from that
artist. Each time a user is interested in the accompanying ad and
clicks on the link, the Web publisher, WMG and Google will share in the
resulting revenue.

Facilitating User-Generated Content
WMG and Google are working together to allow users access to music from
WMG's recorded music library for use in their creative user-generated
productions. Once Google's technology is implemented, content
companies such as Warner Music Group will have the opportunity to
monetize the use of music in user-generated content, or if they choose,
have the content removed from the platform.

About Warner Music Group
Warner Music Group (NYSE: WMG) became the only stand-alone music
company to be publicly traded in the United States in May 2005. With
its broad roster of new stars and legendary artists, Warner Music Group
is home to a collection of the best-known record labels in the music
industry including Atlantic, Bad Boy, Elektra, Lava, Maverick,
Nonesuch, Reprise, Rhino, Rykodisc, Sire, Warner Bros. and Word.
Warner Music International, a leading company in national and
international repertoire operates through numerous international
affiliates and licensees in more than 50 countries. Warner Music Group
also includes Warner/Chappell Music, one of the world's leading music
publishers. For more information, visit www.wmg.com.

About Google Inc.
Google's innovative search technologies connect millions of people
around the world with information every day. Founded in 1998 by
Stanford Ph.D. students Larry Page and Sergey Brin, Google today is a
top web property in all major global markets. Google's targeted
advertising program provides businesses of all sizes with measurable
results, while enhancing the overall web experience for users. Google
is headquartered in Silicon Valley with offices throughout the
Americas, Europe, and Asia. For more information, visit www.google.com.


Ad-supported video models give users unparalleled access to SONY BMG
MUSIC ENTERTAINMENT's content online and creates new monetization
opportunities


Oct. 9, 2006 - SONY BMG
MUSIC ENTERTAINMENT and Google (NASDAQ: GOOG) today announced a
strategic business relationship designed to make the music company's
expansive music video collection available for online streaming at no
cost to users. Starting this month, users can watch thousands of
videos from SONY BMG MUSIC ENTERTAINMENT on Google Video. In the coming
months, users will also be able to access content from SONY BMG MUSIC
ENTERTAINMENT artists through Google's partner websites in its
AdSense network.

SONY BMG MUSIC ENTERTAINMENT, Google and web publishers will now be
able to monetize professional video content while respecting copyrights
through these video distribution models.

"Google is a defining force in the ongoing development of the Internet,
and we're extremely pleased to be expanding our video relationship with
them," commented Thomas Hesse, President, Global Digital Business, SONY
BMG MUSIC ENTERTAINMENT. "We see this agreement as an important part
of our overall strategy to innovate, find new ways for our artists to
connect with their fans, and develop new revenue streams. We look
forward to working closely with Google as we roll out this ambitious
new effort."

"Continuing to give users access to premium online content is a key
strategic focus for Google," said David Eun, Google's vice
president of content partnerships. "By combining our network of
hundreds of thousands of advertisers, unequaled distribution via our
publisher network and high quality content like SONY BMG MUSIC
ENTERTAINMENT's music video library we can meet online user demand,
provide advertisers a new way to communicate with their customers and
give content holders a way to monetize their content while respecting
important copyrights."

Monetizing through Ad-Supported Content
SONY BMG MUSIC ENTERTAINMENT will be able to monetize its music video
content online by leveraging Google's extensive advertiser network of
hundreds of thousands of advertisers. SONY BMG MUSIC ENTERTAINMENT's
expansive music video catalog will be sponsored by Google advertisers
making it free to all users. The advertising revenue generated will be
shared by SONY BMG MUSIC ENTERTAINMENT and Google.

Unmatched Distribution through AdSense Partner Sites
In the coming months, SONY BMG MUSIC ENTERTAINMENT will also work with
Google to distribute select videos from its vast archives to websites
around the world via Google's extensive AdSense publisher network,
making it even easier for music fans to access streaming premium
content while surfing the Web, all at no cost to the user. Web
publishers will be able to easily display videos that match the tone of
their sites adding value to their online content and creating a new way
to earn revenue from their sites. For example, a fan site devoted to a
particular artist can run ad-supported music videos from that artist.
Each time a user is interested in the accompanying ad and clicks on the
video, the web publisher, SONY BMG MUSIC ENTERTAINMENT, and Google
accrue revenue.

Facilitating User-Generated Content
SONY BMG MUSIC ENTERTAINMENT and Google will also work together to
create a groundbreaking new service that will allow music fans to
access user-created music video content featuring certain material from
SONY BMG MUSIC ENTERTAINMENT's library of recorded music, while at
the same time respecting the rights of artists and copyright holders.

About SONY BMG MUSIC ENTERTAINMENT
SONY BMG MUSIC ENTERTAINMENT is a global recorded music joint venture
with a roster of current artists that includes a broad array of both
local artists and international superstars, as well as a vast catalog
that comprises some of the most important recordings in history. SONY
BMG MUSIC ENTERTAINMENT is 50% owned by Bertelsmann A.G. and 50% owned
by Sony Corporation of America.

About Google Inc.
Google's innovative search technologies connect millions of people
around the world with information every day. Founded in 1998 by
Stanford Ph.D. students Larry Page and Sergey Brin, Google today is a
top web property in all major global markets. Google's targeted
advertising program provides businesses of all sizes with measurable
results, while enhancing the overall web experience for users. Google
is headquartered in Silicon Valley with offices throughout the
Americas, Europe, and Asia. For more information, visit www.google.com.
CBS AND YOUTUBE STRIKE STRATEGIC CONTENT AND ADVERTISING PARTNERSHIP
CBS to Distribute Daily Sports, News and Entertainment Programming through

New Brand Channel

First TV Network to Test YouTube Content Identification Architecture To Connect and Engage with Viewers

October 09, 2006 – YouTube, Inc. and CBS Corporation (NYSE: CBS.A and CBS) have struck a strategic content and advertising partnership announced today by Leslie Moonves, President and CEO of CBS Corporation and Chad Hurley, CEO and Co-Founder of YouTube. The deal calls for the CBS Television Network, its premium television service provider, Showtime Networks Inc., as well as its basic cable/digital media service, CSTV Networks, Inc., to offer the YouTube community a wide variety of short-form video programming from its news, sports and entertainment divisions on a daily basis beginning this month. YouTube and CBS will share revenue from advertising sponsorships of CBS Videos.

In addition, CBS is the first TV network to test YouTube's new advanced content identification architecture and reporting system which will allow CBS to protect its intellectual property by identifying and locating copyrighted CBS content on YouTube. CBS will then have the opportunity to either remove it from the site or, at CBS's sole discretion, allow it to remain. If CBS allows the content to remain on the site, CBS will share in any revenue from advertising placed adjacent to the content.

"We're pleased to be the first network to strike a major content deal with what is clearly one of the fastest growing new media platforms out there," said Moonves. "This strategic partnership is a unique development in CBS's continuing initiative to monetize our industry-leading content across new distribution platforms. We're now able to offer select entertainment, news and sports programming to a new significant audience, get paid for it, and learn a few things along the way."

"We're excited to partner with CBS to bring their high-quality, entertaining content to our users. As the first major network to offer a daily delivery of informative and entertaining video clips, CBS will have the opportunity to reach YouTube's far-reaching and diverse community in a unique and powerful way," said Hurley. "Today's agreement demonstrates that YouTube has become a revenue-generating distribution channel for major networks and other media companies. By partnering with YouTube, media companies can now have a two-way dialogue with viewers who can provide feedback about what they find entertaining."

Under this agreement, CBS will also be providing the YouTube community with video content from CSTV. College sports fans can watch and share some of their favorite college athletics events on YouTube. Beyond highlights and footage from CSTV's network of more than 100 broadband channels of live college sports, the college sports leader will utilize its relationship with students at hundreds of universities to enable fans to upload their own content from tailgate parties, pep rallies and other campus events.

Content on YouTube's new CBS Brand Channel will include daily contributions from:

o CBS Entertainment; including short clips from top CBS programs including "Survivor," "CSI," and "The Late Show with Dave Letterman," as well as mini-previews and footage from its new fall lineup.

o CBS News; including short videos from "CBS Evening News with Katie Couric," "The Early Show," and "60 Minutes."

o CBS Sports; including analysis of college and professional sports, as well as programming from CSTV.

o Showtime Networks, including promotional video clips from its critically acclaimed original series including "Dexter," "Brotherhood" "Sleeper Cell and "The L Word."

About YouTube Brand Channels

YouTube Brand Channels provide an enhanced environment for media companies and advertisers to showcase their video content on YouTube with a look and feel that is consistent with their brand imagery. This new concept helps brands connect and engage with consumers in a unique and powerful way, around compelling, programmable video content.
YouTube Brand Channels provide an enhanced environment for media companies and advertisers to showcase their video content on YouTube with a look and feel that is consistent with their brand imagery. This new concept helps brands connect and engage with consumers in a unique and powerful way, around compelling, programmable video content.
About CBS
CBS Corporation (NYSE: CBS.A and CBS) is a mass media company with constituent parts that reach back to the beginnings of the broadcast industry, as well as newer businesses that operate on the leading edge of the media industry. The Company, through its many and varied operations, combines broad reach with well-positioned local businesses, all of which provide it with an extensive distribution network by which it serves audiences and advertisers in all 50 states and key international markets. It has operations in virtually every field of media and entertainment, including broadcast television (CBS and The CW – a joint venture between CBS Corporation and Warner Bros. Entertainment), cable television (Showtime Networks and CSTV Networks), local television (CBS Television Stations), television production and syndication (CBS Paramount Network Television and CBS Television Distribution Group), radio (CBS Radio), advertising on out-of-home media (CBS Outdoor), publishing (Simon & Schuster), digital media (CBS Digital Media Group and CSTV Networks) and consumer products (CBS Consumer Products). For more information, log on to
www.cbscorporation.com
.
About YouTube
Founded in February 2005, YouTube is a consumer media company for people to watch and share original videos worldwide through a Web experience. YouTube allows people to easily upload and share video clips on www.YouTube.com and across the Internet through websites, blogs, and e-mail. YouTube currently delivers more than 100 million video views every day with 65,000 new videos uploaded daily and it has quickly become the leading destination on the Internet for video entertainment.
RMD Entertainment's Roc Monee's Debut Album Released Today on iTunes
-- RMD Entertainment Group (PINKSHEETS: RMDG) proudly announced today that their star artist, Roc Monee's debut album "Diamond in the Rough" has been released today on digital giant iTunes. The iTunes release followed the in store release exactly one week ago in which several key retailers sold out of the title in a short 48 hour period.
RMD's Vice President of Digital Distribution Mark Davis commented, "Working with iTunes is key to meeting our digital revenue targets for each release. It is our goal to earn revenue from online sales and ring-tones that is equal or better than the earnings from traditional compact disc format. iTunes remains the alpha male in the growing jungle pride of digital distributors. We will take great care in continuing to cultivate our retail relationship with the number one digital entertainment portal in the world. Roc's album was released today but we will continue to add additional titles to the release including exclusive remixes and are even considering giving away the 'overdrive video' to iTunes customers who purchase the entire album."
Management remained pleased with the album release thus far. Promotional appearances around the country are being secured now for Roc Monee to increase his profile and Radio promotion continues to make significant progress.
About RMD Entertainment Group
RMD Entertainment (RMD) is a cutting-edge entertainment company that is primarily focused on the development and international marketing of 'hip-hop' music, including compact discs, digital downloads, and personal 'ring-tones' for mobile phone customers, as well as other 'hip-hop' lifestyle products. The Company has also created MOTV, the ability to stream video content to mobile devices, including cell phones and PDAs. RMD has significant successes internationally and its staff producers have collaborated with some of the most influential names in the music today including Sting, David Byrne of the Talking Heads, George Kranz, Freedom Williams of C & C Music Factory, Stevie Winwood, Robin Scott, and jazz saxophone legend Bill Evans, among others. The Company currently possesses an impressive hip-hop catalogue, which it distributes exclusively through Bungalo Records and Universal Music Group (a subsidiary of Vivendi Universal) in North America and in Europe through the Pickwick Group Ltd. of London.
Forward-Looking Statements
This press release contains statements, which may constitute "forward-looking statements" within the meaning of the Securities Act of 1933 and the Securities Exchange Act of 1934, as amended by the Private Securities Litigation Reform Act of 1995. Those statements include statements regarding the intent, belief or current expectations of RMD Entertainment Group, Inc, and members of its management as well as the assumptions on which such statements are based. Prospective investors are cautioned that any such forward-looking statements are not guarantees of future performance and involve risks and uncertainties, and that actual results may differ materially from those contemplated by such forward-looking statements. The Company undertakes no obligation to update or revise forward-looking statements to reflect changed assumptions, the occurrence of unanticipated events or changes to future operating results.
ASCAP to Honor Jimmy Webb With the Voice of Music Award
Songwriter/Artist/Composer/Author to Be Sixth Honoree in ASCAP History
-- The American Society of Authors, Composers & Publishers (ASCAP) announced today that it will present multiple Grammy-winning songwriter and recording artist Jimmy Webb with the ASCAP Voice of Music Award during its 44th Annual ASCAP Country Music Awards ceremony at Nashville's legendary Ryman Auditorium. The October 23rd gala, which honors the songwriters and publishers of ASCAP's most performed country songs of the year will be followed by a party honoring the night's winners, especially Webb, whose contribution to American music, whether rock, pop, urban or country, is without compare.
"I am so proud of Jimmy Webb and am delighted to be honoring him with our Voice of Music Award," said ASCAP President and Chairman, Marilyn Bergman. "It is a pleasure to serve with him on the ASCAP Board of Directors. I've loved and admired Jimmy's songs long before I knew him and could call him 'friend.' He brings something special to everything he does."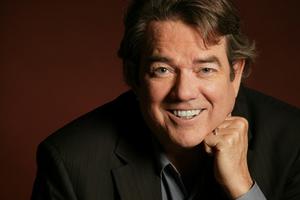 (Click here for details)

Jimmy Webb to be honored with the
ASCAP Voice of Music Award (Photo by Michael Ives)
The prestigious Voice of Music Award, presented in recognition of the artists and songwriters whose music illuminates people's lives through song, has only been given five times in ASCAP's history. Jimmy Webb joins Kenny Chesney, George Strait, Garth Brooks, Amy Grant and Diane Warren in receiving this very special recognition.
Jimmy Webb, the son of a preacher from Elk City, Oklahoma, is the only artist to receive Grammys for music, lyrics, and orchestration. He almost single handedly defined the soundtrack of later 20th century music with "By The Time I Get To Phoenix," "Wichita Lineman," "MacArthur Park," "Up, Up and Away," "Highwayman," "The Moon's A Harsh Mistress," "Galveston" and "Didn't We," and Webb provided influential songs for artists as diverse as Linda Ronstadt, r.e.m., Frank Sinatra, Urge Overkill, Rosemary Clooney, Glen Campbell and the 5th Dimension.
TIME magazine raved about the National Academy of Popular Music Songwriters Hall of Fame and the Nashville Songwriters Hall of Fame member's own recordings, "Webb's gift for strong, varied rhythms, inventive structures and rich, sometimes surprising harmonies." The Country Music Association recognized "Highwayman" as their Single of the Year from the storied quartet that took their name from the song comprised of Johnny Cash, Waylon Jennings, Kris Kristofferson and Willie Nelson. Webb's "Tunesmith: Inside the Art of Songwriting" was also hailed by Musician magazine as "the finest book about songwriting of our generation."
"Jimmy Webb exemplifies everything that this award stands for," says ASCAP Senior Vice President Connie Bradley. "He is an artist, a songwriter, an author and a man who brought music to film, television and the stage. For all his diversity, Webb has created an intimacy to his song, each allowing for reflections of individual experiences."
Jimmy Webb has recorded ten albums, spanning from 1970's critically acclaimed "Words and Music" to his more recent "Ten Easy Pieces," "Twilight of the Renegades" and "Archive & Live," in addition to a British tribute compilation "Someone Left The Cake Out In The Rain." The Oklahoma Hall of Fame inductee has toured the world to rave reviews with his cabaret style performances.
The 2006 Country Music Awards will also honor the songwriters and publishers of ASCAP's Most Performed Country Songs of the Year. Special Awards will be given to "Songwriter of the Year," "Songwriter/Artist of the Year," "Song of the Year" and "Publisher of the Year."
About ASCAP
Established in 1914, ASCAP is the first and leading U.S. Performing Rights Organization representing the world's largest repertory totaling over 8 million copyrighted musical works of every style and genre from more than 250,000 composer, lyricist and music publisher members. ASCAP also represents the repertories created by the international affiliates of 70 foreign performing rights organizations. ASCAP protects the rights of its members and foreign affiliates by licensing the public performances of their copyrighted works and distributing royalties based upon surveyed performances. ASCAP is the only American Performing Rights Organization owned and governed by its writer and publisher members. www.ascap.com
Story of the Year Announce Headlining U.S. Tour
October 09, 2006 -- Savor the explosive sounds from Story of the Year (SOTY), as they headline the "Taste the Poison Tour," which contaminates a U.S. city near you beginning October 13 in Columbia, MO. Joining SOTY on their trek across the U.S., are bands Anberlin, Greeley Estates and Monty Are I.
Expect plenty of new band merch and exciting new set props from SOTY, which add to their infamous and explosive live performance. Also among these new additions: "The Skull's [Adam Russell] hair will be a lot longer because long hair equals metal!" adds the band.
Previous releases from SOTY include 2003's "Page Avenue," 2005's "Live in the Lou/Bassassins" CD/DVD and their sophomore album, 2005's "In the Wake of Determination."
With earlier appearances on Warped Tour, the 2006 U.S. "Taste of Chaos Tour," and numerous headlining tours to their credit, SOTY will only continue to captivate you with their high-energy performances!
"If music acts could be eaten, Story of the Year would be Pop Rocks candy." -- Dallas Morning News  "To fully appreciate Story of the Year, you must attend their live show." -- Metal Edge  "The band couldn't be more different. Story of the Year played revved-up motivational anthems, made visceral with back flips off the drum risers and behind-the-head guitar soloing." -- Newsday, New York 
Now, witness SOTY for yourself!
Oct 13 2006       Blue Note                 Columbia, MO Oct 14 2006       Bogarts                   Cincinnati, OH Oct 15 2006       The Temple Club           Lansing, MI Oct 17 2006       Sonar                     Baltimore, MD Oct 18 2006       Pearl Street              Northampton, MA Oct 19 2006       Avalon Ballroom           Boston, MA Oct 20 2006       Lupo's Heartbreak Hotel   Providence, RI Oct 21 2006       Toad's Place              New Haven, CT Oct 23 2006       Theatre Of Living Arts    Philadelphia, PA Oct 24 2006       Irving Plaza              New York, NY Oct 25 2006       The Norva                 Norfolk, VA Oct 27 2006       UCF                       Orlando, FL Oct 28 2006       Revolution                Ft. Lauderdale, FL Oct 29 2006       Jannus Landing            Saint Petersburg, FL Oct 31 2006       Scout Bar                 Houston, TX Nov 1 2006        The White Rabbit          San Antonio, TX Nov 3 2006        Marquee Theatre           Tempe, AZ Nov 4 2006        House of Blues (LV)       Las Vegas, NV Nov 5 2006        Soma                      San Diego, CA Nov 7 2006        House of Blues (OC)       Anaheim, CA Nov 8 2006        Majestic Ventura Theatre  Ventura, CA Nov 9 2006        The New Oasis             Reno, NV Nov 11 2006       Avalon Theater            Salt Lake City, UT Nov 12 2006       Fox Theatre & Cafe        Boulder, CO Nov 14 2006       The Eagles Club           Milwaukee, WI Nov 15 2006       Club Oasis                Louisville, KY Nov 16 2006       House Of Blues            Chicago, IL Nov 17 2006       The Pageant               St. Louis, MO 
www.myspace.com/storyoftheyear
NBC announced the sort-of cancellation of its Wednesday night serial comedy "Kidnapped,"
which stars Jeremy Sisto. NBC gambled by putting the show in the time slot held for a long time by "Law & Order," and it failed miserably.
"Kidnapped" will be moved to the television purgatory of Saturday nights, starting October 21. Its producers have been told to wrap up the serialized drama's story lines by the end of the show's 13-episode order, NBC said.
Smith, the much-hyped CBS drama with big headliners Ray Liotta and Virginia Madsen, is the first show to be officially canceled.
The show, which aired on Tuesday nights, followed Liotta as the leader of a bunch of thieves. CBS said on Friday that the show is now off the schedule and will be replaced by reruns of CSI: Crime Scene Investigation and Criminal Minds. The word 'cancel' never was uttered, but the show's producers give no guarantee that the show will come back. The viewership was so-so, with Nielsen Media Research reporting only 8.4 million viewers. The competition was tough too—up against Law & Order: SVU and Boston Legal
Sir Elton John Among 12 Honorees to Receive Prestigious Disney Legends Award
Award Given by The Walt Disney Company to Those Who Have Made Significant Contributions to the Disney Legacy
ABC News Anchor Peter Jennings to Receive Award Posthumously
Oct. 9 The Walt Disney Company will honor legendary songwriter Sir Elton John, as well as 11 additional inductees, with the prestigious Disney Legends Award during a ceremony at The Walt Disney Company headquarters on Monday, October 9, at 4:00 p.m. Presiding over the ceremony will be Disney President and CEO Robert A. Iger, and his fellow presenters will include Dick Cook, Chairman of The Walt Disney Studios; Roy E. Disney, Disney Director Emeritus; and Marty Sklar, Executive Vice President and Walt Disney Imagineering Ambassador.

"This annual ceremony, now in its 19th year, gives all of us at Disney a moment to remember the importance of our past achievements and to recognize those who embody this company's constant focus on delivering unparalleled creativity, quality and innovation to our audiences around the world," said Iger. "As we continue the tradition this year, we also mark a special milestone as we welcome our 200th Disney Legend."

The 12 new Disney Legends include leaders in the fields of music, journalism, art, performance, engineering and business. Among them are:

  * Renowned singer and songwriter Sir Elton John;   * ABC News anchor Peter Jennings;   * Actors Tommy Kirk and Kevin Corcoran (Old Yeller, The Shaggy Dog, Swiss     Family Robinson, Mickey Mouse Club);   * Actors Tim Considine and David Stollery (The Adventures of Spin and     Marty);   * Actress Ginny Tyler (Mickey Mouse Club)   * Disney and Pixar animation story artist Joe Ranft;   * Voice actor Paul Frees (Haunted Mansion, Ludwig Von Drake);   * Disney Imagineer Don Edgren (Disneyland, Pirates of the Caribbean, Space     Mountain);   * Animation background artist Al Dempster;   * Founder of Walt Disney Records, Jimmy Johnson  
The Disney Legends Award was established in 1987 to honor the men and women who have made significant contributions to the Disney legacy. The first recipient of this prestigious distinction was actor Fred MacMurray (The Shaggy Dog, The Absent-Minded Professor, The Happiest Millionaire), and since that time 203 Disney Legends have been named, including this year's recipients. Among the past Disney Legends are Julie Andrews, Steve Martin, Dick Van Dyke, Annette Funicello, Dean Jones, Angela Lansbury, Fess Parker, Kurt Russell, Tim Allen, Hayley Mills, Phil Collins, Art Linkletter, Tim Conway, Sir Tim Rice, Howard Ashman and Alan Menken.

                           2006 DISNEY LEGENDS                                 Biographies    TIM CONSIDINE * Television & Film 
Tim Considine was born in Los Angeles in 1940 into a theatrical lineage: he is the son of British-born film producer John W. Considine and theater-chain heiress Carmen Pantages. Tim's brother John is also an actor and writer, and his uncle was King Features newspaper columnist Bob Considine.

Tim began his acting career at age 11, playing Red Skelton's son in The Clown (1953, a remake of the 1933 Wallace Beery/Jackie Cooper film The Champ), a performance Leonard Maltin called "so good he overcomes some of the hokiness of the script." This was followed by a role in Executive Suite with William Holden and June Allyson, and the Greer Garson boarding school story Her Twelve Men (1954), where he met his future co-star and friend David Stollery.

Tim played Spin Evans in "The Adventures of Spin and Marty" series on the "Mickey Mouse Club" (1955), with Stollery, followed by two "Spin and Marty" sequel serials. He remembers those days on the "Triple-R Ranch" as especially carefree. "We shot on a ranch about forty miles away from the Burbank studio. But it might as well have been a thousand. In truth, the work and play were often indistinguishable."

He went on to play Frank Hardy (opposite Tommy Kirk as Joe Hardy) in two "Hardy Boys" serials, and guest starred in the "Annette" serial, all for the "Mickey Mouse Club" TV show.

Tim had a starring role opposite Fred MacMurray in The Shaggy Dog (1959). "I've always thought that was one of the worst performances I ever gave," Tim confesses, "It was a very critical time as a teenager, and I was more interested in being a cool guy than being an actor." Tim also played James Roosevelt opposite Ralph Bellamy in Sunrise at Campobello (1960), and guest starred in the TV series "Cheyenne," "Johnny Ringo" and "The Untouchables."

In 1960 he began working a five-year stint on the classic TV comedy "My Three Sons," starring Fred MacMurray and co-starring Disney contemporary Don Grady, a former Mouseketeer. He played the role of "Mike Douglas," and eventually wrote and directed several episodes of the series.

In 1970 Tim played his most famous -- but perhaps most brief -- screen role: the bedridden soldier slapped by George C. Scott as Patton (1970).

He has made some TV guest appearances and a few films since, but for the most part has spent the ensuing decades combining his loves of writing, photography, sports, and cars.

Tim is the author of The Photographic Dictionary of Soccer (1979), The Language of Sport (1982), and American Grand Prix Racing: A Century of Drivers and Cars (1997), which was serialized in Sports Car International magazine. He occasionally substituted for William Safire in the "On Language" column in The New York Times Magazine.

Of a childhood in the public eye, Considine says, "It was generally a pretty good experience for me. What I missed, I'm sure I missed, but I'm not too unhappy about what I did. I've had the opportunity to screw up all kinds of things, and not just in that one career!"

KEVIN CORCORAN * Television & Film

One of seven children of MGM studio policeman Bill Corcoran, Kevin Corcoran was born in 1949 in Santa Monica, California, and began acting when he was two. During his onscreen career, he would come to embody an "American Everykid."

"The Mouseketeers were entertainers and role models, and Tommy Kirk and Kurt Russell were teen faves," says film writer Donald Liebenson. "But kids in the audience related more to Corcoran, who created a character who was part All-American boy and part hellion."

Corcoran's first film appearance was as the kid version of Tyrone Power's character in Henry Kings' adventure film Untamed (1955), after which he and sisters, Noreen and Donna, played Quaker farmer Ernest Borgnine's children in Violent Saturday.

In 1956, Kevin auditioned for a serialized segment of the "Mickey Mouse Club" called "Adventures in Dairyland." He won the role of a character whose name was "Moochie," a nickname that seemed to suit his rambunctious personality. Walt Disney was so impressed with Kevin's Disney debut that he had a special role written for "Moochie" in another "Mickey Mouse Club" serial, "The Further Adventures of Spin and Marty."

Kevin went on to co-star in the Disney theatrical features Old Yeller (1957), The Shaggy Dog (1959), Pollyanna, Swiss Family Robinson, and played the title role in Toby Tyler (1960). He also appeared in Babes in Toyland (1961), Bon Voyage!, The Mooncussers (1962) Savage Sam (1963), and A Tiger Walks (1964). Kevin was top-billed in the Disney TV projects "Moochie of the Little League" (1959), "Moochie of Pop Warner Football" (1961), and "Johnny Shiloh" (1963).

Kevin quit acting after a minor role in Blue (1968), "When the film industry got very strange," he says. "I decided to retire from acting because I felt I knew more about the business than the people who were interviewing me for the parts."

After graduating from Cal State Northridge with a degree in Theatre Arts, Kevin returned to Disney, working behind the camera on such films as Superdad (1973), Island at the Top of the World (1974) and Pete's Dragon (1977) and television programs like "The New Mickey Mouse Club" (1977) and "The Kids Who New Too Much." (1980)

Kevin was associate producer of Return from Witch Mountain (1978) and The North Avenue Irregulars (1979), co-produced Herbie Goes Bananas (1980), and was the producer of Disney's 1983 comedy series "Zorro and Son."

He has been first assistant director on many TV series, including "Scarecrow and Mrs. King," "Baywatch," "Quantum Leap," "Profiler," and "Karen Sisco." For the beloved Angela Lansbury series "Murder, She Wrote," Kevin variously served as first assistant director, assistant producer, and director.

Kevin has avoided the disappointment and scandal of many child stars -- he has maintained a successful and stable career, and has been married to the same woman for 33 years. He credits his family's down-to-earth sensibility about the business for his ability to avoid its pitfalls. "Some people's families are in the delicatessen business," Kevin says simply. "My family was in the picture business."

He also credits Walt Disney for being a caring father figure. Kevin remembers going to Walt's office after one contract negotiation. "He called me up there and said, 'This is between you and me. I want to know if you feel you're being treated fairly.' I know darn well if I had said I was unhappy, he would have done something about it."

AL DEMPSTER * Animation

It is only in recent years, with the increased study of the animation art form, that the skill of the background artist has been celebrated. Far more than a simple backdrop for character action, the creation of a good background involves the combination of several talents -- staging, color styling, and lighting -- while maintaining a "visual anonymity" with the viewing audience. Disney has had several superstar background artists: Sam Armstrong, Maurice Noble, Claude Coats, Walt Peregoy, Ralph Hulett, Thelma Witmer, Eyvind Earle, Frank Armitage -- and Al Dempster.

Albert Taylor Dempster was born in 1911 in Atlantic City, New Jersey. He studied for four and a half years at the Art Center School in downtown Los Angeles, shortly after that institution's founding. Al joined the staff of the Disney Studio on Hyperion Avenue as a Layout Trainee in March 1939, and within a few months transferred to the Background Department.

It was here over the next several years that Al contributed his art to the creation of the Disney animated features Fantasia (1940), Dumbo (1941), Saludos Amigos (1943), Victory Through Air Power (1943), The Three Caballeros (1945), Make Mine Music and Song of the South (1946).

Al left the Studio in 1945, but by 1952 had returned to work on Peter Pan (1953), and continued to bring his artistry to the features Lady and the Tramp (1955), Sleeping Beauty (1959), 101 Dalmatians (1961), The Sword in the Stone (1963), The Jungle Book (1967), The Aristocats (1970), Bedknobs and Broomsticks (1971), Robin Hood (1973), The Rescuers (1977), as well as all the Winnie the Pooh featurettes (1966-1977).

Al left perhaps an even more intimate and enduring legacy in his work on the design and illustration of more than a dozen Disney Golden Books. Always concerned with controlling the quality of Disney art, Walt would often assign the illustration of books to Studio staff between their other projects. The illustration work of the likes of Mary Blair, Bill Justice, and John Hench, is immortalized in many perennially published Disney storybooks.

"Walt insisted that some of the studio artists get involved in these book illustrations and he particularly enjoyed seeing the various interpretive approaches that these artists would take," comments Ken Shue, vice president Art & Design, Disney Publishing Worldwide. "In the spirit of every new assignment that Walt gave, he told them to approach storybook illustration in a way that only The Walt Disney Studios would approach it. In other words, given that they were already the world's greatest storytellers on screen, what would they bring to books that would be innovative, defining, but especially quality in terms of artwork and storytelling?"

Al's illustrations for Santa's Toy Shop, Walt Disney's Mother Goose, and Walt Disney's Uncle Remus Stories are especially fondly remembered, as are his pictures for the Golden Book editions of Three Little Pigs, Snow White and the Seven Dwarfs, Pinocchio, and Alice in Wonderland.

"His painting for the cover of the Alice in Wonderland Little Golden Book is considered by many to be the Mona Lisa of Disney storybook illustration," Shue says. "Al loved illustrating books, and that these were done at a time when the studio atmosphere was much like a school, where invention and new ways of tackling any visual storytelling format was exciting and fun. And, boy, it sure shows in the work!"

In 1966, at Walt's personal request, Al donated his time and talent to the creation of the "Queen of the World" shrine at the St. Elizabeth Hospital in Red Bluff, California. Working from Al's detailed drawings, Italian sculptor Pasquini Enzo sculpted the central figure of Mary, Mother of God.

Al was the father of five and grandfather of 14. He retired to Los Osos, California in July of 1973, where he died on June 28, 2001 at the age of eighty-nine.

DON EDGREN * Imagineering

Walt Disney once said, "At WED, we call it imagineering -- the blending of creative imagination with technical know-how." The contribution of the "imagine" part of the process is celebrated. Less so is the solid engineering skill that makes dreams real.

Don Edgren, a professional engineer licensed in the states of California, Florida, and Hawaii, worked for Wheeler & Gray, Structural Engineers, at The Walt Disney Studios on the structural design/detail of Disneyland from late 1954 until the Park opened on July 17, 1955. "He was the original chief engineer 'in the field' -- on the construction sites." Marty Sklar, The Walt Disney Company's international ambassador for Walt Disney Imagineering recalls.

Don then coordinated structural design/detail from the Wheeler & Gray office on Disneyland expansion until June of 1961. "After his 'engineering baptism' at Disneyland in the early days," Marty says, "he was invited to join the staff of WED Enterprises in Glendale."

Don worked as a project engineer on the Ford Motor Company exhibit for the 1964-65 New York World's Fair, and lived in New York during the construction of the Ford facility and the installation of the "Magic Skyway" show and ride, from March, 1963 to April, 1964.

Don led the Imagineering engineering team for New Orleans Square and Pirates of the Caribbean at Disneyland, while also participating in the initial master planning for Walt Disney World in Florida. Don was promoted to vice president, engineering/Florida in 1969, and relocated there in August of that year as head of the field engineering efforts there.

Don returned to WED in Glendale in April of 1972 as vice president of engineering. He led the Imagineering engineers on the first Space Mountain (Walt Disney World Magic Kingdom, December 1974), after which he left Disney briefly.

Returning to WED in May 1979 as director of engineering for Tokyo Disneyland, Don coordinated all engineering design activities, relocating to Japan in September of 1979. He returned stateside to WED in May 1983, where he was responsible for the direction and supervision of all project engineers.

Don retired from The Walt Disney Company in 1987.

"Through the years, Imagineering had what I would respect as two 'quintessential engineering captains' -- Don Edgren and a protege of his, John Zovich (chief engineer for Epcot)," Marty Sklar says. "They were constantly challenged by Walt, and the creative teams that followed (including me!), to do things that sometimes defied 'engineering logic' -- and, of course, tried and true methods.

  "Because, as Walt said, 'It's kind of fun to do the impossible!'"    PAUL FREES * Television, Film & Parks 
During his lengthy career, "the voice of actor Paul Frees was not so much ubiquitous as inescapable," says film historian Hal Erickson. "It was literally impossible during the 1960s and most of the 1970s to turn on the TV on any given night and not hear the ineluctable Mr. Frees."

Born Solomon Hersh Frees in Chicago, he began his acting career in 1942, and remained active for over forty years. During this time, he was involved in more than 250 films, cartoons, and TV appearances; like many voice actors, his appearances were often uncredited.

Gifted with an amazing ear and versatile voice from an early age, Frees' early radio career was cut short when he was drafted during World War II. He was wounded in action at Normandy on D-Day and returned to the U.S. for a year of recuperation. He attended the Chouinard Art Institute under the G.I. Bill, but his first wife's failing health forced him to drop out and return to radio work.

He was the star of The Player, a syndicated anthology series in which he played all the roles. He appeared frequently on such Hollywood radio series as Escape, Suspense, Gunsmoke, Crime Classics and The Green Lama.

Frees began working in films in 1948, sometimes as an on-screen actor, but most often utilizing his chameleonic voice acting ability. When Chill Wills was unavailable to provide the talking mule's voice for Francis in the Haunted House (1956), Frees replaced him, recreating Wills's drawl; when Tony Curtis's "Josephine" in Some Like It Hot required a more melodious falsetto, Frees was able to supply it.

Frees was often called upon in the 1950s and 1960s to "loop" the dialogue of other actors, often to correct for foreign accents, lack of English proficiency, or poor line readings by non-professionals. These dubs extended from a few lines to entire roles. Whenever Japanese film star Toshiro Mifune appeared in an English-language film like Grand Prix (1966) or Midway (1976), he would insist that his heavily-accented voice be "looped" by Frees -- Mifune claimed that Frees "sounds more like me than I do."

He was a regular presence in Jay Ward cartoons, providing the voices of Boris Badenov, and Inspector Fenwick (in Dudley Do-Right), among many others. He spent major parts of his career working with at least nine of the major animation production companies of the 20th century: The Walt Disney Studios, Walter Lantz Studio, UPA, Hanna-Barbera, Filmation, MGM, DePatie-Freleng, Jay Ward, and Rankin-Bass Productions.

Frees began working for Disney dubbing voices for television and features, including narration for the "Man in Space" series (1954), "From Aesop to Hans Christian Andersen" (1955), the "Boys of the Western Sea" serial (1956-57), "The Nine Lives of Elfego Baca" (1958), Tonka (1958), "Tales of Texas John Slaughter" (1958), The Absent-Minded Professor (1961), "Moochie of Pop Warner Football" (1960), The Ballad of Hector, the Stowaway Dog (1964), and The Monkey's Uncle (1965). For The Ugly Dachshund (1966) he looped the voice of "Eddie" entirely, since actor Richard Wessel had passed away after the completion of principal photography.

Most famously, Frees comic Germanic accent and free-wheeling improvisational ability brought personality and popularity to Donald Duck's nutty Uncle, Professor Ludwig Von Drake, who was introduced on "An Adventure in Color" (1961) and subsequently became a frequent host of the Sunday night television institution, as well as a star of Disneyland Records.

For the 1964-1965 New York World's Fair, Frees was the sonorous narrator of the Great Moments with Mr. Lincoln pre-show at the Illinois Pavilion. For Disneyland, he provided the dramatic "you are there" narration for Adventure Thru Inner Space. Some of his most memorable voice performances are still playing today at Disney Parks: Frees is the "Ghost Host" in the Haunted Mansion, and many of the varied Pirates of the Caribbean.

Frees was active until his death from heart failure on November 2, 1986, in Tiburon, California. He was 66 years old.

PETER JENNINGS * Television

As one of America's most distinguished journalists, Peter Jennings reported many of the pivotal events that have shaped our world.

He was in Berlin in the 1960s when the Berlin Wall was going up, and in the 1990s when it came down.

He was there when the Voting Rights Act was signed in the United States in 1965, and on the other side of the world when black South Africans voted for the first time.

He was there when the independent political movement Solidarity was born in a Polish shipyard, and again when Poland's communist leaders were forced from power.

And he was in Hungary, Czechoslovakia, East Germany, Romania and throughout the Soviet Union to record first the repression of communism and then its demise.

Born in 1938 in Toronto, Canada, Peter Charles Archibald Ewart Jennings was the son of Charles Jennings, the first news anchor and head of the news department at the CBC. Although he attended Lisgar Collegiate Institute and Trinity College School in Port Hope, Ontario, he never graduated from high school or college.

He got his start in broadcasting at the age of nine, hosting a weekly half-hour CBC Radio kids' show called "Peter's People," and by age 23, Canada's first private TV network, CTV (a competitor of his father's network) hired Jennings to co-anchor its late-night national news.

Jennings joined ABC News on August 3, 1964. He served as the anchor of Peter Jennings with the News from 1965 to 1967.

He established the first American television news bureau in the Arab world in 1968 when he served as ABC News' bureau chief for Beirut, Lebanon, a position he held for seven years. He helped put ABC News on the map in 1972 with his coverage of the Summer Olympics in Munich, when Arab terrorists took Israeli athletes hostage.

In 1975, Jennings moved to Washington to become the news anchor of ABC's morning program A.M. America. After a short stint in the mornings, Jennings returned overseas to Rome where he stayed before moving to London to become ABC's Chief Foreign Correspondent. In 1978 he was named the foreign desk anchor for World News Tonight. He co-anchored the program with Frank Reynolds in Washington, D.C., and Max Robinson in Chicago until 1983.

Jennings was named anchor and senior editor of World News Tonight in 1983, a position he would hold for more than 20 years. Former CBS Evening News anchor Dan Rather recalled, "Peter took his work very seriously. But he did not take himself seriously. And he was a little uncomfortable -- very uncomfortable -- with the word "star," and a little uncomfortable with the word "anchor" because he really did think about himself as a reporter."

He reported from all 50 states and locations around the globe. His extensive domestic and overseas reporting experience was evident in the World News Tonight coverage of major crises. The series also tackled important domestic issues such as gun control policy, the politics of abortion, the crisis in funding for the arts and a highly praised chronicle of the accused bombers of Oklahoma City.

Jennings also led ABC's coverage of the September 11 attacks and America's subsequent war on terrorism. He anchored more than 60 hours that week during the network's longest continuous period of news coverage, and was widely praised. TV Guide called him "the center of gravity," while The Washington Post wrote, "Jennings, in his shirt sleeves, did a Herculean job of coverage." That coverage earned ABC News Peabody and duPont awards.

In fact, he was honored with almost every major award given to television journalists, including 16 Emmys, two George Foster Peabody Awards, several Alfred I. duPont-Columbia University Awards and several Overseas Press Club Awards and two consecutive Edward R. Murrow awards for best newscast.

Peter Jennings died of lung cancer on August 7, 2005 at his home in New York City. He was 67.

ELTON JOHN * Music

The monumental career of international singer/songwriter and performer Elton John has spanned more than three decades. He is one of the top-selling solo artists of all time, with more than 200 million records sold worldwide. Elton has won a wide array of industry awards including Grammys, Tonys, and an Oscar(R), and continues to add innovative work to his personal repertoire of 35 gold and 25 platinum albums.

A prolific songwriter and a flamboyant performer, Elton had 30 different hits on the top 40 charts between 1970 and 1982. His theatrical stage appearances, with John changing into a succession of elaborate costumes and outlandish spectacles, helped make him a pop megastar. His hit tunes included "Goodbye, Yellow Brick Road," "Your Song," "Bennie and the Jets," and "Rocket Man." All were written with his longtime lyricist, Bernie Taupin.

In the early 1990s, John embarked on songwriting collaborations with lyricist Tim Rice, resulting in the soundtrack to the Walt Disney Pictures animated feature The Lion King.

At first, though, Elton wasn't too sure of success. "I sat there with a line of lyrics that began, 'When I was a young warthog," John said in 1995, "and I thought, 'Has it come to this?'"

This uneasiness proved unfounded, and the resulting work earned three Academy Award(R) nominations ("Circle of Life," "Hakuna Matata," and the winner, "Can You Feel the Love Tonight"), and the film soundtrack album produced two top-selling, award-winning singles for John: "Can You Feel the Love Tonight" and "Circle of Life."

It also introduced Elton John to a whole new generation of fans -- the children who approach him in public and tell him that they love The Lion King. The lad who grew up loving the score to Disney's The Jungle Book says, "That's exactly what I wrote it for. I wanted to write melodies that kids would like."

In 1997, The Lion King debuted on Broadway, receiving six Tony Awards, including Best Musical, and in 1998, a Grammy for Best Musical Show Album. In March 2000, the Tony Award-winning Aida opened on Broadway and John was honored with another Grammy for the Best Musical Show Album.

The smash-hit stage production of Billy Elliot, for which John composed the music, is currently running in London and garnered John a top-five hit in the UK with the song "Electricity." Billy Elliot was nominated for a record 9 Olivier Awards, winning Best Musical, among others. Elton John's fourth musical Lestat opened on Broadway April 25, 2006.

Elton is currently working on his new album, The Captain and The Kid, which will be released to coincide with his 60th birthday. This is the sequel to his triple platinum album Captain Fantastic and the Brown Dirt Cowboy, which recently celebrated its 30th anniversary with an expanded deluxe edition.

He also continues to perform his critically acclaimed Red Piano show exclusively at Caesars Palace.

A great humanitarian, John's commitment to the fight against AIDS led to the inception of the Elton John AIDS Foundation (U.S. and London) has raised over $90 million to date making the Elton John AIDS Foundation one of the largest public non-profit organizations in the AIDS arena.

In December of 2004, Elton received the Kennedy Center Honor for his lifetime contributions to American culture and excellence through the performing arts. In 1998, he was knighted by the Queen of England, who honored him with the title Sir Elton John, CBE.

JIMMY JOHNSON * Music

Jimmy Johnson devoted his entire career to the Disney organization, and profoundly influenced the Disney approach to both publishing and consumer audio recordings -- an influence felt by generations of kids who know "it's time to turn the page when Tinker Bell rings her little bells, like this," on vinyl discs where you "SEE the pictures, HEAR the record, READ the book."

"It was Jimmy's dedication and drive that really created the Walt Disney Records we know today," says songwriter and Disney Legend Richard M. Sherman. "Tutti Camarata's creative vision combined with Jimmy's ingenious ideas about marketing and how to utilize the Disney catalog really made the Disney record label a one-of-a-kind success story."

James Alexander Johnson, Jr. joined The Walt Disney Studios fresh out of Journalism School as an assistant in the Publicity Department in September of 1938. He was excited by the creative environment at Disney and thrilled by its bright future. "Publicity had a management change, and Johnson faced termination," it is reported in the recent book, Mouse Tracks: The Story of Walt Disney Records, "but he had been bitten by the Disney bug and searched for any job that would enable him to stay with the Company."

Johnson wound up in Traffic, delivering mail on the Studio lot, including the Animation Story Department, where he had hoped to end up. Instead, he was inexplicably transferred to Accounting, and shortly after was drafted into the Army.

Upon his return from service, Jimmy returned to the Studio as Assistant to the Corporate Secretary, a position to which he was elected in December 1950.

Roy O. Disney split Disney Publications and merchandising that year, and asked Johnson to head the new publishing unit, as well as business affairs for the new Walt Disney Music Company, which Fred Raphael had established late in 1949. Jimmy handled the Disney Publications division worldwide until 1962, and was the editor of the Walt Disney magazine from 1956 through 1958.

Realizing that competing with the established Hollywood music concerns was both foolish and unnecessary, Johnson had a vision for the Music Company that focused on its core business -- the Disney stories, characters, and properties. He also shared Walt and Roy's growing desire for ownership and control of the creative and business assets of the division, realizing that strict supervision of those areas was vital to both the maintenance and growth of the Disney name and reputation. Jimmy helped turn the Music Company profitable in 1954.

(Also in 1954, Jimmy was impressed by a composer and performer who submitted "The Pencil Song" for a proposed "Disneyland" TV episode. He was so pleased with the tune and its writer, Johnson brought Jimmie Dodd on staff.)

Jimmy became General Manager of the Walt Disney Music Company in December 1958, and played a key role in the evolution of all Walt Disney music and record activities. He was vital in the establishment of the Buena Vista and Disneyland record labels, the Wonderland Music Company (BMI), and all related music publishing activities. He served as President of the Walt Disney Music Company from September 1970 until his retirement in March of 1975.

Jimmy passed away January of 1976, survived by his wife, Ann, and three children, Glenys, Gennifer, and Grey.

TOMMY KIRK * Television & Film

Tommy Kirk became a juvenile hero as well as ideal mischief-maker in many Walt Disney film and television projects, but was also undoubtedly the finest child actor to emerge from Disney. "I always had the greatest respect for him as an actor," says Tom's "Hardy Boys" brother Tim Considine. "I always thought he was a monster talent."

Thomas Lee Kirk was born in 1941 in Louisville, Kentucky and raised in Los Angeles. He was just 13 years old when discovered in Will Rogers, Jr.'s production of Eugene O'Neill's Ah, Wilderness! at the Pasadena Playhouse. The All-American boy was brought to the attention of Walt Disney, who cast the teenager as half of "The Hardy Boys" on the popular serial seen on the "Mickey Mouse Club."

Tommy appeared in more television programs including "Frontier," "Gunsmoke," and "The Loretta Young Show," before returning to Disney to film a serial sequel to the first "Hardy Boys" adventure.

Larger, varied, and more significant Disney roles followed, among them a brilliant performance as Arliss Coates in Old Yeller (1957), a comic turn in The Shaggy Dog (1959), romance and adventure in Swiss Family Robinson (1960), more comedy in The Absent-Minded Professor, and musical comedy in Babes in Toyland (1961). He guest-starred in Moon Pilot (1962) and the sequels Son of Flubber and Savage Sam (1963) and the TV films "The Horsemasters" (1961) and "Escapade in Florence" (1962).

Personal problems caused Tom some difficulties during the early 1960s. On the set of Disney's Bon Voyage (1962), star Fred MacMurray gave Tom "the biggest dressing-down of my life" for his behavior, and Tom confesses that he fully deserved the scolding. Tom's last two films for the Studio featured him as the teenage genius, Merlin Jones, in The Misadventures of Merlin Jones (1964) and The Monkey's Uncle (1965).

Tom's career slumped as he reached adulthood. He experienced many of the same troubles other former child and teen stars did when they matured, and was left to take less and less challenging roles in 1960s "Beach Party" films and teen movies such as Pajama Party (1964), Dr. Goldfoot and the Bikini Machine, and Village of the Giants (1965).

But fortunately, Tommy Kirk discovered that there was life after movies. "Finally, I said, to hell with the whole thing, to hell with show business. I'm gonna make a new life for myself, and I got off drugs, completely kicked all that stuff. I went out and started my own business. I've done it for years and I live well. I have a nice business, a nice pension, and friends." Though his filmmaking days are behind him, Tom has continued to act occasionally, and has more than 30 feature films roles to his credit. And most importantly, he has made peace with his past.

"I want to be remembered for my Disney work, like Swiss Family Robinson and Old Yeller," Tom says. He fondly remembers Walt Disney, and recalls once bumping into him at a Beverly Hills hotel. "He was with Hedda Hopper, the legendary columnist... he put his arm around me, and he said, 'This is my good-luck piece here,' to Hedda Hopper. I never forgot that. That's the nicest compliment he ever gave me."

JOE RANFT * Animation

Telling stories in one form or another was Joe Ranft's lifelong passion. Born in 1960 in Pasadena, he grew up in Whittier, where his early interests included movies, drawing, performing in school plays, and doing sleight-of- hand magic.

Joe was widely respected as one of the top story artists in the animation industry. He was one of seven writers nominated for an Academy Award(R) for best original screenplay for Toy Story, but Ranft spent most of his time drawing storyboards for animated films.

"I don't know if people really understand what I do," Joe said in a 1998 interview. "When I say that I do story for animation, they say, 'Oh, you're a writer!' If I tell them I'm kind of a writer, but I draw, they get this puzzled look. But when I say, 'I'm the voice of Heimlich,' the light bulb goes on and they say, 'Oh, great!'"

(Ranft got the role as Heimlich in A Bug's Life after John Lasseter noticed that his wife, Nancy, laughed harder at Ranft's temporary dialogue during production than she did at the actor hired to voice the caterpillar.)

Ranft entered the character animation program at California Institute of the Arts in the fall of 1978. As a student, he was inspired by Bill Peet's storyboards from the 1946 Disney feature Song of the South.

Joe left CalArts for The Walt Disney Studios in 1980, where he quickly established a reputation as an exceptional story artist, contributing to Oliver & Company (1988), Who Framed Roger Rabbit (1988), Beauty and the Beast (1991), The Lion King (1994) and Fantasia/2000. He oversaw the story on The Rescuers Down Under (1990). While at Disney, he had become friends with John Lasseter, who became the top creative executive at Pixar Animation Studios.

Ranft moved to Pixar to serve as story supervisor on Lasseter's Toy Story, the first computer-animated feature. His understanding of story structure and his talent for creating emotionally complex characters that audiences cared about won him a place in the core group of artists at Pixar.

"Joe was really a major part of Pixar's soul," says Pete Docter, director of Monsters, Inc. "He was one of the key players who made all the films what they are."

Ranft served as story supervisor on Toy Story 2 (1999) and provided the voice for Wheezy the asthmatic penguin. He was credited with additional story material for Monsters, Inc. (2001) and oversaw the story on Lasseter's Cars (2006).

Joe Ranft was killed in an automobile accident on August 16, 2005. A longtime resident of Marin County, he is survived by his wife, Su, their children, Jordan and Sophia -- and a legendary storytelling legacy.

"Joe had a great passion for telling stories, and he told them better than anyone," John Lasseter says. "He was funny, poignant, original, and he had an infallible sense for how to structure a story."

"He created stories and lived his life by two philosophies, one of which hung on his office door: THE JOURNEY IS THE REWARD. The other was: TRUST THE PROCESS," recalls fellow story artist Brenda Chapman. "He was so passionate, so in love with storytelling."

Ranft himself humbly reflected, "I have this notion that there's a story there that wants to be told, and you're just trying to find out what it is. And you go from trying to lead it to listening and letting it lead you."

DAVID STOLLERY * Television & Film

David Stollery was born in Los Angeles in 1941, into a theatrical family. His mother, the former Mitzi Lamarr, had been a radio star for many years in Portland, Oregon. David's father, after whom he was named, was a radio announcer. At the age of seven, David had done Medea on Broadway with Judith Anderson, and was voted Child Actor of the Year for the Broadway production of On Borrowed Time starring Victor Moore.

He began appearing in juvenile roles Hollywood features, beginning with the Bing Crosby classic A Connecticut Yankee in King Arthur's Court (1949). He followed this with several feature appearances including Where Danger Lives (1950) with Robert Mitchum, and Her Twelve Men (1954) with Greer Garson; he also appeared in television episodes of "I Love Lucy," "Dragnet," "My Friend Irma," and "The Red Skelton Show."

However, it was at the Disney Studio that he really made his mark.

Walt Disney happened to see David playing a young genius in an episode of The Ray Milland Show (aka Meet Mr. McNulty) titled "The Prodigy."

Based on this performance, Walt was convinced that he had found Marty Markham, the spoiled rich boy, for "The Adventures of Spin and Marty" series being developed for the "Mickey Mouse Club" (1955). David was quickly signed to a contract to star in the serial, followed by two "Spin and Marty" sequel serials, as well as the "Annette" serial, all for the "Mickey Mouse Club" TV show.

"I liked David right away," co-star Tim Considine remembers, "because, although very conscientious about his work, he wasn't loud or at all show-offy."

David also appeared in the Disney feature films Ten Who Dared (1960) and Westward Ho the Wagons! (1956).

"Security and success are the main things for me," David said at the time, "You don't gamble with your life. Acting is a hard business, and an easy business. It's easy when the money rolls in, but what happens when the money only rolls in twice a year?" So, while many of his acting contemporaries uneasily made their move into adult roles -- or rock, teen, or exploitation pictures -- after five years at Disney, David decided to leave Hollywood to pursue his education in Industrial Design.

"I need something steady that I can depend on," David said, "and there's nothing steadier than work in a technical field."

"He already knew he wasn't going to act much longer," Considine recalls, "I used to ramble on about driving and racing cars. But what David wanted even then was design his own."

After completing his education at Art Center College of Design, David spent seven years in Detroit as a designer for General Motors. He was hired by Toyota Motors in 1973 to establish and manage California's first automotive design group, Calty Design research. There, he was responsible for the design of the 1978 Toyota Celica. "I wonder how many Celica-driving 'Mickey Mouse Club' fans ever knew that 'Marty' designed their car?" Tim Considine laughs. In all, David directed the design of more than 22 models for the Japanese firm.

David has most recently established his own manufacturing company, making a patented fiberglass lifeguard tower -- the only of its type made in the United States.

As for the glamour and romance of his acting career, apart from an occasional appearance at a Disneyana Convention or Park reunion event, David has steered clear of the "nostalgia notoriety" limelight of his Disney days.

  He claims not to miss Hollywood or the fame one bit.    GINNY TYLER * Television & Film 
For some, their chosen profession is a family legacy. Such is the case with the original Disneyland Records "Disneyland Storyteller," Ginny Tyler.

While Tyler was growing up in a Native American family near Seattle, Washington, her family passed along the storytelling craft, as well as the imitation of animal sounds and birdcalls. Tyler's flair with these talents first put her before the radio microphone in the 1940s, and by 1951 she was hosting her own daily children's show on KOMO-TV, "Magic Island." She was also getting more and more work off-screen for her vocal talents, and in 1957 Mother Goose flew south to Hollywood.

One of her first jobs after landing was playing Olive Oyl on a Spike Jones recording of "I'm Popeye the Sailor Man," and work on more novelty records quickly followed. By the early 1960s, she had joined the Disneyland Records stock company, narrating beloved vinyl recordings of Bambi, Babes in Toyland, Hans Brinker, and More Mother Goose.

When the original "Mickey Mouse Club" was re-edited and repackaged for syndication in 1962, Tyler was appointed Head Mouseketeer, live from Disneyland. A Mickey Mouse Club Headquarters was constructed inside the Main Street Opera House (later home to Great Moments with Mr. Lincoln), where Ginny hosted a live 15-minute daily segment of the program. Children could also register as "Official Mouseketeers," complete with membership card, and Ginny, often in the company of Roy Williams or Jimmie Dodd, was on hand for greetings and autographs.

Ginny's vocal work gradually moved from just narration to character voices for Disney: she played two amorous female squirrels in The Sword in the Stone (1963), and sang for several of the barnyard animals in the "Jolly Holiday" sequence of Mary Poppins (1964).

For other studios, Ginny was Casper, the Friendly Ghost in his 1963 TV series, space-damsel Jan and the Black Widow in Space Ghost, Sue Richards in Fantastic Four, Flirtacia the Lilliputian in The Adventures of Gulliver, and all the female characters in the first thirteen episodes of Davey and Goliath.

Ginny provided the voice of Polynesia the parrot, who taught the good doctor how to talk to the animals in Doctor Dolittle (1967). Along with frequent Disneyland Records co-star Dallas McKennon, she provided most of the other animal voices for that musical spectacular. (Her parrot patois was also heard on "The Jack Benny Show" and "The Lucy Show.")

Ginny is retired and has returned to her hometown of Seattle, but still occasionally records a voice here and there for local productions.

Her Disney days remain "the most awesome part of my life, and truly a 'dream come true'!" Ginny says. She remembers a day at Disneyland where she was waxing effusive about the many beautiful aspects of the Park with Walt. "And I was raving away to Walt how wonderful Disneyland was, he said, 'And that goes for my Disneyland Storyteller, too.' I have never felt prouder in my entire life."

Source: 

The Walt Disney Company 
Mario Vazquez' 'Gallery' Cracks the Top 10 on the Pop Charts; the Only American Idol Performer Other Than Kelly Clarkson to Achieve This Radio Milestone
News Breaks Following the Launch of His AOL Music 'Breakers' Campaign and Standout Performances on MTV's 'TRL' and 'Regis and Kelly'
Self-Titled Debut Album Just Released in Stores 9/26
-- Mario Vazquez is now a certified pop star. He is now the only American Idol performer to achieve the radio milestone reached by Kelly Clarkson with his single "Gallery" today reaching the #9 position, cracking the treasured Top 10 on BDS and Mediabase's Top 40 Pop Charts. After almost seven months on the charts and a rigorous schedule of tour and radio dates, "Gallery," Vazquez's breakthrough single, which has been #1 most requested and played track at top stations such as Z100 in New York, WXKS in Boston, WIHT in DC, and Y100 in Miami is now a qualified pop radio smash. This news comes following incredible online awareness and activity. Vazquez was selected for the coveted AOL Music "Breakers" program which kicked off October 1st, has enjoyed major exposure on Yahoo Music, and has blanketed the web album release week with features on MySpace Music, AOL Music, Clear Channel Music online, Rhapsody, and VH1.com "Hear Music First." In addition, Mario made television appearances last week performing "Gallery" on MTV's "TRL" and "Regis & Kelly."
His self-titled debut album has been receiving raves from the press: People Magazine noted his "heartthrob appeal" and "that Vazquez is worthy of a little idol worship." The New York Post calls his debut album "honest and real" and the Associated Press concurs: "Mario Vazquez should have no problem becoming a pop idol on his own with his debut full of catchy R&B and pop tracks."
From the soaring ballad "One Shot" to the reggaeton flavored "Cohiba" featuring guest appearances by Fat Joe and Knox, Mario Vazquez, his self titled debut album is a collection of future hits produced by a host of top pop and R&B producers including Ne-Yo, Lester Mendez (Shakira), Scott Storch (50 Cent, Christina Aguilera), Steve Morales (Ricky Martin, Marc Anthony) Sean Garrett (Beyonce, Mary J. Blige) and writer/producer team The Underdogs (Chris Brown).
Vazquez is known to many from his brief stint on American Idol last year before he voluntarily withdrew when he reached the Top 12.
Source: Arista Records
Web site: http://www.jrecords.com/
Gorillaz Phase Two - Slowboat to Hades DVD Released October 31
Four EPs Available Exclusively on iTunes, October 24, November 7, December 5, December 26
New Kidrobot Figures Out October 16 -- November 2
Rise Of The Ogres On Shelves November 2
Gorillaz have confirmed U.S. release dates for four more components of the world-conquering Demon Days multi-media experience:
First up: This Halloween sees the release of the Phase Two - Slowboat to Hades DVD. Following up the fantastically successful Phase One - Celebrity Takedown DVD companion to Gorillaz' self-titled 2001 debut, Slowboat to Hades rounds up the Demon Days era's award-winning videos, hi-tech performances, inventive animated shorts, acceptance speeches and more.
All of these delights -- including new and exclusive content -- can be accessed through the interactive menu, a brand-new 3D DVD reconstruction of Gorillaz' online hangout Kong Studios. Viewers can wander through this decaying palace of sin and watch the breathtaking live performances in the cinema, visit the band's bedrooms, tour the corridors and find games, original animatics, cameos from some of the Demon Days guests and off-color jokes galore.
A bonus CD-Rom includes 16 fiendishly addictive games including Gorillaz.com favorites Animal Kwackers, Tiles of the Unexpected and Operation, a whole library of wallpapers and screensavers plus hidden extras. See attached content listing for more details·

Additionally, a series of EPs will become available exclusively on iTunes featuring original Gorillaz music, accompanied by previously unreleased videos and a digital booklet with images and access to bonus content like wallpaper, buddy icons and more. The roll out for the EPs is as follows:
DARE- October 24
Dirty Harry- November 7
El Manana- December 5
Feel Good Inc.- December 26
The tracklisting for the DARE EP is:
1. DARE - Demon Days Live in Harlem (Video)
2. DARE - animatic (Video)
3. Clint Eastwood Live - featuring De La Soul & Bootie Brown / The
Pharcyde
4. People (which is DARE original demo) (Audio Only)
Thirdly: Gorillaz and Kidrobot have teamed up again, following up last year's sold out run of Gorillaz figures with a multi-set toy collaboration featuring new figures of Gorillaz band members 2D, Murdoc, Noodle and Russel. The new soft vinyl figures will be available in three different color variations: 60,000 Basic editions, 1,000 2-tone and 4,000 White editions will be produced. The first set to release is the Basic set on October 16th and each figure will retail for $19.95. The White, $24.95 each, and 2-tone, $29.95 each, will release on November 2nd.
Each figure comes in a unique box with exclusive accessories and will vary in height from 6-1/4 inches to 8-1/4 inches. The Gorillaz figures will be sold at all Kidrobot stores, online at www.kidrobot.com and with other select retailers.
Finally, Gorillaz: Rise of the Ogre, Gorillaz' first official autobiography is released November 2 through Penguin Books. A rock n roll autobiography like no other, Rise of the Ogre is the story of the world's most successful virtual group, as told by all four members of the band assisted by writer Cass Browne. Designed by Jamie Hewlett and his studio team at Zombie Flesh Eaters, the book will contain a wealth of new and unseen images, contributions from the band's collaborators, stolen moments behind the scenes, pictures from Gorillaz' personal albums ... and all the gossip, innuendo and scandal you'd expect from a best-selling pop group.
Gorillaz: Rise of the Ogre is 256 full color pages and covers the band's unusual childhoods, early versions of the band line-up, and Gorillaz' career from the release of the Tomorrow Comes Today EP in November 2000 to the recent shows at New York's Harlem Apollo in April 2006 and the multi-platinum record sales in between.
GORILLAZ: Phase Two - Slowboat to Hades DVD contents:
1. Feel Good Inc. Video
2. Dare Video
3. Dirty Harry Video
4. El Manana Video
5. Feel Good Inc. animatic
6. Dare animatic
7. Dirty Harry animatic
8. El Manana animatic
9. The Swagga
10. Bill Murray
11. Spitting out the Demons
12. Kids with Guns
13. People
14. Samba at 13
15. Murdoc is God
16. Demon Days album ad
17. Demon Days Live DVD ad
18. Demon Days Live Manchester mash up
19. Dare Ringtone ad
20. GES mobile games trailer
21. Celebrity Takedown DVD trailer
22. MTV Europe Music Awards performance
23. Feel up Live performance
24. Brit Awards 2006 performance
25. El Manana Live in Harlem
26. Brit Awards rehearsals
27. Gorillaz Live in Harlem sting
28. Hip hop machine ident
29. Mexican Jailer ident
30. Fairground ident
31. Capsule Hotel ident
32. On the Island g bite
33. The lost g bite
34. Noodle VMA acceptance speech
35. Murdoc Alternative Queen's speech
36. Murdoc Record Company Thank You
37. Noodle Dare Interview
38. MTV Cribs
39. Monk's montage
40. Polar bear gags
CD-Rom includes:
16 games with fullscreen mode: Russel's Animal Kwackers, Bowling, Russels Cookie Eating, Darts, Dirty Harry, Helly-Drop, Identikit, Operation, Potato, Santa Sleigher, Pumpomatic, Shooting Range, Mahjong, Murdoc's Attache, Tiles of the Unexpected, Bonesy Apple Bobbing; plus eight screensavers, 45 wallpapers and hidden, achievement based extras.
Source: Virgin Records
Web site: http://www.virginrecords.com/
Spike TV Launches New Comedic Action Series 'Wild World of Spike'
Spike TV brings unheralded sports such as mop-jousting and blind-folded kickboxing into America's living-rooms with a new seven-episode comedic action series, "Wild World of Spike." The series, which focuses more on the agony of defeat than the thrill of victory, is hosted by the trio of mixed martial arts fighter Kit Cope, skateboarding legend Jason Ellis and comedian Sam Tripoli.
In each episode, the three hosts screen wild and often painfully bizarre sporting events from all around the world from the comforts of their living room. Then, the guys select events to re-create, with often hilarious results. This half-hour original series premieres on Spike TV in January, 2007.
"Our mission is simple with 'Wild World of Spike:' find the most ridiculous and outrageous sporting events and then aim to re-create them without killing our three hosts," says Brian Diamond, Senior Vice President, Sports & Specials, Spike TV.
The games they re-create in the premiere episode include: blind-folded kick-boxing from Phuket, Thailand; female sumo wrestling from The Netherlands; mop-jousting from Manchester, England and dirt-skiing from Turangi, New Zealand
"If only two people in the world do it, is it considered a sport or just a sign of loneliness?" questions host Sam Tripoli in the first episode.
"Wild World of Spike" is produced by GRB Entertainment. Brant Pinvidic and Gary Benz of GRB serve as Executive Producers. Brian J. Diamond is Senior Vice President, Sports & Specials, Spike TV and Co-Executive Producer. Jodi Reborchick serves as Executive in Charge of Production for Spike TV.
Spike TV is available in 90 million homes and is a division of MTV Networks. MTV Networks, a division of Viacom International Inc.
Source: Spike TV
Web site: http://www.spiketv.com/
Mexican Superstar Vocalist Juan Gabriel to Perform in Santa Rosa Two Nights Only
Wells Fargo Center for the Arts Extends 25th Anniversary Celebration to North Bay Latino Community through Discounted Ticket Offer
On the heels of a sold-out performance in 2005, Mexican superstar vocalist, producer, and international film star Juan Gabriel is returning to the Wells Fargo Center for the Arts for two performances only, October 25 and 26 at 8 p.m. And, in honor of the Arts Center's 25th Anniversary, the center is offering a "thank you" the North Bay Latino community by providing a special discounted ticket offer of "Buy One Get One Free" to these highly sought-after and popular performances.
If the enthusiasm and energy from Gabriel's performance one year ago provides any insight, the shows later this month will prove to be door busters! In 2005, passionate fans of the Mexican vocalist filled every seat at the non-profit arts center. And, based on the cheers and ovations, Juan's fans were not disappointed -- with his incredible voice or his spectacular two-and- a-half hour nonstop stage show.
Described by one Santa Rosa fan as "a show where mariachis meet U2," Juan Gabriel's performance expertly blends traditional Mexican music with the sound of a full rock band, combines a troupe of traditional dancers and singers with a high-tech multi-media presentation, and creates a show so packed full of hits that the entire audience sings along in Spanish to nearly every song.
Gabriel, who presents sold-out concerts across the globe and almost exclusively performs in arena sized venues, will perform in the Wells Fargo Center's 1600-seat theater, providing a rare opportunity to see the Mexican superstar in a small and intimate setting.
Juan Gabriel performs October 25 and 26 at 8 p.m. at the Wells Fargo Center for the Arts.
Tickets ($50, $100, $150) are available at the Box Office, 50 Mark West Springs Road in Santa Rosa, by phone at 707-546-3600, or online at www.wellsfargocenterarts.com . The Buy One Get One FREE offer is available while supplies last, is not available on line, and is not valid on previously purchased tickets.
Web site: http://www.wellsfargocenterarts.com/
StubHub Announces Exclusive VIP Access Packages to Las Vegas' Vegoose Music Festival Featuring Tom Petty and the Heartbreakers, The Killers, The Mars Volta, The Black Crowes and Fiona Apple
VIP Ticket Packages Offered Exclusively on StubHub Will Give Fans Access to Side-Stage Viewing, Intimate Back Stage Performances and Signed Artist Merchandise While Benefiting Several Charities
Oct. 9 StubHub, the fan's ticket marketplace and Superfly Entertainment have once again teamed up to give fans an opportunity to get exclusive VIP packages, this time for Las Vegas' Vegoose Music Festival on Halloween weekend. Some of today's hottest performers including Tom Petty and the Heartbreakers, The Killers, The Mars Volta, The Black Crowes, The Raconteurs, Widespread Panic, Fiona Apple, Ben Folds and Jurassic 5 highlight the two day festival. Fans will be able to purchase exclusive ticket packages to Vegoose 2006, taking place October 27th through 29th at Sam Boyd Stadium that include special access to side-stage viewing opportunities, back stage radio performances, signed artist merchandise, a VIP entrance, preferred parking, VIP Hospitality area access and more via auction only at www.stubhub.com/vegoose-charity. All net proceeds from the auctions of the VIP Charity Packages will benefit the charities of Common Ground Collective, Tipitinas Foundation, Rock the Earth and Head Count.
EXCLUSIVE VIP CHARITY PACKAGES WILL INCLUDE:
* Two (2) VIP tickets to Vegoose on Oct. 28th & 29th
* Two (2) tickets to an official Vegoose @ Night show of your choice
* Side-stage performance viewing opportunity (artist TBD)
* Opportunity to watch a backstage radio performance by a featured
Vegoose artist
* Signed artist merchandise from band of your choice
* Backstage artist press conference
Packages also include:
* Special VIP Entrance
* Preferred Parking
* VIP hospitality area with open buffet and discounted beverages
* Free shuttle to/from The Strip
* Commemorative Vegoose Merchandise Package
StubHub will also be the exclusive site for fans to register for the Vegoose Blackjack Tournament which is scheduled to be held at the MGM Casino on Friday, October 27, 2006. There will be 200 passes auctioned off for a seat in the tournament where fans will have the opportunity to play against their favorite artists. Proceeds from the auction will benefit the Nevada Cancer Institute.
"The Vegoose Festival is another unique opportunity for StubHub to provide fans of these great acts with exclusive experiences not available anywhere else," said Colin Evans, VP of Business Development for StubHub. "We're pleased to once again work with Superfly Entertainment to facilitate these opportunities and know that fans who get these packages will enjoy the memories for years to come."
Shortly following its launch in 2000, StubHub created and developed charitable-driven components through its Exclusive Events and All-Inclusive Packages. StubHub's VIP ticket packages have been offered with artists including: Clay Aiken, Coldplay, Creed, Def Leppard, Dixie Chicks, Godsend, INXS, Jewel, Avril Lavigne, Madonna, John Mayer, Alanis Morissette, Jessica Simpson, Snoop Dogg, Britney Spears and Justin Timberlake, among others. In June, StubHub launched the "StubHub Concert Series" partnering with INXS for a highly successful all-auction sell-out at the Lobero Theatre in Santa Barbara, Calif.
About StubHub
StubHub is the fan's ticket marketplace, enabling customers nationwide to buy and sell tickets at fair market value to a vast selection of sporting, concert, theater and other live entertainment events, even those that are "sold out." StubHub reinvented the ticket resale market in 2000 and continues to lead through innovation. The company's unique open marketplace, dedicated solely to tickets, provides all fans the choice to buy or sell their tickets in a safe, convenient, and highly reliable environment. All transactions are processed and delivered via StubHub's patent-pending FanNetwork(SM) ticket delivery service, supported by seven-day toll free customer service at 1-866-STUBHUB, and backed by an industry-first FanProtect(SM) Guarantee. Company partners include sports teams in the NFL, NBA, NHL, leading NCAA athletic programs and media companies including AOL and CBS. In August 2006, Inc. Magazine named StubHub the #8 fastest growing private company in America. The company is headquartered in San Francisco. For more information on StubHub, visit www.stubhub.com
Source: StubHub
Web site: http://www.stubhub.com/vegoose-charity
Web site: http://www.stubhub.com/
Seven Princesses Begin Their Reign as the 2007 Royal Court Is Announced
Seven Rose Princesses for the 2007 Tournament of Roses Selected From More Than 1,100 Pasadena-area Young Women
-- The seven members of the 2007 Tournament of Roses Royal Court were announced today at Tournament House from a group of 31 finalists. As ambassadors of the Tournament of Roses, the Royal Court members will attend more than 150 community and media functions during their reign, leading up to the 118th Rose Parade and Rose Bowl Game on Monday, January 1, 2007.
The seven Rose Princesses are: Christina Barsamian (#11), 17, Flintridge Sacred Heart Academy; Aneesah Giroux (#64), 17, John Marshall Fundamental High School; Mary McCluggage (#113), 17, Flintridge Preparatory School; Sue Park (#1086), 16, La Canada High School; Blair Ramirez (#60), 17, La Salle High School; Kaitlin Terpstra-Sweeney (#577), 18, Pasadena City College; Danielle Vine (#678), 17, Pasadena High School.
The announcement follows a three-week long process in which more than 1,100 Pasadena-area young women participated. Selections were based on a range of qualities including public speaking ability, poise, academic achievement, community involvement and personality.
"This year was a special year for tryouts. We interviewed a record-breaking 1,139 young women and were impressed by so many, which made it difficult to choose the seven for the Royal court. As always, we are grateful for the participation and enthusiasm from the young women and are pleased with our selections," said Brad Ratliff, Chair of the Queen and Court Committee.
Christina Barsamian, 16, is a La Canada resident and a senior at Flintridge Sacred Heart Academy. She is a member of a National Charity League and is currently an ambassador to La Canada through the Miss La Canada Court. Christina is currently the President of S.A.D.D. and is involved in Youth and Government through her local YMCA. She enjoys playing tennis, reading and discussing politics. Christina hopes to attend a four-year university in California. Her parents are Greg and Karen Barsamian.
Aneesah Giroux, 17, is an Altadena resident and attends John Marshall Fundamental High School. Aneesah is actively involved in many school and community activities; she is a member of the National Honor Society, serves as the Secretary of her class and the Treasurer of the California Scholarship Federation. Aneesah also volunteers at Huntington Hospital and was selected as a Youth Ambassador to South Korea for the 2005-2006 Project Bridge. She hopes to obtain a Master's Degree in Public Administration and pursue a career as a director of a women's shelter. Her mother is Banita Barnes.
Mary McCluggage, 17, is a resident of Pasadena and attends Flintridge Preparatory School. She serves as the senior class Vice President and is President of the Key Club. In addition, she is actively involved in her church, serving as a confirmation teen leader. Mary is also an athlete, playing on both the varsity volleyball and softball teams. Her parents are Kerry and Victoria McCluggage, and she has one brother, Matthew Kerr McCluggage, 19.
Sue Park, 16, is a La Canada resident and attends La Canada High School. Sue is actively involved in school activities such as a peer counseling, National Honor Society, Math Club and the California Scholarship Federation. She also enjoys playing the piano and flute, reading and thrift shopping. Sue hopes to attend either Columbia or Stanford University to pursue a career in psychology. Her parents are Robert and Maggie Park and she has siblings, Soo Myung, 19 and JK, 11.
Blair Ramirez, 17, is a senior at La Salle High School and resides in Altadena. Blair is involved in school activities such as the Junior Classical League and the Rally Dancers. Blair hopes to study political science and journalism in college and plans to enhance her education with extensive traveling. She also enjoys art, reading, running and is currently taking a photography class. Her parents are Phillip Ramirez and Marsha Erickson. She has one brother, Brandon Ramirez, 21.
Kaitlin Terpstra-Sweeney, 18, is a freshman at Pasadena City College and a resident of Pasadena. In addition to attending PCC, Kaitlin is a Sunday school teacher and a hostess in a local restaurant. Past activities include serving as captain of her high school dance team and volunteering at Huntington Hospital. Kaitlin would like to pursue a career in either child psychology or broadcast journalism. Her parents are Jeff Sweeney and Wendy Terpstra.
Danielle Vine, 17, attends Pasadena High School and resides in Altadena. Danielle is ASB publicity commissioner and plays varsity tennis. She also enjoys performing in musicals, running track and attending school sporting events. Danielle plans to attend a four-year university to study business. Her parents are Renard Vine and Denise Roberts, and she has sisters, Claudia, 25, Michelle, 21, and a brother, Matthew, 25.
The 118th Rose Parade themed Our Good Nature will take place Monday, Jan. 1, 2006 at 8 a.m. (PST) featuring majestic floral floats, high-stepping equestrian units and spirited marching bands from throughout the nation. Following the Rose Parade, at 2:00 p.m. (PST), the 93rd Rose Bowl Game will feature an exciting match up between two championship teams, showcasing the best of collegiate football. For additional information, please call (626) 449-ROSE, the 24-hour information hotline, or visit www.tournamentofroses.com.
Web site: http://www.tournamentofroses.com/
Virgin Atlantic Airways 15th Anniversary Boston Celebration Culminates with 2nd Annual Row Jet Set, Row Transatlantic Sprint
The Head Of The Charles Readies for Take Off with First Ever Night Race as Virgin Atlantic Lights Up the Sky to Bring Together the Best of Boston and Britain
Virgin Atlantic Airways, together with the Head Of The Charles Regatta, announced today that the 2nd Annual Row Jet Set, Row Transatlantic Sprint Race will take place on Friday, October 20. For the first time ever, the Head Of The Charles festivities will commence with races taking place at night, as Virgin Atlantic lights up the sky for a race featuring the best of Boston and Britain.
This year, Virgin Atlantic pumps up the altitude, expanding the Row Jet Set, Row event to include a women's race and other surprises designed to thank Bostonians, who have made it possible for Virgin Atlantic to reach this year's 15th Anniversary milestone.
Virgin Atlantic created a stir during last year's Regatta with the introduction of this transatlantic event, which was witnessed by thousands of spectators on the banks of the Charles.
To celebrate the 15th Anniversary of its daily Boston to London service onboard Flight 012, The London Shuttle, Virgin Atlantic will once again host the sprint featuring teams from Harvard, Northeastern, Cambridge and Oxford Universities.
This year, the "Row Jet Set, Row" events will consist of two races. The first will be the showcase for the women, with teams from Cambridge and Harvard Universities meeting one-on-one for international bragging rights in a new addition to this year's lineup.
The second race will pit two top British crews against two top Boston crews in a four-lane, all out sprint to the finish, featuring crews from Oxford, Cambridge, Northeastern and Harvard Universities.
The men's British teams will look to defend the 2005 British victory against Boston's Harvard and Northeastern teams who are vying to keep the trophy -- and bragging rights -- in Boston.
Both races will be a 350-meter sprint between the Eliot Bridge and the Regatta finish line located at Herter Park in Brighton, MA.
"For the past 15 years, the people of Boston have welcomed Virgin Atlantic into the community, helping us to reach this incredible milestone," said Chris Rossi, Vice President of Sales and Marketing for Virgin Atlantic in North America. "With Flight 012 The London Shuttle flying between Logan and Heathrow, we're glad to be able to connect these two historic cities, and with the Row Jet Set, Row event, bring the best of Boston and Britain together."
The festivities will begin on Friday, October 20 at 7:00 pm with music and giveaways for spectators hoping to capture a premium seat along the river. The races promise to be just the beginning of an evening program custom designed to thank the city of Boston for 15 successful years.
The 42nd Regatta competition begins Saturday morning, October 22 at 9:30 A.M., continuing throughout the weekend to 4:30 P.M. on Sunday afternoon.
"The Head Of The Charles Regatta is one of Boston's most cherished events, and the Row Jet Set, Row sprint is a perfect start to this great weekend," said Fred Schoch, the Regatta's Executive Director. "People from all over the world come to our city to cheer on the rowers in what has truly become an international attraction. With their flights, Virgin Atlantic seems to make the world smaller, making it possible for people to come join the festivities and enjoy our great city."
Virgin Atlantic launched daily transatlantic service from Boston to London with Flight 012 The London Shuttle in May of 1991. Since its inaugural flight, Virgin has carried over three million passengers, clocked over 57.4 million miles and flown almost 11,000 flights.
The Virgin Atlantic 15th Anniversary Celebration kicked off at the beginning of August with a string of special access invitations for Bostonians. The first invited Boston residents to visit one of Todd English's five participating restaurants for dinner (Olives, 3 Figs locations, and KingFish Hall), to receive a complimentary appetizer; one dish per party. The second gives unique, complimentary ice cream "upgrades" at 12 participating Cold Stone Creamery locations. The third and fourth lets Bostonians enjoy a complimentary dessert of their choice at a Cheers restaurant or receive a free CD of choice when buying three CD's at Virgin Megastore. To RSVP, local residents need only visit these participating locations and simply say the magic words "The London Shuttle" to receive their complimentary treat.
These four special access invitations are available to Bostonians "in the know" through the end of October.
About the Head Of The Charles:
Now in its 42nd year, the Head Of The Charles Regatta is the world's largest two-day regatta attracting more than 7,500 rowers and 250,000 spectators to the banks of the Charles River. Festivities start with the Virgin Atlantic Airways "Row, Jet Set, Row" Sprint on Friday night, October 20. Official Regatta races will begin on Saturday, October 21, with club and master's event, as well as the Championship Singles and Doubles events. Racing concludes on Sunday, October 22, with age-classified, collegiate and lightweight events as well as the Championship Fours and Eights events. For more information visit www.hocr.org.
About Virgin Atlantic Airways:
Since it was founded in 1984, Virgin Atlantic Airways has become Britain's second largest carrier serving the world's major cities. Offering high-flying service between nine US cities to London, it operates long haul services to twenty-seven destinations worldwide as far apart as Las Vegas, Tokyo, Delhi, Boston and Shanghai, with recent growth to Mumbai, Sydney and Dubai. Despite Virgin Atlantic's growth, the service still remains customer driven with an emphasis on value for money, quality, fun and innovation. Virgin Atlantic is constantly looking to exceed passenger expectations with a unique combination of superior products and superior service, because flying Virgin Atlantic is always an event.
Visit the Virgin Atlantic website for all the latest news and fantastic offers - http://www.virgin.com/atlantic
Web site: http://www.virginatlantic.com/
http://www.hocr.org/
http://www.virgin.com/atlantic
KAHANI WORLD & VIRGIN ANIMATION TO PRODUCE
"SECRETS OF THE SEVEN SOUNDS"
A DEEPAK CHOPRA & SHEKHAR KAPUR PRODUCTION
October 9: Kahani World, Inc. an independent animation company based in Toronto, Canada and Sir Richard Branson's Virgin Comics, LLC have teamed up to co-produce Secrets of the Seven Sounds, a full length animated feature for kids 7 and up, inspired by the ancient Indian myth Ramayana.
In addition to action, adventure and fantasy, Secrets of the Seven Sounds challenges tradition by asking us to consider what it might really be like to be the little brother of the Chosen One? Seven Sounds tells the story of the handsome, naturally gifted, and love-struck Prince Ram who destiny has chosen to rescue Princess Sita (the object of his affections) and save the world from the villainous Lord Ravan. But the real hero of Seven Sounds is of course, Lux – Prince Ram's 11 year-old little brother – the family's insightful and often-overlooked intrepid fighter.
"The Ramayan continues to be the bedrock of India's cultural identity in ways that no other myth can claim," said Deepak Chopra, best-selling author and Chairman of Virgin Comics. "The Seven Sounds animated film is a is a marvelous way to share this story and inspire children around the world."
Secrets of the Seven Sounds is already in an advanced stage of development; full production begins in just seven weeks. The feature is in collaboration with Virgin Comics co-founders,Deepak Chopra and Shekhar Kapur (director of Four Feathers, Bandit Queen and the 8-time Oscar© nominated Elizabeth) , and is based on an original story by Gotham Chopra, Sharad Devarajan and Jeevan Kang. The animated feature will be brought to market in the summer of 2007.
"Our comics and film stories are infused with characters and mythic sensibilities that resonate with audiences around the globe," said Sharad Devarajan, CEO of Virgin Comics. "Kahani World shares our vision and understands the importance of epic storytelling. Together we are uniquely positioned to produce an exceptional animated feature, and adapt the film for global merchandising, graphic novels and promotional campaigns.
"It's about time the world is exposed to the rich mythology we have stored up in our vaults in India and Asia. With Kahani, we are excited to be bringing one of the greatest Indian legends, re-fashioned, to the world, and in doing so create new planetary myths that people every where can enjoy," said Gotham Chopra, Virgin Comic's Chief Creative Officer. "This is just the start!"
"Kahani is focused on creating and producing world-class animation brands that become icons in India, resonate throughout Asia, and also appeal to audiences around the world," said Biren Ghose, animation veteran, CEO and President of Kahani World Inc. and Executive Producer of Secret of the Seven Sounds. "We aim to put a new spin on storytelling, blending stories that may have an "Indian DNA" but which thrive in the contemporary context and culture of the global kidizen! Virgin Comics and Virgin Animation have succeeded in straddling the East - West paradigm with equal excellence and are an inspiration and benchmark for what Kahani seeks to achieve as a Company.
About Virgin Comics, LLC
Virgin Comics LLC (www.VirginComics.com) was founded in November 2005 by Sir Richard Branson's Virgin Group (www.virgin.com), alongside author Deepak Chopra, filmmaker Shekhar Kapur, Gotham Chopra and Gotham Entertainment Group LLC (www.GothamComics.com), South Asia's leading publisher of comic magazines established in 1997 by Sharad Devarajan and Suresh Seetharaman. The company has offices in New York City and Bangalore, India. Virgin Comics titles include the hits: Devi, The Sadhu, John Woo's Seven Brothers, Snakewoman, Ramayan 3392 A.D. and others.
About Kahani World Inc.
Kahani World, Inc. (www.kahaniworld.com) is an animation content company determined to create, develop and produce world-class brands with an Indian 'touch' that become icons in India, resonate throughout Asia, and have global appeal. Kahani which means 'story' is counting on delighting kids and families with entertainment animation brands that will stand for the exportable Indian values and icons and make consistent promises to its audience. The company believes in putting a new spin on storytelling, blending "Indian" stories to entertain and educate the contemporary urban Indian child while enthralling and staying relevant to the community of global kids! Kahani projects have attracted best in class talent, concepts and production partners to ready its pipeline of properties for market launch in 2006-07.
# # #
Oscar's Docs" To Feature Films of 1969 and 1970
Beverly Hills, CA — The Oscar®-winning documentary short subjects of 1969 and 1970 and the winning documentary feature of 1969 will screen on Monday, October 16, at 7:30 p.m. at the Academy of Motion Picture Arts and Sciences' Linwood Dunn Theater as the next installment of "Oscar's Docs, Part Two: Academy Award®-Winning Documentaries 1961–1976." The 11-week series showcases the short and feature-length documentaries honored each year by the Academy.
Czechoslovakia 1968," produced by Robert M. Fresco and Denis Sanders for the United States Information Agency (USIA), captured the Soviet invasion of Czechoslovakia in the spring of 1968. The film, a compilation of smuggled footage shot by Czech television stations and material obtained from the USSR's Sovfoto Agency, took home the Oscar for Documentary Short Subject in 1969. A 35mm print from the UCLA Film & Television Archive will be screened courtesy of Sanders-Fresco Film Makers and the USIA.
"Arthur Rubinstein: Love of Life" highlights the piano virtuoso's determinedly joyous attitude and boundless enthusiasm for music. Producers Bernard Chevry, Bernard Gavoty and François Reichenbach followed Rubinstein for three months and made extensive use of home movies to capture the man and the artist. A 35mm print of the 1969 Academy Award winner for Documentary Feature, purchased from Bernard Chevry for the Academy Film Archive, will be screened courtesy of Midem Productions.
In "Interviews with My Lai Veterans," producer-director Joseph Strick set out to uncover the truths of the 1968 Vietnamese village massacre by speaking with American servicemen who were there. Though the five ex-soldiers who agreed to be interviewed spoke easily of committing murder, they would not discuss any sex crimes. Even after winning the Oscar for Documentary Short Subject, the film was rejected by all but one of the U.S. public television stations. A new 35mm print of the film, preserved by the Academy Film Archive, will be screened courtesy of Laser Film Corporation.
The Academy Award winner for Documentary Feature in 1970, "Woodstock," will be screened on Monday, October 23, at the Academy's Samuel Goldwyn Theater. A cast and crew reunion will be held at the Academy's Samuel Goldwyn Theater the following night, Tuesday, October 24. Both events will start at 7:30 p.m.
Passes for "Oscar's Docs, Part Two: Academy Award-Winning Documentaries 1961–1976" are available at a cost of $30 for the general public and $25 for Academy members and students with valid ID. Tickets for individual evenings of the series are available for $5 for the general public and $3 for Academy members and students with valid ID. Passes and tickets may be purchased by mail, in person at the Academy during regular business hours or, depending on availability, on the night of the screening when the doors open at 6:30 p.m. The Academy's Linwood Dunn Theater is located at 1313 North Vine Street in Hollywood. For more information, call (310) 247-3600.
# # #
Star Trek auction rakes in $7 million
Oct 8,2006
This first auction of official "Star Trek" memorabilia hit warp speed on Saturday when a determined bidder paid $576,000 for a model of the legendary science fiction franchise's starship Enterprise, helping drive the total for the three-day sale above $7 million.
The 1,000 lots of props, costumes, models and miniatures and other ephemera from the five "Star Trek" television series and 10 feature films on offer at Christie's auction house found buyers.
Almost all items sold for more than their pre-sale estimates. The total taking of $7,107,040, including commission, was far more than double what had been expected.
The Enterprise lot set a record for a piece of "Star Trek" memorabilia, and also attained one of the highest prices ever paid for any piece of Hollywood memorabilia.
The 78-inch-long (198-cm) model of the Starship Enterprise-D, used extensively in the "Star Trek: The Next Generation" television series, was bought by an unidentified private American collector bidding via telephone.
The model, which also featured in "Star Trek: Generations," the first movie based on the "Next Generation" show, had been estimated at $15,000 to $25,000.
Fans dressed as the characters Captain Jean-Luc Picard and Mr. Spock, played on screen and television by Patrick Stewart and Leonard Nimoy packed Christie's main salesroom.
Christie's staff members in the spirit of the event also donned "Star Trek" garb as they fielded bids via telephone.
The auction house's new on-line bidding service was an important part of the sale, seeing its strongest response since it launched during the summer.
Models and miniatures proved to be the hottest items, with nine achieving prices of over $100,000. The top costume price was $144,000 for Dr. McCoy's space suit from the episode "The Tholian Web" from the original television series, which premiered 40 years ago.
A model of a Klingon "Bird-of-Prey" ship first seen in the film "Star Trek III: The Search For Spock" soared to $307,200, or more than 30 times its pre-sale estimate of $8,000 to $12,000. And an Enterprise-A model made for "Star Trek: The Motion Picture" and used in later sequels had the distinction of being the sale's final lot, fetching $284,800.
Two others among the last lots, a USS Lakota model and a Klingon Battle Cruiser model, sold for $132,000 and $102,000 respectively, far outpacing their $3,000 to $5,000 pre-sale estimates.
John Wentworth, executive vice president of communication at CBS Paramount Television, which opened its vaults for the unprecedented sale, thanked fans of the cult franchise for their "ongoing passion and dedication."
"We were thrilled to be able to bring them tangible, coveted pieces from our beloved 'Star Trek,' and ... they now own 'Trek' history and have made this auction a huge success," he added.
The sale was streamed live on The History Channel's Web site, and the channel filmed the event in its entirety for a documentary.
Statements from The Kennedy Family on Motion Picture 'Bobby'
Oct. 7 The Weinstein Company is proud to announce that the Kennedy Family has given their support to the upcoming motion picture "Bobby," which will be released in limited theaters on November 17 and in theaters across the country on November 23, 2006 by Metro-Goldwyn- Mayer Studios Inc. (MGM).

Mrs. Robert F. Kennedy stated, "Our family is grateful to Emilio Estevez and the extraordinary cast of 'Bobby' for remembering Robert Kennedy's life and his commitment to social justice, peace and equality. Hopefully the film will inspire a new generation to make gentle the life of the world."

Kerry Kennedy stated, "To remember Robert Kennedy's life, his commitment to social justice and civil rights, his determination to end war and to make America an instrument of a more just and peaceful world is the purpose of this movie - and for that our family is most grateful to Emilio Estevez, Harvey Weinstein and the cast of extraordinary talents that have made this project possible. In the last 38 years, there has been no more important moment to remember his values and vision for our great country and its purpose in our troubled world. Younger generations will now hear Robert Kennedy's words, they will understand the greatness of his life and find the inspiration to dedicate themselves to all he sought to achieve."

"Bobby," written and directed by Emilio Estevez, revisits the night Robert F. Kennedy was gunned down at the Ambassador Hotel in 1968. With an incredible ensemble cast portraying fictionalized characters from a cross- section of America, the film follows 22 individuals who are all at the hotel for different purposes but share the common thread of anticipating Kennedy's arrival at the primary election night party, which would change their lives forever. This historic night is set against the backdrop of the cultural issues gripping the country at the time, including racism, sexual inequality and class differences.

The film features Harry Belafonte, Joy Bryant, Nick Cannon, Emilio Estevez, Laurence Fishburne, Brian Geraghty, Heather Graham, Anthony Hopkins, Helen Hunt, Joshua Jackson, David Krumholtz, Ashton Kutcher, Shia LaBeouf, Lindsay Lohan, William H. Macy, Svetlana Metkina, Demi Moore, Freddy Rodriguez, Martin Sheen, Christian Slater, Sharon Stone, Jacob Vargas, Mary Elizabeth Winstead, and Elijah Wood.

The film was written and directed by Emilio Estevez and produced by Michel Litvak, Edward Bass and Holly Wiersma, and executive produced by Gary Michael Walters and Dan Grodnik. "Bobby" is a Weinstein Company presentation being released in theaters by Metro-Goldwyn-Mayer Studios Inc. (MGM).

Source: The Weinstein Company
Garth Brooks: The Entertainer Five-DVD Set Available Only at Wal-Mart and SAM'S CLUB
Previously Unavailable Concert Footage and Milestone Performances Presented in Limited Edition Collector's Tin
Oct. 7 Wal-Mart Stores, Inc. (NYSE:WMT) today announced the latest exclusive offering from singer/songwriter Garth Brooks, appropriately titled Garth Brooks: The Entertainer. The five DVD set of previously unavailable concert footage is currently available for pre-order at http://www.walmart.com/ and is an exclusive peak inside the Artist of the Decade's milestone performances and history-making travels around the world. Garth Brooks: The Entertainer can be purchased Nov. 1 at Wal-Mart and SAM'S CLUB locations across the country.

The set contains more than seven hours of entertainment on five DVDs and highlights spectacular performances in the form of 15 music videos, including three never-before-seen videos. Widely-acclaimed concert footage, including previously unavailable appearances, make Garth Brooks: The Entertainer five DVD set a phenomenal value at $19.96.

Presented in a limited edition collector's tin, fans will enjoy live concert footage, bonus songs, a gallery of over 1,000 photos and more from the stellar career of this history-making entertainer. A genuine American icon, Brooks is the only artist in U.S. history to sell one hundred million albums in one decade. His high energy concerts, riveting videos and obvious love for the fans and the music make Garth Brooks: The Entertainer the perfect gift idea and arrives at all Wal-Mart stores, SAM'S CLUB locations and http://www.walmart.com/garthbrooks , just in time to make the season bright!

"At Wal-Mart, pleasing the customer is our goal. The Garth Brooks exclusives continue to be a favorite of our customers and this very limited edition will likely fly off the shelves as Garth's previous releases have in the past," said David Porter, Wal-Mart vice president and divisional merchandise manager.

Millions of fans are expected to flock to Wal-Mart to purchase his latest compilation of live performances and bonus songs. Brooks has seen seven albums bow at No. 1, more than any other recording act and is the all-time biggest- selling solo artist with 25 number one singles on the country charts. In 2005, Garth Brooks: The Limited Series boxed set passed the one million benchmark for complete boxed sets sold (6 million discs) in its second week at Wal-Mart, making it the top selling music item in company history. Garth Brooks: The Limited Series boxed set was exclusively available at Wal-Mart and SAM'S CLUB locations throughout the U.S. and Canada.

Garth Brooks fans can currently pre-order this valuable collectors item at http://www.walmart.com/garthbrooks .

About Wal-Mart Stores, Inc.

Every week, more than 176 million customers visit Wal-Mart stores, Supercenters, Neighborhood Markets, Sam's Clubs or a subsidiary location in 15 countries around the world. In each of the countries where Wal-Mart operates, the company and its Foundation are committed to a philosophy of operating globally and giving back locally. Wal-Mart is proud to support the causes that are important to customers and associates right in their own neighborhoods, and last year gave more than $270 million to these local communities. To learn more, visit http://www.walmartfacts.com/ , http://www.walmart.com/ or http://www.walmartfoundation.org/ .
MGM to Handle U.S. Syndication Sales for New Line Television
Metro-Goldwyn-Mayer Studios Inc. (MGM) has formed a strategic relationship with New Line Television, a division of New Line Cinema, which has MGM handling U.S. domestic distribution for syndication of New Line's motion picture packages, and series programming for the next two years. MGM will also handle New Line's future barter sales. The announcement was made today by Jim Rosenthal, President, New Line Television, and Jim Packer, President, Worldwide Television Distribution, Metro-Goldwyn-Mayer.

David Spiegelman, Senior Executive Vice President, Domestic Television Distribution and Marketing for New Line Television, will continue to oversee the development and production as well as acquisition of syndicated programming for the company. He will also continue to distribute all New Line product to network, pay, basic cable and VOD/PPV outlets. Under the terms of the new alliance, Spiegelman will work closely with MGM's John Bryan, Executive Vice President, Broadcast Strategy, on syndication sales for New Line TV product.

In making the announcement, New Line's Rosenthal said: "This relationship allows us the opportunity to create one powerful team to address the syndication marketplace. David is constantly seeking new programs from non-traditional sources to fuel this area. We believe that the combination of New Line's resources, and MGM's reach in local markets, will bring us both tremendous success."

Added MGM's Packer: "New Line Television's catalogue will benefit from John's strategic direction and the ardent efforts of MGM's sales team. Like MGM, New Line is committed to developing new strategies that will maximize revenue and create greater operating efficiencies. New Line's deal with MGM on the domestic distribution of its television content will prove to be an effective model for both companies."

New Line Television premiered "Masterminds" from Court TV in syndication this past week to solid ratings. The riveting half-hour series examines the most daring, brilliant and complicated capers in history and the relentless police work that brought most of the perpetrators to justice. MGM will assist New Line Television with second year renewals for the popular cable series.

About New Line Television

New Line Television is a division of New Line Cinema (www.newline.com), the most successful independent film company in the world. The division develops, produces and distributes TV projects for the broadcast networks, cable and first-run syndication, as well as distributes New Line feature films across the television landscape. In addition to the production, marketing and distribution of theatrical motion pictures, New Line Cinema has divisions devoted to home entertainment, music, theater, merchandising and international. A pioneer in franchise filmmaking, New Line's Oscar-winning The Lord of the Rings trilogy is one of the most successful film franchises in history. New Line is a division of Time Warner, Inc.

About Metro-Goldwyn-Mayer Inc.

Metro-Goldwyn-Mayer Inc., through its operating subsidiaries is actively engaged in the worldwide production and distribution of motion pictures, television programming, home video, interactive media, music, and licensed merchandise. The company owns the world's largest library of modern films, comprising around 4,000 titles. Operating units include Metro-Goldwyn-Mayer Studios Inc., Metro-Goldwyn-Mayer Pictures Inc., United Artists Films Inc., MGM Television Entertainment Inc., MGM Networks Inc., MGM Distribution Co., MGM International Television Distribution Inc., Metro-Goldwyn-Mayer Home Entertainment LLC, MGM ON STAGE, MGM Music, MGM Consumer Products and MGM Interactive. In addition, MGM has ownership interests in international TV channels reaching nearly 110 countries. MGM ownership is as follows: Providence Equity Partners (29%), Texas Pacific Group (21%), Sony Corporation of America (20%), Comcast (20%), DLJ Merchant Banking Partners (7%) and Quadrangle Group (3%). For more information, visit www.mgm.com.

Columbia Records/Universal Music Enterprises Ready to Roll out 'Devil's Got A New Disguise: The Very Best of Aerosmith' on Tuesday, October 17
Definitive Career-Spanning Greatest Hits Package From America's Greatest Rock & Roll Band Showcases Key Cuts From Columbia Records & Universal Music Enterprise Catalogs + Two Brand New Songs!
Aerosmith on the Road This Fall With 'Route Of All Evil Tour'
Columbia/Universal will release Devil's Got A New Disguise: The Very Best Of Aerosmith on Tuesday, October 17.

A definitive career-spanning collection of absolute high points from America's Greatest Rock & Roll Band, Devil's Got A New Disguise: The Very Best Of Aerosmith is the first-ever single disc Aerosmith collection to include signature songs from the group's Columbia Records and Universal Music Enterprise catalogs.

As an added bonus for Aerosmith fans, Devil's Got A New Disguise: The Very Best Of Aerosmith includes two brand-new never-before-heard future Aerosmith classics -- "Sedona Sunrise" and "Devil's Got A New Disguise" -- and the "Pop Mix" of "I Don't Want To Miss A Thing," the band's power-anthem from the 1998 blockbuster film "Armageddon."

Expect to hear scorching live performances of songs from Devil's Got A New Disguise: The Very Best Of Aerosmith on Aerosmith's "Route Of All Evil Tour" with Motley Crue (see itinerary following).

About Aerosmith:

For more than 30 years, Aerosmith has defined the essence of American Rock & Roll. Even a brief overview of the group's remarkable career is truly mind-boggling: over 100 million albums sold, induction into the Rock & Roll Hall of Fame, countless awards (including four Grammy Awards, eight American Music Awards, six Billboard Awards, and 12 MTV Awards), and a fanatically loyal fan-base numbering in the millions worldwide. The members of Aerosmith -- Steven Tyler, Joe Perry, Brad Whitford, Tom Hamilton and Joey Kramer -- remain creatively vital and continue to set the platinum standard for artistic and commercial success in the music business. Over the past thirty years, Aerosmith has earned 95 gold, platinum and multi-platinum certifications from the RIAA for the group's albums, singles, and videos.

  Devil's Got A New Disguise: The Very Best Of Aerosmith   Official Tracklisting    1.  Dream On   2.  Mama Kin   3.  Sweet Emotion   4.  Back In The Saddle   5.  Last Child   6.  Walk This Way   7.  Dude (Looks Like A Lady)   8.  Rag Doll   9.  Love In An Elevator   10. Janie's Got A Gun   11. What It Takes   12. Crazy   13. Livin' On The Edge   14. Cryin'   15. I Don't Want To Miss A Thing - Pop Mix   16. Jaded   17. Sedona Sunrise   18. Devil's Got A New Disguise    Aerosmith "Route Of All Evil Tour" with Motley Crue    Tue   9/5      Columbus, OH        Germain Amp   Thu   9/7      Hartford, CT        Dodge Music Center   Sat   9/9      Pittsburgh, PA      Post Gazette Pav   Tue   9/12     Darien Center, NY   Darien Lakes 6 Flags   Thu   9/14     Holmdel, NJ         PNC Bank Arts Center   Sun   9/17     Wantagh, NY         Jones Beach   Tue   9/19     Wantagh, NY         Jones Beach   Thu   9/21     Charlotte, NC       Verizon Wireless Amp   Sat   9/23     Camden, NJ          Tweeter Center   Tue   9/26     Boston, MA          Tweeter Center   Thu   9/28     Boston, MA          Tweeter Center   Sat   9/30     Washington, DC      Nissan Pavilion   Thu   10/5     Tinley Park, IL     First Midwest Bank Amp   Sat   10/7     East Troy, WI       Alpine Valley   Mon   10/9     Cincinnati, OH      Riverbend Music Center   Wed   10/11    Detroit, MI         DTE Music Theatre   Fri   10/13    Indianapolis, IN    Verizon Wireless Amp   Sun   10/15    St. Louis, MO       UMB Bank Pavilion   Tue   10/17    Bonner Springs, KS  Verizon Wireless Amp   Thu   10/19    Nashville, TN       Starwood Amp   Sat   10/21    Virginia Beach, VA  Verizon Wireless   Mon   10/23    Raleigh, NC         Alltel Pavilion   Thu   11/2     Mountain View, CA   Shoreline Amp   Sat   11/4     Las Vegas, NV       MGM Grand Arena   Tue   11/7     Hollywood, CA       Hollywood Bowl   Thu   11/9     San Diego, CA       Coors Amphitheatre   Sat   11/11    Devore, CA          Hyundai Pavilion   Mon   11/13    Phoenix, AZ         Cricket Pavilion   Wed   11/15    Dallas, TX          Smirnoff Music Center   Fri   11/17    San Antonio, TX     Verizon Wireless Amp   Sun   11/19    Houston, TX         CW Mitchell Pavilion   Wed   11/22    Tampa, FL           Ford Amphitheatre   Fri   11/24    W. Palm Beach, FL   Sound Advice Amp    http://www.aerosmith.com/   http://www.aerosmith.net/   http://www.columbiarecords.com/  
Source: Columbia Records
Critically-Acclaimed Danish Rock Band Mew Return to the United States for First Headlining Tour
After gaining momentum on tours with Bloc Party and Kasabian (including sold-out headlining shows in NY and LA), the award-winning band Mew is embarking on their first American headlining tour beginning October 17th in Portland (see itinerary following).

Earlier this year the band won four major awards at the annual Danish Music Awards, including Best Band, Best Singer, Best Album, and Best Rock Album. In 2005, Mew was honored with Best Breakthrough Act at the Nordic Music Awards. They were also awarded with Best Album, Best Song and Best Male Singer at Denmark's Zulu Awards. MTV recognized Mew as the Best Danish Band.

Since the stateside debut album and the Glass Handed Kites was released in July, the band is quickly gaining momentum, blowing away fans and the press alike with their dreamy rock soundscapes and visually stunning live shows.

Entertainment Weekly calls the album "large in both sound and concept," while Rolling Stone declares Mew "abstract and beautiful head-trip rock." Pitchfork describes the music "cutting edge elegant ... this could be the escape of the year, a curve off into the lush, ambitious stargazing that used to happen all the time."

Produced by Michael Beinhorn (Red Hot Chili Peppers, Marilyn Manson, Brian Eno), the boundary-breaking and the Glass Handed Kites boasts vocal collaborations with indie rock hero J. Mascis from Dinosaur Jr. on the tracks "Why Are You So Grave?" and "An Envoy To The Open Fields."

Mew has also created elaborate film projections for their live sets. From beautiful abstract patterns to mystical creatures, the visual element further enhances the depth and emotion of the music.

  Mew are:   Jonas Bjerre: Vocals, Guitar   Bo Madsen: Guitar   Silas Graae: Drums    Tour dates are as follows:    Tue    10/17    Portland, OR            Berbatis Pan (KNRK Radio Show)   Thu    10/19    San Francisco, CA       330 Ritch (Popscene)   Sat    10/21    Los Angeles, CA         El Rey Theatre   Mon    10/23    Denver, CO              Bluebird Theatre   Wed    10/25    Minneapolis, MN         Fine Line   Thu    10/26    Chicago, IL             Double Door   Mon    10/30    Atlanta, GA             The Variety   Fri    11/3     New York, NY            Bowery Ballroom    http://www.mewsite.com/   http://www.columbiarecords.com/  
SONY PICTURES HOME ENTERTAINMENT UNVEILS FIRST THREE 50GB BLU-RAY DISC TITLES
Click OCTOBER 10 -- Black Hawk Down (November 14) & Talladega Nights (December 12) to Follow--
(October 6, 2006) - Sony Pictures Home Entertainment (SPHE) today announced the imminent arrival of its first three 50GB dual-layer Blu-ray Discs (BD). The heartwarming comedy Click, starring Golden Globe®-Nominee Adam Sandler, Oscar®-Winner Christopher Walken and Kate Beckinsale, will be available on store shelves October 10. Black Hawk Down, the Oscar®-winning, action-packed drama from director Ridley Scott, starring Josh Hartnett, Ewan McGregor, Tom Sizemore and Eric Bana, features new Blu- Wizard™ technology and will be available to film fans on November 14. The hilarious box office hit, Talladega Nights:
The Ballad of Ricky Bobby, starring writer and producer Will Ferrell and Oscar®-nominee John C. Reilly, hits shelves December 12. All three titles were authored by the Sony Pictures Digital Authoring Center (DAC) and manufactured by Sony DADC.
"As consumers make the leap to Blu-ray's incredible high-definition picture and theatre quality audio, they want access to a diverse selection of content packed with added-value features and reference titles like Ridley Scott's powerful war epic Black Hawk Down, that will add to their growing Blu-ray Disc libraries," said David Bishop, President, Sony Pictures Home Entertainment. "We're proud to be the first studio to deliver a 50GB Blu-ray Disc title to the marketplace with Click on October 10, along with two other highly entertaining titles this year that offer the expanded capacity and special features only a 50GB disc can provide."
* "Academy Awards@" and "Oscar@" are the registered trademarks and service marks of the Academy of Motion
CLICK
Shot entirely in high-def, the Blu-ray format captures Click's many poignant and humorous remote-controlled moments with pristine picture quality and superior sound. Click is the first SPHE Blu-ray Disc title to include all bonus features from the DVD release in high-definition and also features uncompressed PCM audio.
High-definition added value features include:
Audio Commentary with Adam Sandler, Director Frank Coraci, Executive Producer Tim Herlihy and Writer Steve Koren
* Four Deleted Scenes
"Habeeboo Can Do It"
"Loser Guy Returns"
"Fatty Sandwich"
o "Sp-Sp-Spit It Out"
* Seven Featurettes
"Make Me Old and Fat"
"FX of Click"
"Design My Universe"
"Cars of the Future"
"Humping Dogs"
"Director's Take"
"Fine Cooking"
Synposis: In Click, Michael Newman (Adam Sandler) is a family man with a busy career as an architect leaving minimal time for his wife Donna (Kate Beckinsale) and two kids. Unable one day to determine which of his many remotes turns on the television, he decides that a universal remote control will solve all of his problems. On Michael's search for the perfect device, he meets Morty (Christopher Walken), who gives him a one-of-a-kind remote with magical powers that allow him to perform TiVo-like functions. As Michael fast-forwards through annoying quarrels with his wife and mutes the barks and begging of Sundance, the family dog, he begins to feel in control of his career and personal life. However, when the remote starts to override his choices, Michael begins to truly appreciate and embrace the life he already has - the good, the bad and the ugly.
BLACKHAWKDOWN
Black Hawk Down grossed more than $100 million at the box office and is a gripping true story about bravery, camaraderie and the complex reality of war. "With a richly detailed master and long running time, Black Hawk Down is an ideal title to demonstrate Blu-ray's 50GB capability, without any compromise in features or quality," said Don Eklund, Executive Vice President, Advanced Technologies, Sony Pictures Home Entertainment. Black Hawk Down is also the first BIu-ray Disc title to feature SPHE's new BIu-Wizard™, a unique playlist technology which lets consumers customize the way they watch special features.
Special features consumers may customize on the Black Hawk Down BIu-ray Disc include:
Audio Commentary with Author Mark Bowden, Screenwriter Ken Nolan, Producer Jerry Bruckheimer, Director Ridley Scott and u.S. Special Forces Veterans '93
* "The Essence of Combat - Making Black Hawk Down" Featurettes
"Getting It Right"
"Crash Course"
"Battlefield Morocco"
"Hymn to the Fallen"
"Digital Warriors"
"After Action Report"
Synopsis: Recounting the true story of a war waged in Mogadishu, Somalia, Black Hawk Down delivers an intense, detailed account of a mission gone disastrously wrong. The film depicts events that occurred on October 3, 1993, when a group of more than 100 U.S. Army Rangers and Deltas dropped into Somalia to complete a covert operation. Their assignment is to capture two top lieutenants of a renegade warlord whose corrupt regime has led to the starvation of hundreds of thousands of Somalis. But when the simple exercise goes catastrophically array, the men find themselves outnumbered and literally fighting for their lives, locked in a desperate battle against a large force of heavily-armed Somalis.
TALLADEGA NIGHTS: THE BALLAD OF RICKY BOBBY
The hilarious $140 million summer blockbuster Talladega Nights: The Ballad of Ricky Bobby chronicles the man with two first names, NASCAR driver Ricky Bobby, as he tries to gain his
-father's respect and love while fulfilling his need for speed. The Blu-ray Disc features the Unrated Edition of the film along with added-value features in high-definition including:
Audio commentary with Director Adam McKay and Friends (Ian Roberts, Chris Henchy) * Nine Deleted & Extended Scenes
"Little Sticker on Windshield"
"Ricky in Hospital"
"Gas Money"
"Jenga Scene (Extended)"
"What'd You Do Today?"
"Cal Calls Ricky (TV Room version 1)" o "Return to the Garage"
* Three Interviews
"Jean & Gregory Interview" o "Cal & Carley Interview"
Gag Reel
Line-O-Rama (Part 1)
Bonus Race Footage
Ricky & Cal's Commercials
Ricky & Cal's PSAs
Walker & Texas Ranger
Will Ferrell Returns to Talladega
Theatrical Trailer
* Additional added-value features not in high-definition:
Daytona 500 Spot
Nascar Chase for the Nextel Cup Spot
Sirius and NASCAR Spot
Synopsis: The fastest man on four wheels, Ricky Bobby (Will Ferrell) is one of the greatest drivers in NASCAR history. A big, hairy American winning machine, Ricky has everything a
daredevil could want: a luxurious mansion, a smokin' hot wife (Leslie Bibb) and all the fast food he can eat. But Ricky's turbo-charged lifestyle hits an unexpected speed bump when he's bested by flamboyant Euro-idiot Jean Girard (Sacha Baron Cohen) and reduced to a fear-ridden wreck. Losing his wife and job to best bud and fellow fool, Cal Naughton, Jr. (John C. Reilly), Ricky must kick some serious asphalt if he is to get his career back on track, beat Girard and reclaim his fame and fortune.
Continuing with its commitment to Blu-ray and the promise to deliver the best viewing experience available to consumers today, SPHE will introduce a variety of new and exciting Blu-ray Disc content throughout the fourth quarter 2006. Full of family fun and imagination, Monster House will debut on Blu-ray disc day-and-date with DVD on October 24th and the Wayans brothers' comedy, Little Man, hits shelves November ih.
Sony Pictures Home Entertainment has released a broad selection of high-definition movies since its initial launch on June 20. Blu-ray Disc titles currently available to consumers from Sony Pictures Home Entertainment include 50 First Dates; The Fifth Element; Hitch; House of Flying Daggers; XXX; Ultraviolet; Underworld: Evolution; Basic Instinct 2: Risk Addiction; The Benchwarmers; Stealth; R V; Silent Hill; Into the Blue; Memento; S. W.A. T.; A Knight's Tale; The Big Hit and Tears of the Sun.
About Sony Pictures Home Entertainment:
Sony Pictures Home Entertainment is a division of Sony Corporation of America, a subsidiary of Tokyo-based Sony Corporation. Sony Pictures Entertainment's global operations encompass motion picture production and distribution; television production and distribution; digital content creation and distribution; worldwide channel investments; home entertainment acquisition and distribution; operation of studio facilities; development of new entertainment products, services and technologies; and distribution of filmed entertainment in 67
Starz Entertainment's Slasher Doc GOING TO PIECES: THE RISE AND FALL OF THE SLASHER FILM Gets World Premiere at Screamfest Horror Film Festival
Starz Entertainment's original new film entitled GOING TO PIECES: THE RISE AND FALL OF THE SLASHER FILM will get its world premiere at a special Screamfest Horror Festival screening on Thursday October 12th, the day before the popular festival opens to the public. The screening takes place 7:30 p.m. at the Mann's Chinese 6 on Hollywood Boulevard.
The film provides a comprehensive and original look at the importance, prominence, and legitimacy of the "slasher film." The feature-length documentary contains an abundance of clips from classic films of the genre, as well as many current hits, and interviews with pre-eminent actors, directors, and producers, many of whom are themselves founders and masters of the genre, such as directors Wes Craven, John Carpenter, Rob Zombie and special effects wizard Tom Savini. Harry Manfredini, who did the score for the "Friday the 13th" films, has composed music for the special. Based on the book of the same title by Adam Rockoff, the film premieres on Starz, October (Friday the) 13th at 9:00 p.m.

Those appearing in GOING TO PIECES: THE RISE AND FALL OF THE SLASHER FILM include John Carpenter (dir. "Halloween"), Wes Craven (dir. "The Last House on the Left," "The Hills Have Eyes," "A Nightmare on Elm Street," "Scream" trilogy), Sean S. Cunningham (dir. "Friday the 13th"), Amy Holden Jones (dir. "Slumber Party Massacre"), Harry Manfredini (composer "Friday the 13th" and all sequels), Armand Mastroianni (dir. "He Knows You're Alone" and "Friday the 13th" television series), Gregory Nicotero (special effects/makeup "Day of the Dead," "Evil Dead II," "A Nightmare on Elm Street: Dream Child," "Scream," "Kill Bill Vol. 1-2"), Betsy Palmer (actress "Friday the 13th" -- "Mrs. Voorhees"), Tom Savini (special effects/makeup "Dawn of the Dead," "Friday the 13th," "Maniac," "The Texas Chainsaw Massacre II"), Joseph Stefano (screenwriter of Alfred Hitchcock's "Psycho"), Anthony Timpone (editor of horror magazine Fangoria), Stan Winston (dir. "Pumpkinhead," special effects/makeup "Friday the 13th Part III," "Aliens") and Rob Zombie (dir. "The Devil's Rejects," "House of 1000 Corpses").

The film is produced by Candy Heart Productions' Rachel Belofsky and Rudy Scalese and executive produced by Michael Ruggiero, vice president of programming for Starz Entertainment. Belofsky has come to prominence in the industry as the Founder and Director of LA's Screamfest Horror Film Festival.

Screamfest is a non-profit organization dedicated to furthering the careers of talented filmmakers and writers within the genre. Screamfest is known for "Discovering the new blood of horror and honoring the Masters."

Starz Entertainment, LLC, is a premium movie service provider operating in the United States. It offers 16 movie channels including the flagship Starz(R) and Encore(R) brands with approximately 15.1 million and 27.1 million subscribers respectively. Starz Entertainment airs more than 1,000 movies per month across its pay TV channels and offers advanced services including Starz HD, Starz On Demand and Vongo(SM). Starz Entertainment is an operating unit of Starz, LLC, which is a wholly owned subsidiary of Liberty Media Corporation that is attributed to Liberty Capital Group, www.starz.com.

Bono and Sir Elton John Lend Support for World Hospice and Palliative Care Day
Events Planned in More than 70 Countries
Oct. 6 On October 7, thousands of people around the world will be staging events to raise awareness and fundraise for hospice and palliative care services in observance of World Hospice and Palliative Care Day. This year's theme, Access to Care for All, is a reminder that millions of people who desperately need care at the end of life are not getting it.

Noted celebrities Bono and Sir Elton John have given their support to World Day efforts.

On the World Day Web site, Bono states, "In the poorest countries, where so many people are fighting for their lives, the conditions of death don't get much of a look in. But how we care for the sick and dying is surely a litmus test of our humanity. Just as we fight for equality in life, we should fight for equality in death."

Sir Elton John acknowledges that palliative care is a human right and calls on people around the world to "make their voices heard."

"One of the main goals for World Day is to raise awareness of quality care at the end of life," remarked J. Donald Schumacher, president/CEO of the National Hospice and Palliative Care Organization and president of the National Hospice Foundation. "This is done by outreach activities at the local, national, and global level."

Hospice organizations across the U.S. will reach out to their communities. Nationally, the National Hospice Foundation's Diana Legacy Fund will initiate its Wheels of Caring program. Wheels of Caring will work to ensure that people living with HIV/AIDs in sub-Saharan Africa receive compassionate, quality care and do not die without comfort and support.

Wheels of Caring, supports the mission of the Foundation for Hospices in Sub-Saharan Africa, and will generate financial support to help many of Africa's home care nurses and palliative caregivers overcome an important challenge -- the challenge of getting to patients with necessary medical supplies.

  *  Learn more about NHF's efforts and Wheels of Caring at      http://www.nationalhospicefoundation.org/.    *  Information about hospice and palliative care is available at      http://www.caringinfo.org/ or by calling NHPCO's HelpLine,      1-800-658-8898 (Spanish-language HelpLine, 1-877-658-8896).    *  Resources and information on World Day is available at      http://www.worldday.org/.  
Jon Bon Jovi Featured in Campaign for New Kenneth Cole Fragrance - R.S.V.P.
Proceeds To Benefit The Philadelphia Soul Charitable Foundation In Continuation of Jon Bon Jovi & Kenneth Cole's Joint Efforts to Fight Homelessness
Oct. 6 -- Kenneth Cole Fragrances announced today that Jon Bon Jovi will appear in the campaign to introduce their new fragrance, R.S.V.P. It will be available at Kenneth Cole New York retail stores and select Saks Fifth Avenue stores beginning November 2006, and other department stores January 2007. The fragrance will be part of an ongoing collaboration between Kenneth Cole and Jon Bon Jovi to raise awareness about homeless issues. R.S.V.P. is the latest offering from Kenneth Cole Fragrances, which includes the top-selling Kenneth Cole Black and Kenneth Cole Reaction.

Catherine Walsh, Senior Vice President of American Fragrances for Coty Prestige says, "Jon Bon Jovi's charismatic persona embodies the spirit of the R.S.V.P. fragrance collection -- masculine, empowered, and inspired. As a celebrity who utilizes their place in the spotlight to help others, his involvement with the Kenneth Cole brand is what R.S.V.P. -- and Kenneth Cole himself -- is all about: responding to the cause and giving back."

The ad campaign for the R.S.V.P. fragrance will feature Jon Bon Jovi and will appear in print and on television in January 2007.

A portion of the proceeds from the sales of R.S.V.P. will be donated to the Philadelphia Soul Charitable Foundation -- an organization that exists to combat issues that force families and individuals into economic despair by the creation of programs and partnerships that break the cycle of poverty and homelessness.

Jon Bon Jovi's collaboration with Kenneth Cole also includes a previously announced limited-edition jacket collection designed by the pair, which is available this November at Kenneth Cole New York retail stores and Saks Fifth Avenue stores. Pre-sale orders for the jackets are being taken online at http://www.kennethcole.com/, with proceeds benefiting HELP USA.

For information on Bon Jovi and Kenneth Cole please visit: http://www.bonjovi.com/ and http://www.kennethcole.com/.

Coty Prestige owns the license to Kenneth Cole Fragrances. For more information on Coty Prestige please visit http://www.coty.com/.

About Coty Inc.

Coty was created in Paris in 1904 by Francois Coty who is credited with founding the modern fragrance industry. For over 100 years, Coty has delivered innovative products to consumers in 91 markets worldwide.

Today, Coty is the world's largest fragrance company and a recognized leader in global beauty with annual net sales of $2.9 billion. Driven by an entrepreneurial spirit, passion, innovation and creativity, Coty has developed an unrivaled portfolio of over 35 designer, celebrity and lifestyle brands.

The Coty Prestige brand portfolio is distributed in prestige and ultra-prestige stores and includes designer brands -- Calvin Klein, Cerruti, Chloe, Jette Joop, Jil Sander, JOOP!, Kenneth Cole, Marc Jacobs, Nikos, Vera Wang and Vivienne Westwood; celebrity brands -- Desperate Housewives, Jennifer Lopez and Sarah Jessica Parker; and lifestyle brands -- Baby Phat, Chopard, Davidoff, Lancaster, Nautica and Phat Farm.

The Coty Beauty brand portfolio is more widely distributed and includes celebrity brands -- Celine Dion, David and Victoria Beckham, Isabella Rossellini, Kylie Minogue, mary-kateandashley and Shania Twain; and lifestyle brands -- adidas, Aspen, Astor, Calgon, Chupa Chups, Esprit, Exclamation, Jovan, Miss Sixty, Miss Sporty, Rimmel, Stetson, the healing garden and Vanilla Fields. For additional information about Coty Inc., please visit http://www.coty.com/.

Source: Kenneth Cole Fragrances
God the Dyslexic doG Friends & Fans,
First off, we want to say thanks to everyone who has helped to make God the Dyslexic doG such a satisfying success for us. If you are receiving this email, you have either bought directly from us in the past, contacted us, or met us in person at a convention. Its been the fans who've spread the word about our books and helped get the buzz about us out in the world.
Our new colored graphic novels are now on store shelves. We'll also be up on amazon and all the other book sites shortly, as well as some libraries and colleges (surprisingly). Also, you can buy all of our books directly from us at
www.godthedyslexicdog.com
. Long story short, we only printed 1000 Hard Covers of the book and they're going to be sold out sooner than later (the H.C. has sold a lot better then any of us could have predicted). So, if you are interested in picking one up and haven't had a chance, now would be the time. There are still plenty of the soft cover trade paperback, though the original 4 Black and White comics are down to their last few boxes.
We have the next graphic novel written and loaded and ready for the great Alex Nino to do his thing (with a few chapter titles being: doGs of War, EVOL, and Remember the Future). If the sales, schedules and stars align just right, we'll have God the Dyslexic doG Vol. 2 colored and ready for you in time for San Diego Comic Con 07.
Cheers and keep drinking that Bliss,
Nick Lachey Launches Website for Gen Y and Celebrities
Social Networking Site Serves as First Secure Platform for Celebrities to Communicate With Fans
Oct. 5 .com, the ultimate online networking website specifically tailored to Generation Y launched Oct. 1. The innovative website targets 13-27 year olds and gives them the online platform to creatively express themselves while communicating with their friends and favorite stars securely on the internet.
Nick Lachey and co-founders, Drew Levin & Danny Perkins launched the site to create the most entertaining networking experience; giving its members hot new features and an all-access pass to their favorite musicians, actors, actresses and athletes. "We took a good look at our competition and knew we could raise the bar for online networking. We focused our attention in 3 areas; first, making the site easy to use and fast, second, developing entertaining features, and finally delivering the ultimate connection point between real athletes, actors, musicians and their fans," said Danny Perkins, YFly.com Co-Founder and Chief Marketing Officer.
YFly.com is a community-based network which connects individuals while also acting as a platform for celebrities to update their fans from a personal level. For example, celebrity members can address "rumors" on their YFLY.com profiles, update their fans on tour dates and give behind the scenes looks at their lives. "The opportunity for celebrities to break their own news and get direct feedback from their fans is extremely valuable. Ultimately, YFly gives celebrities the opportunity to relate on a more personal level with their fans," said Nick Lachey, YFly.com Co-Founder.
"In the development stages of YFly.com, we looked at other competitive sites and found that there may be hundreds of fake Nick Lachey profiles on one networking site. By certifying each celebrity through our verification process, celebrities can feel comfortable no one is misrepresenting their image and users know they are connecting with the celebrity directly, not an imposter," said Drew Levin, YFly.com Co-Founder and Chief Creative Officer.
Web site: http://www.yfly.com/
O.A.R. Makes History With Over 1 Million Sold; D.I.Y. Heroes Celebrate Milestone in Their Usual Fashion -- With Month-Long Tour of North America
-- Everfine/Lava/Atlantic recording group O.A.R. has reached a milestone moment in their extraordinary career. The band's cumulative record sales -- including their most recent release, 2005's "STORIES OF A STRANGER" -- are now officially in excess of 1.2 million.
"We are enormously proud of our association with O.A.R.," says Andy Allen, president of ADA. "The band and their management have defined indie record-making for our time. Smart, creative and dedicated to their fans, the band has found success without compromise."
Since forming in 1996, O.A.R. has blazed a unique grass-roots trail across America through a never-say-die work ethic, near-constant touring, and a truly inimitable musical vision. With their distinct rock-meets-reggae groove, fiery improvisations, and introspective, heartfelt lyricism, the Maryland-via-Ohio-based band earned themselves a fervent fan following from coast to coast.
Not long after their formation, O.A.R. self-released their debut album, "THE WANDERER," followed two years later with the live studio recording, "SOULS AFLAME." The band's third release, "RISEN," arrived in February 2001 and debuted at #11 on Billboard's "Internet Sales" chart and #66 on the "Top New Artists" ranking.
In 2002 the double-live album "ANY TIME NOW" was released, followed by the band's acclaimed Everfine/Atlantic/Lava debut, "IN BETWEEN NOW AND THEN" in 2003. A second two-CD in-concert recording, "34TH & 8TH," was issued in 2004.
Released last October, "STORIES OF A STRANGER" is shaping up as O.A.R.'s popular breakthrough. The collection includes a pair of top 20 Hot AC hits in "Love and Memories" and the current single, "Heard The World." In addition, the companion video clip for the album's "Lay Down" has just been nominated for the "Streaming Woodie" -- presented to the year's Most Downloaded Video -- at the upcoming mtvU Woodie Awards 2006, set to be presented on October 25th at New York's Roseland Ballroom and broadcast November 2nd on mtvU and mtvU.com.
Long hailed as one of the hardest touring bands in the country, O.A.R. fulfilled a lifelong dream earlier this year by headlining a sold-out concert at New York City's world-famous Madison Square Garden. Their endless tour continues next month with a series of North American concert dates, kicking off on October 12th at Grand Rapids, Michigan's DeltaPlex (see attached itinerary). All dates see support from Army of Me.
O.A.R. is: singer/guitarist Marc Roberge, lead guitarist Richard On, bassist Benj Gershman, drummer Chris Culos, and saxophonist Jerry DePizzo.
                                O.A.R.                                FALL 2006                            All Dates w/Army Of Me   OCTOBER 12    Grand Rapids, MI   DeltaPlex 13    Toronto, ON        Kool Haus 14    Ada, OH            Kinghorn Gymnasium (Ohio Northern Univ.) 15    Muncie, IN         Emens Auditorium (Ball State Univ.) 17    Memphis, TN        Orpheum Theatre 18    Tulsa, OK          Cain's Ballroom 19    Bloomington, IL    US Cellular Coliseum 21    Las Vegas, NV      Desert Breeze Park (KMXB's Bite of Las Vegas) 22    Milwaukee, WI      Eagles Ballroom 24    Iowa City, IA      Fieldhouse (University of Iowa) 25    Sioux City, IA     Orpheum Theatre 26    Columbia, MO       Jesse Auditorium (University of Missouri) 27    Minneapolis, MN    US Bank Theater at Target Center 
'Desperate Housewives: The Game' Now Available
The housewives of Wisteria Lane have arrived on Windows PCs. Buena Vista Games, Inc. today announced Desperate Housewives: The Game is now available at retail stores throughout the United States. Desperate Housewives: The Game is a lifestyle simulation Windows PC game inspired by the Golden Globe-winning ABC-TV series produced by Touchstone Television. In the game, the player takes on the role of a new housewife who moves to Wisteria Lane and unlocks the delicious scandals hidden in the seemingly "perfect" neighborhood.
"The global popularity and success of 'Desperate Housewives' is unsurpassed and provided the perfect inspiration for a Windows PC game that captures the essence of the series," said Graham Hopper, senior vice president and general manager, Buena Vista Games. "For the hours during the week between the Sunday night episode airings, Desperate Housewives: The Game is the ideal way for series fans to stay connected to the experience."
Desperate Housewives: The Game is a lifestyle simulation game with a 12-episode story. The game enables Windows PC users to customize a housewife and her family. The new housewife will move into a house on Wisteria Lane and uncover secrets from her past through interaction with her neighbors - including both characters from the TV series and all new characters. With a script from series writer Scott Sanford Tobis, the game is a new narrative that incorporates both drama and dark humor - a combination of characteristics familiar to fans of the show.
Brenda Strong reprises her role from the "Desperate Housewives" series as the voice of deceased housewife Mary Alice Young, who serves as the show's omniscient narrator in each episode.
Developed by Liquid Entertainment, Desperate Housewives: The Game is rated T for Teen by the Entertainment Software Rating Board (ESRB) and has a suggested retail price of $19.99.
About the series
Marc Cherry is executive producer and creator of "Desperate Housewives." The series is produced by Touchstone Television and is the winner of both the 2005 and 2006 Golden Globe Award for Best Television Series - Musical or Comedy. "Desperate Housewives" airs Sundays, 9-10 p.m. (ET/PT) on ABC.
About Buena Vista Games
Buena Vista Games, Inc. (BVG) is the interactive entertainment affiliate of The Walt Disney Company (NYSE:DIS). BVG publishes, markets and distributes a broad portfolio of multi-platform video games and interactive entertainment worldwide. The company also licenses properties and works directly with third-party interactive game publishers to bring products for all ages to market. For more information, please log on to http://www.bvg.com.
About Liquid Entertainment
Liquid Entertainment is a leading independent developer of entertainment software best known for its critically acclaimed strategy game Battle Realms and Lord of The Rings: War of The Ring. Liquid's passion is crafting the most entertaining and compelling games. To find out more about Liquid Entertainment and their games, please go to http://www.liquid.to.
About Touchstone Television
Touchstone Television has established itself as one of Hollywood's leading production companies, supplying critically acclaimed, quality entertainment to the broadcast and cable television industry. For the 2005-06 TV season, Touchstone Television received 18 pick-ups for new and returning scripted series on broadcast television including the critically and consumer praised phenomenons "Lost," "Desperate Housewives" and "Grey's Anatomy." http://www.touchstonetvpress.com.
(C) Touchstone Television
GOLDEN GLOBE(S)(R), HOLLYWOOD FOREIGN PRESS ASSOCIATION(R) and GOLDEN GLOBE(R) statuette design mark are the registered trademarks and service marks and the GOLDEN GLOBE(R) statuette the copyrighted property, of the Hollywood Foreign Press Association. Copyright (C) MM-MMVI Hollywood Foreign Press Association. All rights reserved.
Image Entertainment to Release ''Elvis Presley: The Ed Sullivan Shows''
Image Entertainment, Inc. (Nasdaq: DISK), a leading independent licensee, producer and distributor of home entertainment programming in North America, celebrates the legend of ELVIS PRESLEY with the first-ever DVD release of the undisputed king of rock 'n' roll's historic earth-shattering performances in ELVIS PRESLEY: THE ED SULLIVAN SHOWS. This 3-disc special edition DVD set will debut November 21.
Produced by Grammy and Emmy-award winning producer Andrew Solt (Imagine: John Lennon, This Is Elvis, The History of Rock 'n' Roll, Heroes of Rock 'n' Roll), the DVD consists of the three complete Ed Sullivan Shows on which Elvis made rock 'n' roll and TV history. Elvis first appeared on the show September 9, 1956 and sent shockwaves through a repressed post-war America -- effectively opening a generational rift between parents and their children -- with his soulful singing, sexual hip gyrations and raw rock 'n' roll energy. Elvis attracted a record-breaking audience of over 72 million people -- more than 80% of the television-viewing audience -- which equaled one of every third man, woman and child in the U.S. at that time. Viewing Elvis Presley's three appearances on the Ed Sullivan Show in their entirety frames the context of the country's appetite for entertainment in 1956. By glimpsing this time capsule Elvis's raw, confident and casual performances illustrates why he was so charismatic and how he captured the imagination of the world.
On his first Sullivan appearance, Elvis performed from CBS Television City in Hollywood while he was on the West Coast shooting his first feature film Love Me Tender. Although the movie was two months away from release and the single was not available in stores, Elvis debuted the song "Love Me Tender" that night on the show; he followed it up with "Don't Be Cruel" (with the Jordanaires), "Ready Teddy" and "Hound Dog." Elvis returned on October 28, 1956 this time in New York, triggering ecstatic screams from the largely teen audience while performing his current hits "Don't Be Cruel," "Love Me Tender" and "Hound Dog." This time around, he added Lieber & Stoller's "Love Me" to his playlist. Elvis's inspired performances as well as his growing reputation for hip shaking and sensual gyrations convinced CBS's censors that the Ed Sullivan Show should film him only above the waist during his third and final appearance on January 6, 1957. On this final Sullivan show, Elvis performed "Hound Dog," "Heartbreak Hotel," "Love Me Tender," "Don't Be Cruel," "Too Much," "When My Blue Moon Turns To Gold Again" and "Peace In The Valley." After the show went off without incident, Ed Sullivan proclaimed him, "A real decent fine boy." Sullivan, in his inimitable style, further thanked Elvis by adding, "We've never had a pleasanter experience on our show with a big name than we've had with you ... You're thoroughly all right." This was the last time Elvis would appear live on American television.
Since the DVD features the three Sullivan shows in their entirety, there are other historic variety show appearances by guests such as Carol Burnett, novelty artist Senor Wences, various Broadway stars, athletes such as boxer Sugar Ray Robinson, tennis great Don Budge, baseball legend Jackie Robinson and numerous comedians. Each of the three shows run about one hour and all include the original commercials, which aired as part of the show's live broadcast. The 3-disc special edition DVD features re-mastered Dolby Digital 5.1 audio as well as the original mono soundtrack. The Kinescope video has been enhanced by a breakthrough technical process -- created by a company called Live Feed -- resulting in an optimal sound and visual experience.
Special bonus features include: a rare color 8mm home movie shot in 1955 which is the first-ever recorded footage of a very young Elvis (age 20) who was not yet managed by Col. Tom Parker; special Elvis moments including an appearance by comedian John Byner; and home movies of Elvis and Priscilla with some of the earliest shots of their daughter Lisa Marie. In addition, the package includes insightful interviews and reminiscing with legendary producer Sam Phillips of Sun Records, Gordon Stoker of the Jordanaires, Marlo Lewis, producer of these three historic Ed Sullivan Shows, renowned television host Wink Martindale; High School buddy and Memphis DJ George Klein and Elvis's close friend and Memphis Mafia member Jerry Schilling, author of Me And A Guy Named Elvis. The impressive package also includes a collectible booklet about Elvis on Sullivan featuring liner-notes written by pre-eminent rock scribe, Greil Marcus.
About SOFA Entertainment:
SOFA Entertainment is an independent production company in Hollywood and the exclusive owner of "The Ed Sullivan Show," which holds 23 years of the Golden Age of Television. Since it was formed in 1990 by Andrew Solt, SOFA Entertainment along with its sister company, Andrew Solt Productions, has produced hundreds of hours of television and DVD programming. SOFA Entertainment is 50% owner of Historic Films Archives, LLC, which holds over 30,000 hours of music, pop culture, history and entertainment programming.
About Elvis Presley Enterprises, Inc.:
Elvis Presley Enterprises, Inc. (EPE) is based in Memphis, with additional offices in Los Angeles. In addition to Graceland and its related attractions in Memphis, including the Heartbreak Hotel, EPE is aggressively involved in a worldwide licensing program, merchandising, music publishing, and television, film, video and Internet projects. For more information on EPE and Graceland, visit http://www.Elvis.com . EPE is a subsidiary of CKX, Inc. (http://www.ckx.com), a publicly traded company listed on the NASDAQ National Market System (NMS) under the ticker symbol CKXE.
About Image Entertainment:
Image Entertainment, Inc. is a leading independent licensee, producer and distributor of home entertainment programming in North America, with over 3,000 exclusive DVD titles and approximately 200 exclusive CD titles in domestic release and approximately 300 programs internationally via sublicense agreements. For many of its titles, the Company has exclusive audio and broadcast rights and, through its subsidiary Egami Media, Inc., has digital download rights to more than 1,500 video programs and over 150 audio programs containing more than 2,500 tracks. The Company is headquartered in Chatsworth, California, and has a domestic distribution facility in Las Vegas, Nevada. The Company's subsidiary Image Entertainment (UK) maintains a content acquisition office in London, England. For more information about Image Entertainment, Inc., please go to http://www.image-entertainment.com.
New Burt Reynolds Film Continues Roll-out
null,Big Screen Entertainment Group (OTC:BSEG), distributor and production company of the Burt Reynolds/Raquel Welch comedy "Forget About It," is pleased to announce that the film has been booked in Arizona, as well as in the Northeast.
"We're pleased to be working with Harkins Theatres, who have booked "Forget About It" into their theaters in the Phoenix area. Much of the film was shot there utilizing local cast and crew, so there's a great deal of interest in seeing the finished movie," said BSEG CEO Kimberley Kates.
In Arizona the film will be playing at the Arizona Mills, Arrowhead Mountains, Chandler Fashion Square, Gateway Pavillions, North Valley, Shea and Superstition theaters.
"We're finding that there is tremendous interest from theater chains for the film," said BSEG president David Zappone. "In addition to Arizona, we already have a release in Connecticut, and are currently in negotiations to expand the release to several other states. Obviously, our goal is to be nationwide."
In addition to Reynolds and Welch, the action-comedy stars Academy Award nominee Charles Durning, Robert Loggia, Richard Grieco and Phyllis Diller.
"Burt Reynolds and Raquel Welch are screen legends. This will be their third film together over the last thirty years. The public seems excited to see them together again," Zappone said.
The release is scheduled for October 27th.
ABOUT BIG SCREEN:
BSEG currently has two films completed, two films in post-production, one in pre-production and four films in development. Visit our website at http://www.bigscreenent.com for more information on these movies.
Forward-Looking Statements:
A number of statements contained in this press release are forward-looking statements that are made pursuant to the safe harbor provisions of the Private Securities Litigation Act of 1995. These forward-looking statements involve a number of risks and uncertainties, including timely development, and market acceptance of products and technologies, competitive market conditions, successful integration of acquisitions and the ability to secure additional sources of financing. When used in this press release, words such as "could," "plan," "estimate," "expect," "intend," "may," "potential," "should," and similar expressions are forward looking statements. Although Big Screen Entertainment Group believes that the expectations reflected in these forward-looking statements are reasonable, such statements involve risks and uncertainties and no assurance can be given that actual results will be consistent with these forward-looking statements.
Aargh, Pirates of the Caribbean Toys Set Sale for the Holidays: Captain Jack Sparrow, Will Turner and Elizabeth Swann Available at a Toy Store near You
,Just days after international "Talk Like A Pirate" and two months prior to Black Friday, the toy line supporting Disney's record breaking movie, Pirates of the Caribbean: Dead Man's Chest gets set for what has the makings of a very exciting holiday season.
The unparalleled achievements at the box office have led to great success on retail shelves. The movie has broken numerous box office records including the fastest film to break the $100m, $200m and $300m marks. Most recently, Dead Man's Chest passed one-billion dollars at the global box office, being one of only three movies in history to do so! Zizzle's toy line has redefined the pirate play pattern with incredible depth of characters, storylines, movie sets/locations and pirate fantasy.
Roger Shiffman, CEO and President of Zizzle said, "Without question, 2006 has been a great year for both Zizzle and Disney and there's more to come. We continue to feel very fortunate to have such a great relationship with Disney and look forward to this holiday season. With the Ultimate Black Pearl playset available now, which was chosen as one of Toy Wishes Magazine's "Hot Toys for Summer, and our third wave of action figures on its way this is a very exciting time for us. Also, the DVD will be hitting retail shelves December 5th, which adds to the anticipation at retail."
Highly detailed action figures (available in 3 3/4inch, 7inch and 12inch) include all of kids' favorites, from Captain Jack Sparrow to Will Turner to the new villain character, Davy Jones and many more. Kids are able to take to land or sea with different play sets, including Isla Cruces offering a mill wheel that launches off the playset while allowing the action figures to continue battling while it rolls, Other toys include a floor model pinball machine with real working bumpers, flippers and spinner, Jack Sparrow's Pirate Gear(headband, compass, sword etc.), Will Turner's Battling Cutlass, interactive hand held games, novelty electronics and more.
New action figures, playsets and role play items will be available for Pirates of the Caribbean: At World's End in the Spring of 2007.
About Zizzle
The company is developing a comprehensive line of electronic and traditional toys for 2006 and beyond. In 2005 Zizzle's first product, iZ was named to Toy Wishes Magazine's Hot Dozen which is an indicator of the most successful toy sales for the holiday season. Zizzle is the Master Toy Licensee for Disney's Pirates of the Caribbean: Dead Man's Chest, one of this year's most anticipated movies. In addition, the company has developed an arcade pinball machine for home use, a broad line of Hand held Electronics Games and many others toys. Go to http://www.zizzle.com for more information.
World Premiere Walt Disney Pictures Presents Tim Burton's THE NIGHTMARE BEFORE CHRISTMAS Monday, October 16th at the El Capitan Theater
WHO: From the film: Writer/Producer Tim Burton, Composer Danny
Elfman, Director Henry Selick, and Ken Page
(voice of "Oogie Boogie")
Special guests: Jamie Lee Curtis, Shanna Moakler, and more!
WHAT: To celebrate the Los Angeles Premiere of Walt Disney Pictures'
NIGHTMARE BEFORE CHRISTMAS 3D.
WHEN: Monday, October 16th, 2006 WHERE: El Capitan Theater
5:00PM Press Arrivals 6838 Hollywood Blvd
6:00PM Celebrity Arrivals Hollywood, CA
7:00PM Screening
CONTACTS: Domestic J. Peterson 818/560-2039
Tim Burton's holiday classic, THE NIGHTMARE BEFORE CHRISTMAS, makes a return to the big screen just in time to celebrate the film's 13th Anniversary this Halloween in stunning Disney Digital 3D(TM). The dazzling new make-over of the musical-fantasy was led by the film's original filmmaking team of Academy Award(R) nominated writer/producer Tim Burton ("Charlie and the Chocolate Factory," "Corpse Bride") and director Henry Selick ("James and the Giant Peach") as well as the talented technical wizards at Industrial Light + Magic. Audiences will get closer than ever to Halloweentown's beloved Pumpkin King, Jack Skellington (voice of Chris Sarandon), as he attempts to take over the Christmas holiday. Against the advice of Sally (voice of Catherine O'Hara), a lonely rag doll who has feelings for him, Jack enlists three mischievous trick-or-treaters -- Lock, Shock, and Barrel -- to help him kidnap Santa Claus. Jack eventually realizes his mistake but has to contend with the evil Oogie Boogie before he can make things right and restore the Christmas holiday. Fueled by an unforgettable Grammy(R) nominated soundtrack featuring ten ghoulishly delightful songs by Oscar(R) nominee Danny Elfman ("Corpse Bride," "Big Fish") who also provided the singing voice for Jack, Tim Burton's THE NIGHTMARE BEFORE CHRISTMAS 3D combines the Oscar(R) nominated artistry of stop-motion animation with brand new state-of-the-art digital technology to create a unique and entertaining movie-going experience that is sure to become a modern holiday tradition.
Tim Burton's holiday classic, THE NIGHTMARE BEFORE CHRISTMAS, makes a return to the big screen just in time to celebrate the film's 13th Anniversary this Halloween in stunning Disney Digital 3D(TM). The dazzling new make-over of the musical-fantasy was led by the film's original filmmaking team of Academy Award(R) nominated writer/producer Tim Burton ("Charlie and the Chocolate Factory," "Corpse Bride") and director Henry Selick ("James and the Giant Peach") as well as the talented technical wizards at Industrial Light + Magic. Audiences will get closer than ever to Halloweentown's beloved Pumpkin King, Jack Skellington (voice of Chris Sarandon), as he attempts to take over the Christmas holiday. Against the advice of Sally (voice of Catherine O'Hara), a lonely rag doll who has feelings for him, Jack enlists three mischievous trick-or-treaters -- Lock, Shock, and Barrel -- to help him kidnap Santa Claus. Jack eventually realizes his mistake but has to contend with the evil Oogie Boogie before he can make things right and restore the Christmas holiday. Fueled by an unforgettable Grammy(R) nominated soundtrack featuring ten ghoulishly delightful songs by Oscar(R) nominee Danny Elfman ("Corpse Bride," "Big Fish") who also provided the singing voice for Jack, Tim Burton's THE NIGHTMARE BEFORE CHRISTMAS 3D combines the Oscar(R) nominated artistry of stop-motion animation with brand new state-of-the-art digital technology to create a unique and entertaining movie-going experience that is sure to become a modern holiday tradition.
More Than Half of MySpace Visitors Are Now Age 35 or Older, As the Site's Demographic Composition Continues to Shift
comScore Analysis Reveals Demographic Profiles for Selected Social Networking Sites
comScore Media Metrix, a leader in digital media measurement, today released an analysis of the users of leading social networking sites, revealing that significant age differences exist between the user bases of these sites.
Visitors to MySpace.com and Friendster.com generally skew older, with people age 25 and older comprising 68 and 71 percent of their user bases, respectively. Meanwhile, Xanga.com has a younger user profile, with 20 percent of its users in the 12-17 age range, about twice as high as that age segment's representation within the total Internet audience. Not surprisingly, Facebook.com, which began as a social networking site for college students, also draws a younger audience. More than one-third (34 percent) of visitors to Facebook.com are 18-24 years old, approximately three times the representation of that age segment in the general Internet population.
"While the top social networking sites are typically viewed as directly competing with one another, our analysis demonstrates that each site occupies a slightly different niche," commented Jack Flanagan, executive vice president of comScore Media Metrix. "MySpace.com has the broadest appeal across age ranges, Facebook.com has created a niche among the college crowd, Friendster.com attracts a higher percentage of adults, and Xanga.com is most popular among younger teens. There is a misconception that social networking is the exclusive domain of teenagers, but this analysis confirms that the appeal of social networking sites is far broader."
Demographic Profile of Visitors to Select Social Networking Sites
Percent Composition of Total Unique Visitors
August 2006
Total U.S. - Home/Work/University Locations
Source: comScore Media Metrix
Percent (%) Composition of Unique Visitors
Total
Internet MySpace.com Facebook.com Friendster.com Xanga.com
Unique
Visitors
(000) 173,407 55,778 14,782 1,043 8,066
Total Audience 100.0 100.0 100.0 100.0 100.0
Persons: 12-17 9.6 11.9 14.0 10.6 20.3
Persons: 18-24 11.3 18.1 34.0 15.6 15.5
Persons: 25-34 14.5 16.7 8.6 28.2 11.0
Persons: 35-54 38.5 40.6 33.5 34.5 35.6
Persons: 55+ 18.0 11.0 7.6 8.1 7.3
Composition of MySpace.com Visitors Now Skews Older
An analysis of visitors to MySpace.com shows that as the site has experienced dramatic visitor growth, it has become more popular among older Internet users. The most significant shift has occurred among teens 12-17, who accounted for 24.7 percent of the MySpace audience in August 2005, but today represent a much lower 11.9 percent of the site's total audience. Conversely, Internet users between the ages of 35-54 now account for 40.6 percent of the MySpace visitor base, an 8.2 percentage point increase during the past year.
Demographic Profile of Visitors to MySpace.com
Percent Composition of Total Unique Visitors
August 2006 vs. August 2005
Total U.S. - Home/Work/University Locations
Source: comScore Media Metrix
MySpace.com
Percent (%) Composition of Unique Visitors
Aug-05 Aug-06 Point Change
Unique Visitors (000) 21,819 55,778
Total Audience 100.0 100.0 0.0
Persons: 12-17 24.7 11.9 -12.8
Persons: 18-24 19.6 18.1 -1.4
Persons: 25-34 10.4 16.7 6.2
Persons: 35-54 32.4 40.6 8.2
Persons: 55+ 7.1 11.0 3.9
"As social networking sites have become mainstream, the demographic composition of MySpace.com has changed considerably. Last year half of the site's visitors were at least 25 years old, while today more than two-thirds of MySpace visitors are age 25 or older," continued Mr. Flanagan. "It will be interesting to monitor the shifts in Facebook's demographic composition that will undoubtedly occur as a result of the company's recent decision to open its doors to users of all ages."
About comScore Media Metrix
comScore Media Metrix, a division of comScore Networks, provides industry-leading Internet audience measurement services that report -- with unmatched accuracy -- details of online media usage, visitor demographics and online buying power for the home, work and university audiences across local U.S. markets and across the globe. comScore Media Metrix continues the tradition of quality and innovation established by its Media Metrix syndicated Internet ratings -- long recognized as the currency in online media measurement among financial analysts, advertising agencies, publishers and marketers -- while drawing upon comScore's advanced technologies to address important new industry requirements. All comScore Media Metrix syndicated ratings are based on industry-sanctioned sampling methodologies.
About comScore Networks
comScore Networks is a global leader in measuring the digital age. This capability is based on a massive, global cross-section of more than 2 million consumers who have given comScore permission to confidentially capture their browsing and transaction behavior, including online and offline purchasing. comScore panelists also participate in survey research that captures and integrates their attitudes and intentions. Through its proprietary technology, comScore measures what matters across a broad spectrum of behavior and attitudes. comScore consultants apply this deep knowledge of customers and competitors to help clients design powerful marketing strategies and tactics that deliver superior ROI. comScore services are used by global leaders such as AOL, Microsoft, Yahoo!, Verizon, Best Buy, The Newspaper Association of America, Tribune Interactive, ESPN, Fox Sports, Nestle, MBNA, Universal McCann, the United States Postal Service, Merck and Expedia. For more information, please visit http://www.comscore.com/ .
Source: comScore Networks, Inc.
SPIKE TV's 'SCREAM AWARDS 2006' Tapes on Saturday, October 7
WHO: Hosts:
ROSARIO DAWSON ROSE MCGOWAN MARLEY SHELTON
(stars of Quentin Tarantino/Robert Rodriguez's upcoming film
"Grindhouse")
Live Musical Performers:
KORN MY CHEMICAL ROMANCE
Honorees:
FRANK MILLER OZZY OSBOURNE
ROBERT RODRIGUEZ QUENTIN TARANTINO
Presenters/Attendees:
BEN AFFLECK KRISTA ALLEN DEVON AOKI
LINDA BLAIR JENNIFER CARPENTER JOSH DUHAMEL
JAY HERNANDEZ THOMAS JANE MARILYN MANSON
EVA MENDES BRANDON ROUTH
"BATTLESTAR GALACTICA" CAST MEMBERS:
TRICIA HELFER GRACE PARK KATEE SACKOFF
FALL OUT BOY MEMBERS:
PETE WENZ PATRICK STUMP
"GRINDHOUSE" CAST MEMBERS:
ZOE BELL MICHAEL BIEHN VANESSA FERLITO
JORDAN LADD SYDNEY TAMIIA POITIER FREDDY RODRIGUEZ
TRACIE THOMS MARY ELIZABETH WINSTEAD
"SAW III" CAST MEMBERS:
TOBIN BELL SHAWNEE SMITH
"THE DEVIL'S REJECTS" CAST MEMBERS:
ROB ZOMBIE LESLIE EASTERBROOK SID HAIG
SHERIE MOON ZOMBIE
-More names to come/Names subject to change-
WHAT: SPIKE TV's "SCREAM AWARDS 2006"
Spike TV presents the first annual televised event paying homage
to the genres of horror, sci-fi and fantasy, as well as comic
book culture. SPIKE TV's "SCREAM AWARDS 2006" premieres Tuesday,
October 10 (10:00 PM - Midnight, ET/PT).
Peter Pan in Scarlet - The Official Sequel to Peter Pan - Published Today
-- The Special Trustees of Great Ormond Street Hospital for Children and Simon & Schuster Children's Publishing are delighted to announce that Geraldine McCaughrean's Peter Pan in Scarlet -- the only official sequel to Peter Pan -- will be published today, Thursday, October 5th. It will hit bookshelves simultaneously in 30 countries and in 34 languages, in answer to extraordinary interest around the world. The jacket for the US edition is illustrated by Caldecott Honoree and New York Times best-selling author and illustrator Tony DiTerlizzi, and the interior includes black silhouette illustrations by Scott M. Fischer.
The story of Peter Pan in Scarlet has been a closely guarded secret, but now we can reveal: Set in 1926, green summer has turned to scarlet autumn. The Great War has claimed a life (Michael), the children have grown up and have children of their own, and troublesome dreams are leaking out of Neverland. When the Darlings and the Lost Boys arrive back, they find it quite changed. Someone is living in the underground den and mermaid hair litters the shore. Captain Hook's ghostly pirate ship is adrift without Captain or crew. When the Wendy House tumbles out of the Nevertree there seems nothing to do but venture into the realms of Never-been-there-land. Awaiting them are pirates, a circus, animals, witches, fairies...and dangers that will test the resolve of even the greatest hero.
Which of the original characters are back in this new sequel?
Twenty years have passed and the children are grown up...but not for long. Wendy, now a wife and mother, goes back to Neverland along with 'Judge' Tootles, 'Honorable' Slightly, John, The Twins, and 'Dr' Curly. There they meet pirates Starkey and Smee, and Tinker Bell, of course! ('Mr' Nibs, in the end, just couldn't bear to leave his children).
And Peter?
He is the same contradiction as ever: Lion-hearted and heartless; the Wonder of the Neverwood and a little boy in need of friends and a game to play; the boy who -- even after a century -- has the power to touch us all.
And is Captain Hook Back?
Well, what can we say but his spirit is still stalking Neverland.
And who are the newcomers?
* A mysterious Circus Master called The Great Ravello: "Oh, I am a
traveling man...I listen out. I listen in."
* Fireflyer, a new, spirited (and permanently hungry!) male fairy: "[a]
tiny, bluish mite, with red hair, and eyes the color of honey." His
greatest wish is to meet Tinker Bell.
* Nana's great-great-great-grandpuppy: "[Peter Pan] saw the puppy's head
sticking out of Curly's pocket and said, You washed Nana and shrank
her!"
Geraldine McCaughrean, the author, has been overwhelmed by all the anticipation surrounding publication: "Now I'm quivering like a greyhound, waiting to see what people think of my book when it finally hits the shelves. Will Peter Pan and Neverland work their infallible magic? I got more than my fair share of fun out of writing Peter Pan in Scarlet, but I'm sure there's plenty left over for the children who read it."
Dr Jane Collins, Chief Executive of Great Ormond Street Hospital for Children said, "Today is very special for the hospital because it is the culmination of years of work to create the official sequel to J. M. Barrie's Peter Pan. Geraldine's writing has captured the essence of his immortal creation and the success of Peter Pan in Scarlet will ensure that Great Ormond Street Hospital for Children benefits from Barrie's gift for many years to come."
Emma D. Dryden, Vice President & Associate Publisher of Atheneum Books for Young Readers and Margaret K. McElderry Books, comments, "Geraldine McCaughrean has worked magic! She has brought Neverland back to life with a richness of character and a depth of storytelling that is utterly remarkable and totally compelling. She has done the near impossible-created something new from something classic and in the process has given the world a new classic that is sure to capture the hearts of readers everywhere."
This evening there will be a launch party at Kensington Palace in London.
In August 2004, the Special Trustees of Great Ormond Street Hospital launched the search for a sequel to JM Barrie's timeless masterpiece, Peter Pan. The Hospital owns the copyright and other intellectual property rights of Peter Pan and, to mark the work's centenary publishers and literary agents worldwide were invited to put forward the names of up to two authors to be considered for the project. The author could be a children's or an adult writer and of any nationality. Entrants were asked to submit a sample chapter and synopsis. Geraldine McCaughrean was the author chosen from a field of nearly 200 entries from around the world. Sir James Matthew Barrie bequeathed the copyright to Peter Pan to Great Ormond Street Hospital in 1929 and since then the royalties have been a significant but confidential source of income for the Hospital. J M Barrie died in 1937.
Geraldine McCaughrean was born and educated in Enfield, North London, the third and youngest child of a fireman and a teacher. She trained as a teacher, worked for ten years in publishing, and in 1988 became a full-time writer. Since then, Geraldine has written 139 children's books and has won the Carnegie Medal, Guardian Children's Fiction Award, Whitbread Children's Book of the Year (three times), Smarties Bronze (four times), UK Readers' Association Award, and wrote the Blue Peter Book of the Year 2000. In 2002, The Kite Rider and Stop the Train were both shortlisted for the Carnegie Medal, with the latter being Highly Commended. Her most recent novel, The White Darkness, was shortlisted for the 2005 Whitbread Children's Book Award and the Carnegie Medal. Geraldine lives in Berkshire with her husband John and their daughter, Ailsa.
Simon & Schuster Children's Publishing, one of the leading children's book publishers in the world, is comprised of the following imprints: Aladdin Paperbacks, Atheneum Books for Young Readers, Libros para ninos, Little Simon(R), Little Simon Inspirations(TM), Margaret K. McElderry Books, Simon & Schuster Books for Young Readers, Simon Pulse, Simon Scribbles, and Simon Spotlight(R). While maintaining an extensive award-winning backlist, the division continues to publish acclaimed and best-selling books for children of all ages. In addition to numerous Caldecott, Newbery, and National Book Award winners, Simon & Schuster publishes such high-profile properties and series as Eloise, Olivia, Raggedy Ann & Andy(TM), Henry & Mudge(R), The Hardy Boys(R), Nancy Drew(R), The Spiderwick Chronicles, Nickelodeon's(R) Dora the Explorer(R), Blue's Clues(R) SpongeBob SquarePants(R), and The Backyardigans(TM), Just Born's Peeps(R), American Greetings's Holly Hobbie(TM), and Big Idea's VeggieTales(R). For more information about Simon & Schuster Children's Publishing, visit our website at http://www.simonsayskids.com/ .
Simon & Schuster, a part of the CBS Corporation, is a global leader in the field of general interest publishing, dedicated to providing the best in fiction and nonfiction for consumers of all ages, across all printed, electronic, and audio formats. Its divisions include Simon & Schuster Adult Publishing, Simon & Schuster Children's Publishing, Simon & Schuster Audio, Simon & Schuster Digital, and international companies in Australia, Canada, and the United Kingdom. For more information, visit our website at www.simonsays.com .
Source: Simon & Schuster Children's Publishing
WORKING TITLE FILMS AND UNIVERSAL PICTURES BEGIN PRINCIPAL PHOTOGRAPHY ON 'DEFINITELY, MAYBE,' A ROMANTIC COMEDY WRITTEN AND DIRECTED BY ADAM BROOKS
Rachel Weisz, Derek Luke, Isla Fisher, Elizabeth Banks and Abigail Breslin Join Ryan Reynolds in Film
-- Filming begins this week in New York City on "Definitely, Maybe," a romantic comedy starring Ryan Reynolds ("National Lampoon's Van Wilder," upcoming "Smokin' Aces"), Academy Award(R) winner Rachel Weisz ("The Constant Gardener," "The Fountain," "Runaway Jury'), Derek Luke ("Antwone Fisher," "Friday Night Lights"), Isla Fisher ("Wedding Crashers," "I Heart Huckabees"), Elizabeth Banks ("Invincible," "The 40-Year- Old Virgin") and Abigail Breslin ("Little Miss Sunshine," "Raising Helen"). Adam Brooks, who most recently wrote the screenplay for "Wimbledon" and co-wrote "Bridget Jones: The Edge of Reason," directs from his screenplay.
Ryan Reynolds stars as Will Hayes, a 30-something Manhattan dad in the midst of a divorce when his 10-year-old daughter, Maya (Abigail Breslin), starts to question him about his life before marriage. Maya wants to know absolutely everything about how her parents met and fell in love.
Will's story begins in 1992, as a young, starry-eyed aspiring politician who moves to New York from Wisconsin in order to work on the presidential campaign. For Maya, Will relives his past as an idealistic young man learning the ins and outs of big city politics, and recounts the history of his romantic relationships with three very different women. Will hopelessly attempts a "PG" version of his story for his daughter and changes the names so Maya has to guess who is the woman her father finally married. Is her mother Will's college sweetheart, the dependable girl next-door Emily (Elizabeth Banks)? Is she his longtime best friend and confidante, the apolitical April (Isla Fisher)? Or is she the free-spirited but ambitious journalist Summer (Rachel Weisz)?
As Maya puts together the pieces of her dad's romantic puzzle, she begins to understand that love is not so simple or easy. And as Will tells her his tale, Maya helps him understand that it's really never too late to go back...and maybe find a happy ending.
"Definitely, Maybe" is produced by Tim Bevan and Eric Fellner. Liza Chasin ("Pride & Prejudice," "High Fidelity") of Working Title and Bobby Cohen ("Memoirs of a Geisha," "RV," "Jarhead") serve as executive producers. The film is a Working Title production and will be released by Universal Pictures.
The film's behind-the-scenes team includes line producer Kerry Orent (television's "Rescue Me," upcoming "Michael Clayton"), cinematographer Florian Ballhaus ("The Devil Wears Prada," "Flightplan"), production designer Stephanie Carroll ("Monsoon Wedding," "The War Within"), costume designer Gary Jones ("Spiderman 2," "The Talented Mr. Ripley") and editor Peter Teschner ("Borat: Cultural Learnings of America for Make Benefit Glorious Nation Kazakhstan," "Charlie's Angels"). "Definitely, Maybe" will be filmed in New York City.
Working Title Films has been co-chaired by Tim Bevan and Eric Fellner since 1992. Between them, the pair has produced 80 feature films, which have amassed more than $3.5 billion worldwide. The company's commercial and critical hits include "The Interpreter"; "About a Boy"; "Notting Hill"; "Elizabeth"; "Fargo"; "Dead Man Walking"; "Bean"; "High Fidelity"; "Johnny English"; "Billy Elliot"; "Four Weddings and a Funeral"; "Bridget Jones's Diary"; "Bridget Jones: The Edge of Reason"; "O Brother, Where Art Thou?"; "Love Actually"; "Shaun of the Dead"; "Pride & Prejudice"; "Nanny McPhee"; and "United 93"; and the company has stepped into theatre production with the hugely popular "Billy Elliot The Musical". Opening this month is Phillip Noyce's "Catch a Fire"; and in 2007 Working Title will release Joe Carnahan's "Smokin' Aces", Joe Wright's "Atonement"; Shekhar Kapur's "The Golden Age"; Steve Bendelack's "Mr. Bean's Holiday"; Paul Weiland's "Sixty Six"; and Ringan Ledwidge's "Gone."
Universal Pictures is a division of Universal Studios (www.universalstudios.com). Universal Studios is part of NBC Universal, one of the world's leading media and entertainment companies in the development, production, and marketing of entertainment, news, and information to a global audience. Formed in May 2004 through the combining of NBC and Vivendi Universal Entertainment, NBC Universal owns and operates a valuable portfolio of news and entertainment networks, a premier motion picture company, significant television production operations, a leading television stations group, and world-renowned theme parks. NBC Universal is 80%-owned by General Electric, with 20% controlled by Vivendi Universal
Premiere of 'FLAGS OF OUR FATHERS'
WHAT: PREMIERE OF "FLAGS OF OUR FATHERS"
WHEN: MONDAY, OCTOBER 9, 2006, PROMPTLY AT 7:30 PM
Arrivals to begin at 6:30 pm
Press Check-In: 5:30 pm
WHERE: ACADEMY OF MOTION PICTURE ARTS AND SCIENCES
8949 Wilshire Blvd., Beverly Hills
WHO: Cast members and filmmakers attending include:
Director/producer Clint Eastwood, producer Steven Spielberg, Jesse
Bradford, Adam Beach, Barry Pepper, John Slattery, Jamie Bell,
Paul Walker, Neal McDonough, Melanie Lynskey, Joseph Cross,
Benjamin Walker, producer Robert Lorenz, co-screenwriters William
Broyles, Jr. and Paul Haggis
Other celebrities attending include:
Billy Bob Thornton, Hayden Christensen, Ray Romano, Cedric the
Entertainer, Scott Caan, Shohreh Aghdashloo, Jerry Ferrara ...
and many more!
ABOUT "FLAGS OF OUR FATHERS"
February 1945. Even as victory in Europe was finally within reach, the war in the Pacific raged on. One of the most crucial and bloodiest battles of the war was the struggle for the island of Iwo Jima, which culminated with what would become one of the most iconic images in history: five Marines and a Navy corpsman raising the American flag on Mount Suribachi. The inspiring photo capturing that moment became a symbol of victory to a nation that had grown weary of war and made instant heroes of the six American soldiers at the base of the flag, some of whom would die soon after, never knowing that they had been immortalized. But the surviving flag raisers had no interest in being held up as symbols and did not consider themselves heroes; they wanted only to stay on the front with their brothers in arms who were fighting and dying without fanfare or glory.
Release Date: October 20, 2006
Playboy.com Ranks the "10 Sexiest Memoirs of All Time" [**Media Note: This feature is exclusively on Playboy.com. This is NOT a feature in Playboy magazine.]
Playboy.com has compiled a list of the best real-life erotica with its first ever ranking of the "10 Sexiest Memoirs of All Time." The list features narratives composed from the personal experiences of actors and musicians as well as ingenues and art critics, all of whom bring new meaning to the term kiss and tell.
The feature can be found online at www.playboy.com/sex/features/10memoirs. Book fans can view covers and read a synopsis, excerpt and brief history of each work. Below is Playboy.com's ranking of the "10 Sexiest Memoirs of All Time":
1) The Sexual Life of Catherine M, by Catherine Millet (2001)
2) The Surrender, by Toni Bentley (2004)
3) The Memoirs of Jacques Casanova de Seingalt, by Giacomo Casanova (1826)
4) 100 Strokes of the Brush Before Bed, by Melissa P. (2003)
5) Nine and a Half Weeks, by Elizabeth McNeill (1978)
6) Emmanuelle, by Emmanuelle Arsan (1967)
7) My Life & Loves, by Frank Harris (1923)
8) Kinski Uncut: The Autobiography of Klaus Kinski, by Klaus Kinski (1996)
9) Ecstasy and Me: My Life as a Woman, by Hedy Lamarr (1966)
10) Motley Crue: The Dirt-Confessions of the World's Most Notorious Rock
Band, by Tommy Lee, Mick Mars, Vince Neil and Nikki Six (2001)
Source: Playboy.com
Web site: http://www.playboy.com/
http://www.playboy.com/sex/features/10memoirs
VH1 Partners With NYC Big Events for First Ever 'VH1 Hip Hop Honors Week' in Connection With VH1's 3rd Annual 'Hip Hop Honors' Show
Special Events and Performances in All Five Boroughs Begin Thurs., October 12
'VH1 Hip Hop Honors' Event to Honor New Yorkers Wu-Tang Clan, Afrika Bambaataa, Russell Simmons, MC Lyte, Rakim and Beastie Boys as Well as Ice Cube and Eazy E
- Having transformed music and pop culture internationally, hip hop gets its props in the city where it all began.
VH1 is partnering with the City of New York's NYC Big Events to create the first-ever "VH1 Hip Hop Honors Week" in connection with the network's 3rd annual "Hip Hop Honors" telecast hosted by Ice-T on Tuesday, October 17.
"Our Hip Hop Honors Week takes the party out of the Hammerstein and into the streets so New Yorkers can touch and feel the excitement," said Maureen J. Reidy, President & CEO, NYC Big Events. "The Week leading up to the show's telecast is packed with opportunities for New Yorkers and tourists to learn about hip hop history and culture through a variety of events in all five boroughs."
"The tremendous depth of activities during 'Hip Hop Honors Week' confirms how this music has become the dominant force in pop culture," said Tom Calderone, Executive Vice President, General Manager, VH1. "New York City is truly the only place in the world where we could hold our 'Hip Hop Honors' event, and we're proud to have partnered with NYC Big Events to create such an extensive week that celebrates hip hop."
The event, hosted by Ice-T, will honor Wu-Tang Clan, Afrika Bambaataa, Russell Simmons, MC Lyte, Rakim, Beastie Boys all representing all five boroughs of New York City as well as Ice Cube and Easy E. Additional performers include Lil' Kim, Diddy, Fat Joe, Lil Jon, Da Brat, Xzibit, Talib Kweli, Remy Ma, Q-Tip, Common, The Roots, George Clinton, Young Jeezy, Erykah Badu and KRS-One with appearances by Outkast and Mike Epps.
The City of New York, through NYC Big Events, worked with VH1 to create a jam packed week of events, performances, exhibits, workshops and retail specials in each of the five boroughs that recognize and celebrate the heritage and tremendous impact of Hip Hop since its birth decades ago on the streets of New York City.
Beginning Thursday, October 12 and culminating with the "VH1 Hip Hop Honors" telecast on VH1 on Tuesday, October 17 at 8 PM, VH1 Hip Hop Honors Week will be anchored each day by a different theme including: Education Day, Restaurant Day, Culture and Music Day, Sports Day and Fashion & Shopping Day.
Highlights of the week include the "Hip Hop Honors Celebrity Hoops" exhibition featuring half-time performer Fat Joe, celebrity MC Doug E. Fresh and a team including Ice-T, Kurtis Blow, Whodini and Grand Master Mellie Mel. In addition, VH1 is producing an NBA Store Event where shoppers can meet NBA legend John Starks and Fat Joe and compete to win a "VH1 Hip Hop Honors Week" gift bag. The special week also ties into numerous hip hop-themed events and seminars that were already scheduled.
THURSDAY, OCTOBER 12 - EDUCATION DAY
The week kicks off today with hip hop artists conducting "master classes"
in public schools in each of the city's five boroughs throughout the week.
The classes are presented by the VH1 Save The Music Foundation, a long-
time supporter of New York City's public school music programs.
Other events today that tie into "Hip Hop Honors Week" include:
NATIONAL AMUSEMENTS HIP-HOP MOVIE SCREENINGS
Check out Hip Hop Movie night at three theaters in the boroughs -- for
only $3! All proceeds will benefit the VH1 Save the Music Foundation.
Catch classics on Thursday (10/12), Sunday (10/15) and Monday (10/16).
For other movie titles and show times at Linden Boulevard Multiplex
Cinema, College Point Multiplex Cinema and Jamaica Multiplex Cinema visit
http://www.nationalamusements.com/
SCRATCH DJ ACADEMY CLASS - 7:00 p.m.
434 Sixth Avenue, 2nd Floor, Manhattan
Founded by the late Jam Master Jay from Run-DMC, Scratch DJ Academy hosts
a free 60-minute workshop on the DJ basics hosted by GrandWizzard
Theodore.
SCREENING OF THE HIP HOP PROJECT - 5:00 p.m.
Brooklyn Museum of Art, 200 Eastern Parkway, Brooklyn
Q-Tip hosts a screening for this inspirational film about Kazi, a formerly
homeless teenager turned youth mentor who helps a group of NYC teenagers
transform their lives into powerful works of art, using hip hop as a
vehicle for personal discovery. The Hip Hop Project features Russell
Simmons, Bruce Willis, Sway, Sarah Jones and Doug E. Fresh. Q&A with
Q-Tip, Kazi and cast members to follow
powerHouse ARENA OPENING NIGHT GALA - 6:00-10:00 p.m.
No Sleep 'Til Brooklyn Exhibition
37 Main Street, Brooklyn
Tickets are $25
http://www.powerhousebooks.com/
Hosted by Kool DJ Red Alert from Power 105.1, the powerHouse Arena hosts a
30-year retrospective exhibition of hip-hop culture to benefit the VH1
Save The Music Foundation, featuring works by over 45 artists.
FRIDAY, OCTOBER 13 - RESTAURANT DAY
"HIP HOP CELEBRITY-AT-YOUR-SERVICE" EVENT -- 10:00 a.m. - 4:00 p.m.
Junior's Restaurant, Times Square
1515 Broadway and 45th Street at Shubert Alley, Manhattan
http://www.juniorscheesecake.com/
Hip Hop's Remy Ma dishes it out and serves it up at this ultimate hip hop
dining experience. 98.7 KISS FM will be on site providing the soundtrack
to the event and giveaways. In addition, dozens of restaurants in all
five boroughs will offer discounts and specials tied into "Hip Hop Honors
Week." Check out
http://hiphop.vh1.com/
.
Additional hip hop events tying into "Hip Hop Honors" today include:
BRASILINTIME FILM SCREENING - 6:00 p.m.
Bronx Museum, 1040 Grand Concourse, Bronx
The Bronx Museum screens the film Brasilintime, a documentary that tells
the story of a group of DJ's who travel to Brazil to show how Brazilian
beats influence hip hop.
WHITNEY LIVE PRESENTS: ZIMBABWE LEGIT w/ SPECIAL GUEST GRANDWIZZARD
THEODORE -- 7:00 P.M.
Whitney Museum, 945 Madison Avenue @ 75th Street, Manhattan
(800) WHITNEY http://www.whitney.org/
"Whitney Live" kicks off its new season with a tribute to the golden age
of hip hop. Pioneering hip-hop duo Zimbabwe Legit -- brothers Akim Funk
Buddha and Dumi Right -- create a unique fusion of African aesthetic and
urban American dialect that returns hip hop to its pre-commercial roots.
With special guest hip-hop legend GrandWizzard Theodore. Free with pay-
what-you-wish museum admission.
HIP HOP KARAOKE -- Sign-up: 9pm/Showtime: 10pm
Knitting Factory, 74 Leonard Street, Manhattan
(212) 219-3132 http://www.hiphopkaraokenyc.com/
Designed for the inner rapper in us all, amateur MCs are given their
chance to rhyme and shine.
SATURDAY, OCTOBER 14 - MUSIC AND CULTURE DAY
"BLACK STYLE NOW" Exhibit - 3:00 p.m.
Museum of the City of New York, 1220 Fifth Avenue, Manhattan
This exhibition explores African-American style and highlights the hip-hop
revolution and its transformative impact on fashion and design. The
exhibition focuses on such iconic designers and style setters as Sean
"Diddy" Combs, Tracy Reese and Russell Simmons.
LADIES FIRST RAP and DJ DEMONSTRATION and DISCUSSION - 3:00 p.m.
Michaela Angela Davis moderates an afternoon of hip-hop conversation and
culture for and by women presented by "Black Girls Rock!" Board members
DJ Beverly Bond, Mitzi Miller, Joan Morgan, and others discuss images of
black girls and women in mainstream hip-hop media. Also, Toni Blackman ("I
Rhyme Like a Girl") gives a demonstration with her freestyling group of
young female MCs.
POP-UP MUSEUM: THE HIP HOP CULTURE CENTER -- 10am-10pm (October 12-17)
AMC Loews Harlem USA
2309 Frederick Douglass Blvd., Manhattan
Global Artists Coalition (GAC) hosts a temporary hip-hop museum and
culture center at Magic Johnson's Harlem movie theater that celebrates the
history, style and music of hip hop over the last three decades with
performances, interactive exhibits, including photojournalist Jamel
Shabazz's collection of rare hip-hop handbills and snapshots that
chronicle the transition from old school to hip hop today.
SUNDAY, OCTOBER 15 - SPORTS DAY
HIP HOP HONORS CELEBRITY HOOPS - 3:00 p.m.
Long Island University, Brooklyn Campus, Wellness, Recreation & Athletic
Center
Ashland Place and DeKalb Avenue
VH1 has partnered with Entertainment Basketball Classic (EBC), the
nation's largest basketball tournament of Rucker Park fame, to present
this "old school" vs. "new school" exhibition game featuring Fat Joe as
the halftime performer and Doug E. Fresh as the celebrity MC. Players
include Ice-T, Whodini, Chris Brown, Bobby Valentino, Busy Bee, Kurtis
Blow, Grand Master Kaz, Grand Master Mellie Mel and more. Presented by
VH1, EBC, Long Island University and radio station Hot 97. General
admission $20 tickets and "gold circle" $50 tickets are available via
Ticketmaster and by calling LIU at 718/780-4072. Group sales through
Gemstone Management.
powerHouse Arena: JAMEL SHABAZZ AND JOE CONZO -- 4pm-7pm
37 Main Street, Brooklyn
http://www.powerhousebooks.com/
Join premier street photographer Jamel Shabazz and hip-hop documentarian
Joe Conzo as they present the music that inspired their work and a
presentation and slideshow that explores their work over the past 30
years. Evening also includes a Q&A session and a screening of the trailer
from their forthcoming documentary.
MONDAY, OCTOBER 16 -- FASHION AND SHOPPING DAY
NBA STORE EVENT WITH JOHN STARKS AND FAT JOE -- 3pm-5pm
666 Fifth Avenue, Manhattan
Visit the world's only NBA store to meet NBA legend John Starks and Fat
Joe! Get an autograph with any NBA store same-day purchase of $10 or more
(while supplies last). Take a free shot at Center Court for a chance to
win the official "VH1 Hip Hop Honors Week" gift bag. And check out the
"VH1 Hip Hop Honors Week" mini boutique featuring Mitchell & Ness, as well
as signature kicks and giveaways from HOT 97 who will be on-site spinning
hip hop tunes.
JIMMY JAZZ FASHION EVENT -- 4pm-7pm
520 Fulton St., Brooklyn (718) 243-9181
Features winners of a hip hop celebrity "make-me-over" shopping spree
SEAN JOHN SHOPPING SPECIAL
Mon-Wed and Fri-Sat, 10am-7pm; Thurs, 10am-8pm; Sun, 12pm-6pm
475 5th Ave, Manhattan
Be one of the first 200 people to buy $200 worth of Sean John merchandise
from the Sean John Fifth Avenue Store during VH1 Hip Hop Honors week and
receive a ticket gift with purchase to the Sean John VH1 Hip Hop Honors
VIP Party on Monday, October 16th. Get 10% off your Sean John purchase
with VH1 Hip Hop Honors Week Code HHHW1016.
Additional Hip Hop Honors Events this day:
KING OF THE BEAT WITH PERFORMANCE BY BIG DADDY KANE - 8 pm
Hosted by Doug E. Fresh
competition in search of the
next great music producer. Eight contestants from across the nation square
off in the regionals, held at the Canal Room. Hosted by Doug E. Fresh and
including performances by Big Daddy Kane.
powerHouse Arena: WOMEN IN HIP HOP -- 4pm-7pm
37 Main Street, Brooklyn
Held in conjunction with Black Girls Rock, this event is designed to give
women their due while creating a forum for critical discussion and a
positive approach to problem solving. Features a panel discussion with
acclaimed female artists and writers, a film screening, and a performance
from local Brooklyn songstress Maya Azucena.
TUESDAY, OCTOBER 17 - HIP HOP HONORS DAY
The week culminates with the 3rd annual VH1 Hip Hop Honors. Far more than
just another awards show, this event celebrates one of the most
significant and innovative forces in our culture today. They represent --
and we recognize with a night of LIVE performances and special
appearances. This year's honorees include Wu-Tang Clan, Afrika Bambaataa,
Russell Simmons, MC Lyte, Rakim, Beastie Boys, Ice Cube and Eazy-E.
Special appearances by Diddy, Lil' Kim, Lil Jon, Fat Joe, Xzibit, Common
and more ... Be sure to tune in Tuesday, October 17 at 9pm.
Avril Lavigne, Linkin Park, Jada Pinkett Smith, Tobin Bell, The Girls Next Door, Jenna Jameson, Sum 41, Samaire Armstrong, and Talan Torriero Join Lineup to Present at First Ever Televised fuse/Fangoria Chainsaw Awards Show
Event Will Premiere Exclusively on fuse Sunday, October 22nd at 10pm ET
fuse and Fangoria Entertainment, have announced that Avril Lavigne, Linkin Park, Jada Pinkett Smith and her band Wicked Wisdom, "Saw I, II & III's" Tobin Bell, Holly Madison, Bridget Marquardt and Kendra Wilkinson of "The Girls Next Door", Jenna Jameson, Sum 41, Samaire Armstrong from the upcoming horror release "Rise," Talan Torriero of "Laguna Beach" fame, "Scary Movie 1-5's" Regina Hall, Brande Roderick from "Hood of Horror", Arielle Kebbel from "The Grudge II", Danny Trejo from "The Devil's Rejects," Emanuelle Vaugier from "Saw II," Andrew Bryniarski (Leatherface) from "Texas Chain Saw Massacre," Neurosonic, and The Vincent Black Shadow will join host Jamie Kennedy as well as previously announced presenters and performers Rob Zombie and his wife Sheri Moon Zombie, The Used, Slipknot, Fall Out Boy, KORN's Jonathan Davis, Gym Class Heroes, Cobra Starship, 30 Seconds to Mars and Avenged Sevenfold at this year's Halloween-season fuse Fangoria Chainsaw Awards.
Spotlighting the best in horror-themed cinema, music and television, the fuse Fangoria Chainsaw Awards will premiere exclusively on fuse Sunday, October 22nd at 10pm ET/7pm PT. Tickets for the Sunday, October 15th Los Angeles taping of the fuse Fangoria Chainsaw Awards are available through www.ticketmaster.com.
Performers nominated in the music categories include My Chemical Romance, 30 Seconds to Mars, Gnarls Barkley, AFI, Fall Out Boy, Evanescence and Red Hot Chili Peppers. fuse viewers and horror fans alike will have the chance to help determine the winners by voting online at www.fuse.tv between September 1st and, naturally, Friday, October 13th. A press release with the complete list of nominees can be found at www.fuse.tv/press.
This year's fright-fest, will feature a "black carpet" pre-show at 9:30pm ET with a critique of the fashions of the arriving star nominees and presenters, live performances by some of the biggest names in pop, rock and hip-hop as well as a "Gala of Gore" post-show, an after-party attended by music and film A-listers. Cyber-savvy music and horror fans can follow the action and get many extras by heading to www.fuse.tv and www.fangoria.com, before, during and after the telecast.
About fuse
fuse is the nation's only viewer-influenced, music television network, featuring music videos, exclusive artist interviews, live concerts, series and specials. fuse reflects the rapidly changing interests and attitudes of its 12-34 year-old audience by uniting the media platforms at the center of their communication and entertainment -- TV, Web, mobile technologies and interactive gaming and by incorporating their opinions and suggestions into the network's on-air and online programming. More information about fuse is available at www.fuse.tv.
About Fangoria:
Fangoria Entertainment owns and operates the renowned monthly horror publication Fangoria Magazine and the horror genre's #1 online destination Fangoria.com. Fangoria Entertainment also produces the popular weekly 3-hour live radio show FANGORIA RADIO airing Friday nights on Sirius Satellite Radio, hosted by renowned heavy metal frontman for Twisted Sister and horror film producer-actor Dee Snider with celebrated Scream Queen and radio veteran Debbie Rochon serving as Snider's sidekick. Established in May 1979, Fangoria Magazine and Website rank as America's #1 source for horror news and entertainment. Both the magazine and the website remain the most sought-after source of movies, videogames, television series, books and toys that comprise the burgeoning world of horror entertainment. Fangoria TV produced acclaimed High Definition broadcasts of the NY Village Halloween Parade in 2004 & 2005. Fangoria Entertainment is also a prime producer of horror conventions held throughout the year in major cities nationwide. In addition, the Fangoria video label is home to a collection of contemporary horror film titles in distribution on DVD and VHS.
About Rainbow Media Holdings LLC
A leader in the entertainment industry, Rainbow Media Holdings LLC is a subsidiary of Cablevision Systems Corporation. Rainbow creates and manages some of the country's most compelling and dynamic programming with linear networks including national networks -- AMC, fuse, IFC (The Independent Film Channel) and WE: Women's Entertainment; its regional programming service -- Rainbow Sports Networks; on-demand networks including Mag Rack and sportskool; and the largest suite of high definition channels available anywhere -- the VOOM HD Networks. Rainbow's other businesses include its film distribution, production and exhibition division -- IFC Entertainment; in addition to its advertising sales division -- Rainbow Advertising Sales Corporation -- and its full service network programming origination and distribution company -- Rainbow Network Communications.
Source: fuse; Fangoria Entertainment
Web site: http://www.ticketmaster.com/
Web site: http://www.fuse.tv/press
Web site: http://www.fangoria.com/
Web site: http://www.fuse.tv/
Just in Time for Halloween, Lara Flynn Boyle ('The Practice'), Colin Ferguson ('Eureka') and Mark-Paul Gosselaar ('NYPD Blue') Star in The Lifetime Original Movie, 'The House Next Door,' Based on the Best-Selling Book by Anne Rivers Siddons, Premiering Monday, October 30
Lara Flynn Boyle ("The Practice," "Las Vegas"), Colin Ferguson ("Eureka") and Mark-Paul Gosselaar ("NYPD Blue") star in the Lifetime Original Movie, "The House Next Door," an edge-of-your-seat horror story which follows a young married couple who encounter unexplainable and deadly occurrences emanating from the house next door. The movie is based on Anne Rivers Siddons' New York Times best-seller of the same name, praised by master horror writer, Stephen King, as the "new American Gothic." "The House Next Door" premieres Monday, October 30 (9PM ET/PT).
In "The House Next Door," Col (Flynn Boyle) and her husband Walker (Ferguson) find their comfortable and suburban lifestyle suddenly interrupted when Kim (Gosselaar), an intense and ambitious architect, builds a stunning, modern house on the empty lot next to their quaint, charming home. While neighbors are thrilled to have such an upscale and exquisite addition to their street, Col and Walker begin to question the new house when strange and disturbing events begin to happen to those who live in the home and soon learn not to ignore the multiplying tragedies associated with it.
As Col and Walker watch their new neighbors come and go, it becomes clear that the beautiful home brings out the worst in all those that enter it, by amplifying their fears and frailties until it leads to disgrace, accidents and misfortunes ... even death. Col and Walter find themselves struggling to keep their sanity and marriage intact as the home's evil influence permeates throughout the neighborhood. Determined not to see any more lives devastated, Col and Walker attempt to destroy the home -- and its creator -- before they too fall victim to the evil coming from ... the house next door.
"The House Next Door" is produced by Barbara Lieberman Films (Lifetime's "Obsessed" and "The Dead Will Tell") and Muse Entertainment in association with Paramount Television for Lifetime Television. Barbara Lieberman (Lifetime's "Murder in the Hamptons," "Gleason") is the executive producer along with Michael Prupas ("This is Wonderland," Lifetime's "Human Trafficking"). Jeff Woolnough ("Taken," "Battlestar Gallactica") directed the teleplay written by Suzette Couture (Lifetime's "The Mermaid Chair," "Jesus").
Lifetime is the leader in women's television and one of the top-rated basic cable television networks. A diverse, multi-media company, Lifetime is committed to offering the highest quality entertainment and information programming, and advocating a wide range of issues affecting women and their families. Lifetime Television, Lifetime Movie Network, Lifetime Real Women, Lifetime Home Entertainment and Lifetime Online are part of Lifetime Entertainment Services, a 50/50 joint venture of The Hearst Corporation and The Walt Disney Company.
Source: Lifetime Television
Web site: http://www.lifetimetv.com/
Academy Announces Nicholl Screenwriting Fellowship Finalists for 2006
Beverly Hills, CA — Ten scripts have been selected as finalists for the 21st annual Don and Gee Nicholl Fellowships in Screenwriting, presented by the Academy of Motion Picture Arts and Sciences. The scripts will now be read and judged by the Nicholl Committee, which may award as many as five of the prestigious $30,000 fellowships.
This year's finalists are (listed alphabetically by script title):
"Abilene," Michael Raymond, Auckland, New Zealand, and Seattle, Washington
"Armored," James V. Simpson, New Westminster, British Columbia, Canada
"Beatrice Creek," Eric J. Litra, Monroe, Michigan
"The Free Republic of Bobistan," Arthur M. Jolly, Marina del Rey, California
"Mr. Burnout," Eric T. Gravning, Santa Monica, California
"Palau Rain," Stephanie Lord, Pittsburgh, Pennsylvania
"Peepers," Clark E. Morrow, Olathe, Kansas
"10 Day Contract," Josh D. Schorr, South Pasadena, California
"38 Mercury," Alfred E. Carpenter, Alexandria, Virginia, and Mark A. Matusof, Woodbridge, Virginia
"Tides of Summer," Scott K. Simonsen, Hermosa Beach, California
Litra was a finalist in the competition in 2001 with "God's Water." Raymond is the first New Zealand writer to reach the finalist round. He also resides part-time in Seattle, Washington.
The finalists were selected from 4,899 scripts submitted for this year's competition. The competition is open to any individual who has not sold or optioned a screenplay or teleplay for more than $5,000 or received a fellowship or prize that includes a "first look" clause, an option, or any other quid pro quo involving the writer's work.
The ten finalist scripts will now be judged by the Nicholl Committee, chaired by writer and 1992 Nicholl Fellow Susannah Grant and composed of writers Naomi Foner, Fay Kanin, Hal Kanter and Dan Petrie Jr., cinematographers John Bailey and Steven Poster, editor Mia Goldman, actor Eva Marie Saint, executive Bill Mechanic, producers Gale Anne Hurd, David Nicksay, Bob Shapiro and Buffy Shutt, and agent Ron Mardigian.
Fellowships are awarded with the understanding that the recipients will each complete a feature-length screenplay during the fellowship year. The Academy acquires no rights to the works of Nicholl Fellows and does not involve itself commercially in any way with their completed scripts.
Since the program's inception in 1985, 93 fellowships have been awarded, and a number of the fellows have achieved considerable success. Doug Atchison, a 2000 fellow, directed his Nicholl-winning script, "Akeelah and the Bee," and the film was released theatrically earlier this year. Robert Edwards, who received a fellowship in 2001, directed his Nicholl-winning script, "Land of the Blind," and the film premiered at this year's Rotterdam Film Festival. Raymond De Felitta, a 1991 fellow, directed "'Tis Autumn: The Search for Jackie Paris," a documentary feature that premiered at the 2006 Sundance Film Festival. De Felitta also directed last year's "The Thing about My Folks," and prior to that, he directed "Two Family House" (from his Nicholl fellowship-year script) and "Cafe Society." Susannah Grant shares writing credit on the upcoming "Charlotte's Web." She also wrote last year's "In Her Shoes" and in 2000, she received an Academy Award® nomination for her "Erin Brockovich" screenplay. Grant also earned writing credits on "28 Days," "Ever After," and "Pocahontas." "The Dead Girl," written and directed by 1998 fellow Karen Moncrieff, will premiere at the 2006 AFI Fest next month. Moncrieff also directed 2002's "Blue Car" from her Nicholl-winning script. "The Nativity Story," written by 1998 fellow Mike Rich, is scheduled for release in December. Rich also wrote "Radio," "The Rookie" and "Finding Forrester," the latter of which originated as his 1998 Nicholl-winning script.
In 2005 three films written by 1996 fellow Ehren Kruger were released: "The Ring Two," "The Skeleton Key" and "The Brothers Grimm." Kruger's previously produced credits include "Arlington Road," "The Ring," "Scream 3" and "Reindeer Games." Other notable successes include the critically acclaimed "Mean Creek," written and directed by Jacob Estes from his 1998 Nicholl-winning script, and "Dirty Dancing: Havana Nights," co-written by 1993 fellow Victoria Arch. "Admissions" (aka "Island of Brilliance"), from Dawn O'Leary's 1993 Nicholl-winning script, premiered at the Mill Valley Film Festival in 2004. Allison Anders, a 1986 fellow, is the co-writer and director of "Things Behind the Sun" and the writer-director of "Gas Food Lodging" and "Mi Vida Loca." 1992 fellow Andrew Marlowe wrote "Air Force One," "Hollow Man" and "End of Days." 1986 fellow Jeffrey Eugenides won a 2003 Pulitzer Prize for his novel "Middlesex."
PENTHOUSE FEATURES VIVID GIRL SAVANNA SAMSON IN "SEX, WINE AND VIDEO TAPE;" NEWEST VIVID GIRL BREA LYNN IS THE NOVEMBER "PET OF THE MONTH
Vivid Girl Savanna Samson, the blonde beauty and fine winemaker who stars in movies for Vivid Entertainment, talks about her passions in the upcoming November issue of Penthouse magazine under the headline, "Sex, Wine & Videotape." In the same issue Vivid Girl Brea Lynn is honored as "Pet of the Month."
Savanna, described as an "A-list talent within the adult-film world," discusses her venture into the wine business with the debut of Sogno Uno (Dream One), a red blend made with Italian grapes that has garnered worldwide press coverage and an outstanding 91-point ranking by famous wine critic Robert M. Parker.
Samson, who was named the AVN Best Adult Film Actress for 2004 and 2006, discusses growing up as a devout Catholic, her career as a star dancer at Scores, her multiple appearances on the Howard Stern Show, a famous on-air debate with Bill O'Reilly and much more in her candid interview with Chauncé Hayden. The article is accompanied by a stunning six-page pictorial by Chris Cuffaro.
Twenty-year-old naturally outgoing Brea confides what turns her on (hint: she has a dance pole in her bedroom). She was photographed for the 12-page feature and centerfold, by Earl Miller.
The November issue of Penthouse is on newsstands nationwide
starting this week.
The fifth and sixth seasons of "Seinfeld" won top honors at the third annual TV DVD Awards
presented Wednesday, Oct. 4, The collections won the coveted Best of Show award, with judges praising bonus materials such as the cast commentaries, deleted scenes and "Sein-Imation" takes on various scenes from the show. "The executive producers of 'Seinfeld' were personally involved in the DVDs, and it shows," said awards chair Don Rosenberg, VP of the entertainment group at Questex Media. At the ceremony, celebrity host Charlene Tilton, of "Dallas" fame, also announced the top vote-getters in 15 categories selected by consumers though a month-long online vote. The winners:
Best 2000s Series: Lost: The Complete First Season, Buena Vista Home Entertainment

Best 1990s Series: Seinfeld: Season 5 and Seinfeld: Season 6, Sony Pictures Home Entertainment

Best 1980s Series: Remington Steele: Seasons 4 and 5, 20th Century Fox Home Entertainment

Best 1970s Series: The Bob Newhart Show: The Complete Second Season, 20th Century Fox Home Entertainment

Best 1960s Series: The Munsters: The Complete Second Season, Universal Studios Home Entertainment

Best 1950s Series: Adventures of Superman: The Complete First Season, Warner Home Video

Best Animated Series: The Simpsons: The Complete Seventh Season, 20th Century Fox Home Entertainment

Best Children's Series: Dinosaurs: The Complete First and Second Seasons, Buena Vista Home Entertainment

Best Reality Series: Extreme Makeover: Home Edition, Buena Vista Home Entertainment

Best Variety Series: Project Runway: The Complete Second Season, Genius Products

Best One-Season Wonder: The Adventures of Brisco County Jr.: The Complete Series, Warner Home Video

Best Miniseries/Made-for-TV Movie: From the Earth to the Moon, HBO Video

Best British TV Series: Doctor Who: The Complete First Series, BBC Video

Best TV Documentary: Ken Burns: American Lives, PBS/Paramount Home Entertainment

Best Bonus Materials: Lost: The Complete First Season, Buena Vista Home Entertainment
A panel of top DVD critics and journalists nominated three titles in each category from among nearly 140 studio submissions of titles released between Sept. 1, 2005, and Aug. 31, 2006.

TVDVD4 Awards photos
Disney Celebrates "The Little Mermaid" Platinum Edition DVD Release With Expansive Consumer Products Campaign
More Than 2,000 Little Mermaid Products Come Ashore At Retail This Fall
October 4, 2006 -This month, in celebration of the first-ever two-disc Platinum Edition DVD release of Disney's most beloved animated film, THE LITTLE MERMAID, Disney Consumer Products (DCP) in collaboration with Walt Disney Home Entertainment brings to stores the largest assortment of Little Mermaid merchandise available since the film's 1989 release - more than 2,200 fun and imaginative products glimmering with an "under-the-sea" theme. Available now for the first time in seven years and first time in limited edition, two-disc DVD, The Little Mermaid release and consumer products campaign reconnects families with the world's most cherished mermaid and the #1 most beloved Disney Princess, Ariel*.
Beginning this month and into the holiday season, DCP brings the timeless story to life with an array of merchandise that glitters, sparkles and shines inspired by key moments in the film, including: toys, electronics, apparel, home décor, personal care, school supplies, party décor and much more. Products will be available at retailers nationwide with key retailers such as Target, Toys 'R' Us and Wal-Mart displaying merchandise from varied categories alongside the DVD in one-stop feature shops fashioned in an "Under-The-Sea" theme.
Bound to top many wish lists this holiday season, following are key highlights from The Little Mermaid's magical assortment:
Little Mermaid Magical Talking Salon (ages 3 and up): This child-size vanity featuring voice recognition technology allows young girls to join Ariel in an interactive salon session. Little princesses will be delightfully surprised when they hear Ariel speak and see her image magically appear in the special light-up mirror. The salon with stool includes molded compartments, working drawer to store accessories, play sink, and play accessories such as a hair dryer, hair spray bottle, dingle hopper (comb), scissors and curling iron. SRP $69.99

Shimmer Lights Ariel (ages 3 and up): Already a hot-selling item outpacing last year's popular Twinkle Lights Cinderella Doll, the Shimmer Lights Ariel Doll invites little girls to relive the adventurous fairytale of the Little Mermaid. Ariel's glitter-filled tail illuminates with multi-color lights as she sings and says phrases. Completely waterproof for adventures on land or at sea. SRP $19.99

Little Mermaid CD Boom Box: This boom box has mermaids in mind with a clam shell design that opens and locks shut. The water-resistant player is perfect for afternoons at the pool and other outdoor uses. In addition to an AM/FM tuner with a digital display, it plays CD/CD-R/RW discs through stereo speakers Available at Toys 'R' Us, SRP $39.99

Little Mermaid Video Games: Join the adventures of Ariel and the cast with "Undersea Adventure for Nintendo DS" (ages 6 to 9 years, SRP $29.99) and "Magic in Two Kingdoms for Game Boy Advance" (ages 4 to 6 years, SRP $19.99).

Little Mermaid Books: An assortment of fun titles featuring a classic retelling of the magical world of The Little Mermaid, including from Disney Press, Disney's The Little Mermaid Special Edition Book and Disney's The Little Mermaid Under the Sea Night-light and Storybook (comes with a detachable night-light); and activity storybooks such The Little Mermaid - Storybook and Music Box ($24.99, Reader's Digest) and The Little Mermaid - Reusable Sticker Book ($6.99, Random House).

Little Mermaid Apparel & Accessories: An assortment of casuals and separates to complete a princess wardrobe, including sleepwear and dress up. Available at retailers such as Sears and DisneyShopping.com.

Little Mermaid Personal Care: Whether it's fin or skin, get protection from the elements and stay ready for adventure with essential Ariel-themed personal items, including Sun Pals Sunscreen, Chapstick lip balms and Bubble Bath. SRP $1.99 and up

Under-the-Sea Ariel Bedding: A new assortment of comforters, sheets and pillowcases with colorful patterns of bubbles, pearls and seashells, along with Ariel and her friends Flounder and Sebastian. Finally, a bedtime to look forward to! Available at: Sears and Kmart, SRP $19.99 to $59.99

Little Mermaid Aquarium Kit: Experience Ariel's underwater world with a 1.5 gallon freshwater aquarium kit, stocked with everything needed to care for a few finned pals. An air pump and overhead light provide the necessary creature comforts for pet fish, while the statuette of Ariel and Sebastian are the perfect décor for this tranquil aquatic environment. Available at Wal-Mart and Petco; SRP $29.97 to $39.99

Little Mermaid Assorted Party Supplies: Parties will become an affair to remember with Ariel-themed party supplies from Hallmark. From greeting cards to cake decorations, Ariel and friends are there every step of the way. The assortment also includes party plates, gift bags and scene setters for the home. Retailers: Mass and specialty retailers nationwide SRP $0.89 to $4.99

About The Little Mermaid
The Little Mermaid was released theatrically in 1989, grossing almost $180 Million at the domestic box office (adjusted to 2005 dollars). The Academy Award® winning animated adventure (1989 Best Song and Best Original Score) combines music, fun and excitement to become one of the company's most cherished films and one of the top 10 best-selling animated films of all time on VHS. Ariel, the fun-loving and mischievous mermaid, is enchanted with all things human. Disregarding her father's order to stay away from the world above the sea, she swims to the surface and, in a raging storm, rescues the prince of her dreams. Determined to be human, she strikes a bargain with the devious seawitch, Ursula, and trades her fins and beautiful voice for legs. With her best friend, the adorable and chatty Flounder, and her reluctant chaperone Sebastian, the hilarious, reggae-singing Caribbean crab, at her side, Ariel must win the prince's love and save her father's kingdom - all in a heart-pounding race against time!

About Disney Consumer Products
Disney Consumer Products (DCP) is the business segment of The Walt Disney Company (NYSE: DIS) that extends the Disney brand to merchandise ranging from apparel, toys, home décor and books to interactive games, food and beverages, stationery, electronics and animation art. This is accomplished through the work of DCP's various lines of business: Disney Toys, Disney Softlines, Disney Home, Disney Food, Health & Beauty, Disney Stationery, Disney Publishing, Buena Vista Games, Baby Einstein, the Muppets Holding Company and Disney Shopping, Inc.'s catalog and disneyshopping.com. The Disney Store, which debuted in 1987, also falls under DCP, through stores currently owned and operated by unaffiliated third parties under licensing agreements in North America and Japan, and wholly owned stores in Europe.

About Walt Disney Home Entertainment
Walt Disney Home Entertainment is distributed by Buena Vista Home Entertainment, Inc., a recognized industry leader. Buena Vista Home Entertainment, Inc. is the marketing, sales and distribution company for Walt Disney, Touchstone, Miramax, Dimension and Buena Vista videocassettes and DVDs. The Little Mermaid Special Edition DVD Consumer Website: www.LittleMermaidDVD.com.

* Research indicates Ariel is the #1 favorite Disney Princess with moms of kids 2-5.

Charlene Tilton, one of the key stars of television's "Dallas," will host the third annual TV DVD Awards Wednesday, Oct. 4, at the Hyatt Regency Century Plaza Hotel in Century City, Calif.

The awards are part of TV DVD 4: Future Channels, a conference produced by Home Media Retailing in cooperation with The Hollywood Reporter, DEG: The Digital Entertainment Group and the Entertainment Merchants Association. The conference concludes Thursday.

Winners in 15 categories, plus a Best of Show honoree, will be announced at the ceremony, which culminates a month-long online consumer vote. A panel of top DVD critics and journalists nominated three titles in each category from among nearly 140 studio submissions of TV DVD titles released between Sept. 1, 2005, and Aug. 31, 2006.


Two TV legends are set to be honored Thursday with the third annual TV DVD Lifetime Achievement Awards.

Jack Klugman and Robert Conrad will be presented with the awards during the fourth annual TV DVD Conference, held Thursday at the Hyatt Regency Century Plaza Hotel. The conference and awards ceremony are produced by Home Media Retailing magazine in cooperation with The Hollywood Reporter, DEG: The Digital Entertainment Group and the Entertainment Merchants Association.

"All of us grew up with shows like 'The Odd Couple' and 'Wild Wild West," said conference chair Don Rosenberg, VP of Home Media Retailing owner Questex Media's entertainment group. "Jack and Robert are part of our TV family and truly deserving of this honor."

Previous recipients of the TV DVD Lifetime Achievement Awards are Jerry Mathers, television's beloved "Beaver," and Carl Reiner, who received the first honor in 2004.

Klugman, a native of Philadelphia, is best known for starring as the slovenly Oscar Madison in "The Odd Couple" (1970-75) and as the title character in "Quincy, M.E." (1976-83). He won two Emmy Awards for "The Odd Couple," in 1971 and again in 1973, although his first Emmy came a decade earlier for his work in the TV series "The Defenders."

One of Klugman's earliest TV appearances was in a live broadcast of The Petrified Forest, with Humphrey Bogart and Henry Fonda. He subsequently appeared in scores of other shows, including four episodes of "The Twilight Zone."

In the early 1990s, Klugman lost a vocal cord to cancer, but he has continued acting on stage and on television. Recent guest roles included "Diagnosis Murder," "Third Watch" and "Crossing Jordan."

In 2005, Klugman published Tony and Me: A Story of Friendship, a book about his long friendship with his "Odd Couple" co-star, the late Tony Randall.

Conrad is best known for his role as charming gunslinger James West on CBS' 1965-69 sci-fi Western "The Wild Wild West." He reprised his role as West in made-for-TV movies in 1979 and 1980. He did most of his own stunt work for the show and would become the only actor inducted into the Stuntman's Hall of Fame.

Conrad got his start in the 1950s with guest roles on such TV Westerns as "Maverick" and "Bat Masterson" before earning a starring role as a detective in "Hawaiian Eye" from 1959 to 1963.

In the 1960s and '70s, Conrad made appearances on "Mission: Impossible," "Adam-12" and "Columbo." In 1976 he landed the role of World War II fighter ace Pappy Boyington in "Baa Baa Black Sheep," and three years later played a freelance spy in the short-lived secret agent series "A Man Called Sloane."

In 2006, Conrad recorded special audio introductions for every episode of the first season of "The Wild Wild West" for its DVD release
STARS ALIGN FOR BARBARA MANDRELL TRIBUTE ALBUM
She Was Country When Country Wasn't Cool: A Tribute To Barbara Mandrell to Release October 17 on BNA Records
--October 4, 2006 – When Barbara Mandrell took the stage for her final musical performance on October 23, 1997, she probably didn't realize that less than a decade later, some of the artists she influenced would come together for a tribute in her honor. But that's exactly what is happening, and the result will be a collection of songs from one of the most significant performers of the 1970s, '80s and '90s. She Was Country When Country Wasn't Cool: A Tribute To Barbara Mandrell will be released October 17 on BNA Records.
Performing the album's title track, and Barbara's signature hit, are country superstars Kenny Chesney and Reba McEntire. As a friend and influential force in her own career, it was McEntire who welcomed Mandrell to the stage at last year's ACM 40th Anniversary Celebration, where she was recognized as having accomplished the rare feat of winning the career progression of awards that, in Barbara's case, found her named Top New Female, Top Female and ultimately Entertainer Of The Year. Known as the Triple Crown Award, Chesney, following suit in the male categories, is also one of the six artists who have achieved that honor.
Some of the other tracks include Country Music Hall of Fame member and Alabama front man Randy Owen performing her 1980 Number One hit, "Years." ACM Top Female Vocalist Sara Evans performs the 1980 Top Five hit, "Crackers," while multi-platinum, hit maker Brad Paisley sings the 1983 Top Five single, "In Times Like These." Grand Ole Opry Member Lorrie Morgan recreates the Bicentennial year hit, "That's What Friends Are For."
Grammy winners Willie Nelson and Shelby Lynne share vocals on the 1974 classic, "This Time I Almost Made It," Dierks Bentley performs the 1986 Top Five song, "Fast Lanes and Country Roads," and Terri Clark sings the 1978 multi-week Number One single, "Sleeping Single In A Double Bed." Other artists on the album include LeAnn Rimes, Blaine Larsen, CeCe Winans, Gretchen Wilson.
On the album Barbara said, "The moment Clint Higham and Joe Galante told me about this album, with artists that I respect, admire, and adore so much recording my songs, I was instantly filled with overwhelming emotion, gratitude and excitement. The loving kindness of these friends gave me such an emotional high, and I'm still there. I don't know if I'll ever come down." Renee Bell, SONY BMG Nashville A&R Senior Vice President said, "This is an exciting and diverse line-up of stars that have gathered to add their own distinctive sound and style to these memorable hits from Barbara's incredible career."
Among her many accolades, Barbara was the first artist to win the CMA Entertainer Of The Year for two consecutive years and has won multiple awards from the CMA, ACM, American Music Awards, Grammys, People's Choice Awards and a Dove Award. Her variety show, Barbara Mandrell and the Mandrell Sisters, on NBC drew millions of viewers weekly, and she has starred in numerous television shows, including her farewell performance at Nashville's Opry House, a sell-out concert titled "Barbara Mandrell and The Do-Rites: The Last Dance."
She Was Country When Country Wasn't Cool: A Tribute to Barbara Mandrell
I Was Country When Country Wasn't Cool-Reba McEntire & Kenny Chesney
Sleeping Single In A Double Bed-Terri Clark
If Loving You Is Wrong, I Don't Wanna Be Right-LeAnn Rimes
In Times Like These-Brad Paisley
The Midnight Oil-Gretchen Wilson
Crackers-Sara Evans
This Time I Almost Made It-Willie Nelson & Shelby Lynne
I Wish That I Could Fall In Love Today-Blaine Larsen
That's What Friends Are For-Lorrie Morgan
Fast Lanes And Country Roads-Dierks Bentley
Years- Randy Owen
He Set My Life To Music-CeCe Winans
*GAC will present a Barbara Mandrell tribute beginning October 14 with "Steppin'Out," an Emmy nominated special that features some of Mandrell's most memorable hits and showcases her diverse musical talents. On Sunday, October 15, the tribute continues with a special behind the scenes look at the making of the tribute album and the artists who came forward in her honor. More than a dozen artists tell their personal stories of how Mandrell influenced their career in "She Was Country When Country Wasn't Cool: a Tribute to Barbara Mandrell." (See attached for more information on the tribute that runs through October 28 on GAC)
*Also coming up... October 28, 2006 – Stars pay tribute to Mandrell on Grand Ole Opry Live.
On October 30, 2006, Barbara Mandrell will co-host "Broadway Meets Country" with Jane Krakowski at Tennessee Performing Arts Center (TPAC) in Nashville .
Barbara Mandrell Bio

Once one of country music's most visible personalities, Barbara Mandrell walked away from a 38-year career in 1997. When Barbara left the stage of her sold-out Grand Ole Opry House performance that October night, aptly named "The Last Dance," she left a huge void. Nearly a decade has passed since Barbara bid farewell to the life of a professional entertainer.

After the spotlights finally go dark and new releases turn into catalog titles, only a few things remain. The music. The memories. The respect for the work left behind.

When friend Clint Higham told Barbara that several artists were interested in recording her songs for a tribute album, the woman who epitomized '70s and '80s country-pop found herself thrilled by the prospect. After all, any entertainer likes to think she made a lasting impact. But she can't always be sure.

She Was Country When Country Wasn't Cool: A Tribute to Barbara Mandrell shows that, while Barbara may have retired from performing, her influence continues to be keenly felt by today's artists like Reba McEntire, Kenny Chesney, Gretchen Wilson, Brad Paisley and many others.

"To me, it's an _expression of love," Barbara says, "the fact that they are on this album that is paying tribute to me and my work. It's very special when people are so giving of their time, their talent and their energy."

Some of the tributes come from contemporaries like Willie Nelson, Reba McEntire and Alabama's Randy Owen, all of whom once competed with Barbara for country music's top honors. Others, like LeAnn Rimes and Blaine Larsen, were children when she stepped out of public view.

All of them, though, have some connection to Barbara. A young Lorrie Morgan was her neighbor when Barbara first moved to Nashville and briefly lived with guitar great Merle Travis and his wife, Betty. Shelby Lynne was a member of Barbara's fan club. A young Terri Clark sent her letters from Canada. Dierks Bentley interviewed her while working as part of a TNN film crew. Brad Paisley sang Barbara's "In Times Like These" – a song he reprises here – in a talent show when he was just ten-years old.

Barbara's effervescent personality has always invited that kind of identification, from fans and fellow performers alike. People want to get close to her. They feel like they know her. But even people who once made sure to spend Saturday nights watching Barbara and her sisters Louise and Irlene by now may have forgotten a few things about her – or perhaps they never knew.

The passage of time allows a fresh perspective on Barbara's career, and it's worth the look. After all, this is a woman who, as a teenager, roomed with Patsy Cline on a Johnny Cash package tour. As an adult, she drew 40 million viewers to her weekly variety show. For those who remember Barbara only as the country-crossover phenomenon, there's so much more.

A Christmas Day baby born in 1948, a year when country-pop crooners Eddy Arnold and Jimmy Wakely dominated the charts, Barbara learned to read music before she could read words. She made her onstage debut in church, at age 5, playing "Gospel Boogie" on the accordion. Over the years, she added steel guitar, alto saxophone, bass, banjo, mandolin and Dobro to her arsenal of instruments.

When she was just 11, legendary country guitarist Joe Maphis booked "The Princess of the Steel" on one of his Las Vegas shows. Within weeks, she also began appearing on Los Angeles' renowned Town Hall Party, an experience that instilled a life-long love for live television and that paved the way for Barbara Mandrell & the Mandrell Sisters.

From her childhood, when she began learning to play the steel guitar and the saxophone within two weeks of each other, Barbara's approach to music has been difficult to pigeonhole. She loves a quote attributed to jazz composer and bandleader Duke Ellington: "There are two kinds of music – good and bad."

Barbara had her first charting country single with a remake of an Otis Redding song. Her last Top 10 hit came with an update of a Ray Price shuffle ("I Wish I Could Fall in Love Today," the song Blaine Larsen sings here).

She cultivated a passion for rhythm and blues as well as country, and many of the songs she chose to record came from the R&B field. LeAnn Rimes represents that facet of Barbara's music with her sultry performance of "(If Loving You Is Wrong) I Don't Want to Be Right," a 1979 chart-topper for Barbara that previously had been a pop/soul hit for Luther Ingram.

She also has a spot in her soul for gospel, which CeCe Winans honors with her magnificent rendition of "He Set My Life to Music." Despite her many hits, Barbara's Grammies – like those of Elvis Presley and Porter Wagoner before her – all came from the gospel fields.

Eventually, Barbara found her best, most successful voice in the songs of Kye Fleming and Dennis Morgan. "There would be no album, there would be no Barbara Mandrell, if it were not for Kye Fleming and Dennis Morgan," Barbara says.

That team wrote many of Barbara's signature hits, beginning with "Sleeping Single in a Double Bed." Four other Fleming/Morgan songs appear on this collection – "Crackers," "Years," "In Times Like These" and, of course, "I Was Country When Country Wasn't Cool," a song that grew out of conversations with Barbara about her early L.A. days, when she would play Town Hall Party on Saturday nights and return to school on Monday mornings only to hear catcalls from her classmates about the hillbilly music she played. Years later, Barbara earned the satisfaction of seeing those same people, as adults, approach her for autographs.

At her peak, Barbara had a star power matched by few. She had more than 50 Top 40 country hits, spanning 20 years. She was named the Country Music Association's Entertainer of the Year in 1980 and 1981 – the first person and the only woman to win the award twice. Even a devastating 1984 car wreck that gave her a serious head injury and broke her ankle, her arm and her ribs kept her out of commission only temporarily: She made her triumphant return two years later, with Dolly Parton as her opening act.

Barbara and her band, the Do-Rites, staged their final concert, on October 23, 1997. Shortly after, she sold all her musical instruments except for her steel guitar, which resides in the Country Music Hall of Fame, and a Dobro with an inscription from her parents on it. "I didn't want to be tempted to go picking again," she says.

Even though she attended most of the recording sessions for this album, Barbara hasn't shown signs of second thoughts. After 38 years in show business, she's enjoying a domestic life of motherhood, gardening, faux painting and mosaics. In these days of nearly annual farewell tours, nothing has weakened Barbara's resolve and lured her back for one more show, one more time. Frankly, that kind of person deserves a tribute.

But if Barbara won't sing these songs again, somebody needs to. That's where this album comes in.

In her own career, Barbara never wanted two songs to sound alike. Here, they don't. From CeCe Winans' soaring gospel to Willie Nelson and Shelby Lynne's singular take on Barbara's 1974 hit "This Time I Almost Made It," they reflect the broad range of styles and influences that Barbara brought to her music. The amazing thing is just how well these songs suit the artists who perform them – not only Reba McEntire, Sara Evans and Lorrie Morgan, who undoubtedly have sung a few other Barbara Mandrell songs in their time, but Dierks Bentley and Brad Paisley, who bring their own edge to their performances. Listen and ask yourself: Which of these songs wouldn't still be hits right now?

When you've answered that question, you'll know why each of these artists wanted to contribute to She Was Country When Country Wasn't Cool. And you'll also know why their performances mean so much to the woman who sang those songs for so many years.

"It says to me that what I did mattered, that it meant something," Barbara says. "This album, and the creation of it, truly blesses my heart."

Study Shows Little Mermaid Most Popular Redhead
"Unique," "Feisty" Also Highly Perceived Traits - Nerds Need Not Apply
October 3, 2006 - Disney's Ariel, The Little Mermaid, proved to be the most well-known red head, in a recent study conducted by Omnibus Operations: Ipsos North America. The animated character (who has her own U.S. postage stamp) was better known than such modern day red heads as Sarah Ferguson (former Duchess of York), Pippy Longstocking (popular children's literary and film character), Julianne Moore ("The Hours," "The Big Lebowski"), and Debra Messing (TV's "Will & Grace").
Red heads were also most perceived as "unique," according the study. "Feisty" was the second-most common perception, followed by "smart" and "sexy." "Nerdy" was the least-perceived trait, with only 3% of total respondents identifying red heads with it.
Respondents were asked why they would not dye their head red. Adding to the "unique" factor, the majority reason was because they were afraid that red hair would not go with their skin tone.
Another red head fact that many don't know is: Ariel was almost not a red head! When the "Little Mermaid" character first came to Disney, her "look" went through an early design process. Of course, her red hair won out. For fans worldwide, Ariel is an icon of red-headedness - a unique, feisty character beloved by millions.
On October 3rd, The Little Mermaid splashes onto a spectacular 2-disc Platinum Edition DVD for the first time ever. Winner of two Academy Awardsâ (Best Music, Original Score; Best Music, Original Song "Under The Sea," 1989), this new DVD features an all-new digital restoration, and is presented in all-new 5.1 Disney Enhanced Home Theater Surround Sound, for the best picture and audio quality ever.
The Little Mermaid 2-disc Platinum Edition is awash in bonus features, including the all-new "Kiss The Girl" music video performed by Ashley Tisdale. Fans will thrill to the new "Under The Sea Adventure," a virtual ride inspired by the famous "Imagineers" of Walt Disney Imagineering. There are never-before-seen deleted scenes; a first-time-on DVD new animated short "The Little Match Girl;" behind- the-scenes specials; and much, much more. Available for $U.S. $29.99 (SRP), Canada $36.99 (SRP). Buena Vista Worldwide Home Entertainment, Inc., is a recognized industry leader. Buena Vista Worldwide Home Entertainment is the marketing, sales and distribution company for Walt Disney, Touchstone, Hollywood Pictures, Miramax, Dimension and Buena Vista videocassettes and DVDs. Buena Vista Home Entertainment, Inc
Syntax HD Up/Cross-Converter Wins "STAR" Award
From Editors of TV Technology Europe
Extraordinary Up-conversion Process Demonstrated in
Brick House Video's IBC 2006Stand
-- Syntax, the ground-breaking new up/cross-converter from Brick House Video in association with Let It Wave, is the recipient of a 2005 STAR (Superior Technology Award Recipient) Award by the editorial staff of TV Technology Europe magazine at the 2006 IBC convention.

The STAR, designed to celebrate and showcase the preeminent technological innovations available to the broadcast industry, was awarded to only 15 products at IBC 2006. TV Technology Europe's editor selected the winners based on their technical applications and overall contribution to the industry.

"STAR awards are given to interesting new products that help a user save money or accomplish a task in an easier way," said Mark Hallinger, Editor of TV Technology Europe. "The products selected help advance the industry----some were chosen because of technical novelty or innovation, some because they filled an important gap in the production or transmission chain, and some because they were just cool products."

Syntax, offering a superior up-conversion process in an affordable 1RU HD up/cross-converter unit, is the first broadcast product to utilise Let It Wave's FPGA based on its radically new super-resolution bandlet algorithms. It brings the performance advantages of motion-compensated processing without the currently associated disadvantages of high cost and occasional severe artifacts.

"We are honored that Syntax has been acknowledged with a STAR award," stated Paul Hiorns, managing director of Brick House Video. "The unit created tremendous excitement amongst the visitors at IBC who shared our delight in bringing an advanced and affordable up-converter that betters the quality found in the higher priced units to market. Syntax was developed specifically with Let It Wave's FPGA bandlet technology and is being offered at an extremely attractive price. It's done a fantastic job for those who have used it in trials. A genuine case of 'seeing is believing." Syntax is being offered in a range of £6k Sterling (approximately $10k USD).

About TV Technology Europe

TV Technology Europe is the region's leading magazine for broadcast technology. The magazine is published by IMAS Publishing, the world's largest publisher of audio and video publications. Other IMAS products include a US version of TV Technology, Radio World, Pro Audio Review, Audio Media, and a family of country-specific publications and Web sites.

NEW for 2006 in TV Technology Europe: Set to be published in December, 2006, will be TV Technology Europe's Vendor & Product Directory 2007.

About Brick House Video Ltd.

Brick House Video Ltd. is a broadcast video design and manufacturing company based in the South of England. The Company specializes in the manufacture of compact and cost-effective equipment for production and post-production including analogue and digital switchers, standards conversion, time code logging equipment and VTR controllers. For further information: www.brickhousevideo.com

About Let It Wave

Let It Wave is an image processing company whose patented bandlet algorithms deliver breakthrough image and video processing capabilities. Let It Wave's FPGA products provide high quality SD to HDTV up-conversion capabilities, for broadcast and consumer electronics manufacturers. Let It Wave's technology and products are also used for satellite image enhancement, for infra-red military imaging, and for medical video processing. Let It Wave won the 2005 European Grand IST prize for "most groundbreaking product, among 29 European countries". For further information: www.letitwave.com

Jet Fly With Verizon Wireless for Exclusive Contest; First V CAST Footage From 35 Thousand Feet"Jet With Jet" Competition Offers Chance to Join Aussie Rock 'N' Roll Superstars in Las Vegas; October 7th Gig to Be Filmed for V CAST Performances Broadcast; Eagerly Awaited Second Album, "SHINE ON," Released Today October 3rd

October 03, 2006 -- Atlantic recording group Jet has unveiled details of a special promotion heralding the release of their second album, "SHINE ON." The Aussie rock sensations are currently midway though a whirlwind ten-city tour of North America, with dates running through an October 7th show at Las Vegas' the Joint at the Hard Rock Hotel. "SHINE ON," the much-anticipated follow-up to 2003's RIAA platinum-plus debut, "GET BORN," is in stores today October 3rd.

The promotion teams Jet with Verizon Wireless and Los Angeles' world famous KROQ 106.7 FM for an exclusive "Jet with Jet" contest. The 10-day promotion -- which kicked off last week -- offers lucky fans a chance to fly with Jet from Los Angeles to Las Vegas, where they will then attend the October 7th gig at the Joint, followed by an exclusive aftershow party with the band.

Select Verizon Wireless contest winners will be awarded multi-media barcode tickets sent to their phone to get onto the Jet plane and as the ticket to enter the Las Vegas performance. Other contest winners will receive a Verizon Wireless/LG Chocolate phone fully loaded with "SHINE ON."

The "Jet with Jet" trip -- including the concert and in-flight interaction between the band and its fans -- will be filmed for mobile broadcast on Verizon Wireless' "V CAST Performances" and will be available in near real-time for download to any V CAST enabled phones. Fans will also get to see an exclusive Jet performance of songs from "SHINE ON" allowing V CAST users a chance to hear the album before its official digital release.

For Jet fans living outside the Los Angeles area, Verizon Wireless is sponsoring additional contests offering fans a chance to win tickets for the Las Vegas concert. Among the participating stations are WBCN in Boston, KUFO in Portland, WXRK in Cleveland, WAQZ in Cincinnati, KXTE in Las Vegas, WOCL in Orlando, WPBZ in West Palm Beach, WMFS in Memphis, and WZNE in Rochester (see participating stations for further details).

"Put Your Money Where Your Mouth Is," the first single from "SHINE ON," is shaping up as yet another across-the-board rock smash for Jet. The track is already a Top 10 Modern Rock favorite, while also bulleting into the Top 20 at Active Rock and Heritage Rock outlets nationwide.

In addition, the "Put Your Money Where Your Mouth Is" companion video has just gone into rotation at MTV2, while also scoring additional play as part of the network's "T-Minus Rock" program. The clip is in "LARGE" rotation at VH1 and a Top 10 sensation at Fuse. Jet will also make their rounds this week on TV with a performance tonight on "The Tonight Show with Jay Leno" and on "Jimmy Kimmel Live" Friday, October 6th.

Produced by Dave Sardy -- who helmed "GET BORN," as well as recent efforts by such bands as Oasis, Wolfmother, and Dirty Pretty Things -- "SHINE ON" sees Jet again putting their own contemporary stamp on timeless guitar-fueled rock 'n' roll. The band spent much of 2005 and 2006 working on "SHINE ON," including writing sessions at facilities in Barbados, Massachusetts, and their home country of Australia. The sessions wound up this spring with a marathon burst of creativity at Sardy's Hillside Manor Studios in Los Angeles.

From the poignant title track to the Captain Beefheart-esque "Holiday" to the massive rocker, "Stand Up," "SHINE ON" lights on a wider gamut of emotions than before, with more varied musical colors and deeper lyrical texture. The result is a full-scale rock 'n' roll sensation like only Jet could create.

Jet came together in 2001, united by a mutual passion for straight-up rock 'n' roll in all its many guises, from blues and garage to punk and psychedelia. Their goal from the get-go was to give new life to their inspirations, invigorating classic sounds with fresh fervor and dollops of contemporary energy. Raw, direct, and instantly irresistible, Jet's vibrant sonic style and heartfelt devotion to exuberant songcraft caused a frenzy in their native Australia and soon caught fire around the world.

Released in 2003, "GET BORN" proved an international blockbuster, with worldwide sales exceeding three and a half million units. Driven by a fistful of massively successful hit singles -- including the #1 smashes "Are You Gonna Be My Girl" and "Cold Hard Bitch," as well as "Rollover DJ" and "Look What You've Done" -- the album instantly established Jet as one of the most potent and popular rock outfits on the planet. In the U.S., both "Are You Gonna Be My Girl" and "Look What You've Done" earned RIAA platinum digital single certifications.

The band also earned a rep as an electrifying live outfit, blowing up stages everywhere they played -- as headliners, festival showstoppers, and special guests of such like-minded superstars as Oasis.

Jet has received a long list of international awards, highlighted by a MTV Video Music Award for 2004's "Best Rock Video," for the "Are You Gonna Be My Girl" clip. Also included on the band's honor roll are an American Music Awards' nomination as "Favorite Artist - Alternative Music," and a triumphant six trophy sweep of 2004's ARIA Music Awards in their home country.

Jet is: Nic Cester -- guitar, vocals; Chris Cester -- drums, vocals; Cam Muncey -- guitar, vocals; Mark Wilson -- bass.

For more information, please visit www.jettheband.com.

E-Mail Marketing Getting High Click, Open, and Conversion Relative to Cost

WebSurveyor Corp., partnering with Internet Retailer released an August survey of IR e-newsletter readers revealing that web merchants have very ambitious plans to increase both the size and scope of their e-mail marketing efforts. 18.4% expect to grow their opt-in lists by more than 50% within the next year, while another 25.1% will increase their lists by 16% to 50%.

Reported by Mark Brohan in a recent article, he says that 73% of chain retailers, catalogers, virtual merchants and consumer brand manufacturers taking part in the monthly survey on e-mail marketing, spend 5% of their marketing budget or less on e-mail marketing, yet just over half of respondents, 50.6%, report that 6% or more of their sales come from e-mail marketing, with 25% saying the proportion is over 11%.

The report found that

57% of the respondents have opt-in lists of fewer than 50,000 names
24.3% have 51,000 to 400,000 names
9.1% have 401,000 to 1 million names
10% have more than 1 million

63.8% of retailers conduct up to three e-mail campaigns each month and another 25.2% conduct between four and eight campaigns, says the report. 62.8% also indicate that they've increased the frequency of e-mail campaigns in the past year.

E-mail marketing consultants consider an open rate of about 20% and a click-through rate of 4% to 5% to be a highly effective e-mail campaign.

26.5% of participants in the survey report open rates of 20% or more (11.2% reported 20% to 25% while 15.3% said more than 25%)
11.8% report open rates of 16% to 19%
14.6% report e-mail open rates of less than 5%
6.2% say open rates of 1% or less.

Click-through and Conversion averages are growing:

17% report e-mail click-through rates of 16% or more
28.9% report click-through rates of 6% to 15%.
20.2% of respondents report e-mail sales conversion rates of 1% to 2%
26.5% with conversion averages of between 2.1% and 4%
14% with conversion rates of between 4.1%
10%, and 3.2% with sales conversion averages greater than 10%

Brohan concludes that by working smarter with existing resources while controlling costs, web retailers expect a sizeable return on their investment in e-mail marketing. Compared to the rising cost of paid search, he says, which can absorb up to 50% of a big retailer's total annual online marketing budget, e-mail marketing remains relatively inexpensive.

41.6% of all retailers taking part in the research spend less than 1% of their total annual marketing budgets on e-mail. That compares with
31.3 % spend between 1% and 5%
13.8% commit 6% to 10%
5.6% spend from 11% to 15%
3.8% from 16% to 25%
4.1% with e-mail budgets that account for 25% of their overall marketing budgets

JumpTV Signs Strategic Partnership With Maktoob.com -- One of the Arab World's Largest Internet Portals

Maktoob.com's Millions of Subscribers Will Have Access to JumpTV's Middle East Channels

October 03, 2006 -- JumpTV (AIM: JTV) (TSX: JTV) (www.jumptv.com), the world's leading broadcaster of ethnic television over the Internet, has signed an agreement with Maktoob.com, one of the leading Arabic-language portals with over 4.5 million subscribers, to carry all of JumpTV's channels on a subscription basis.

The agreement will allow Maktoob.com users access to all of JumpTV's 220+ channels, with a promotional focus on the company's 37 current Arabic-language channels, including Aljazeera, Future TV, Dubai TV, Mehwar Channel and 2M.

"Partnering with Maktoob.com is in line with our strategy of building the largest and highest quality Internet-television experience on the market. Since our launch, we have developed one of the best Middle Eastern television offerings in the world, with channel partnerships from nearly every country in the Arab world. This partnership with Maktoob.com opens a new platform for us to market the JumpTV experience, increase our subscriber base and further build our brand by tapping into the millions of subscribers already part of the Maktoob community," said Kaleil Isaza, president and chief executive officer of JumpTV International.

Maktoob.com offers Arabic/English email service, search capabilities, blogs, chat rooms and several other Internet services and products. The company is a market leader in the Middle East and North Africa region providing service to more than one-quarter of the Internet users in this area of the world.

"Maktoob was looking for a new offering that could differentiate us from the other portals in the Middle East. Partnering with JumpTV will provide our users with a unique Internet experience. Watching television online will allow for our members to keep abreast of developments region-wide in a way that is new, exciting and cost-effective. This venture with JumpTV helps cement Maktoob's leadership position by proving to our current and future users that we are committed to offering the best Internet-based services available," stated Ahmed Nassef, General Manager of Maktoob.com and Vice-President of the Maktoob Group.

Amir Hegazi, JumpTV's general manager of the Middle East and North Africa group, commented, "In addition to the 4.5 million registered users, Maktoob.com receives almost 2 million unique visitors a month. This rapidly expanding audience will vastly increase JumpTV's exposure throughout this region and amongst Arabic-speaking communities across the globe."

JumpTV's streamed content will be presented through the Maktoob portal as part of a broadband content offering, which is slated to launch by the end of 2006. JumpTV channels will be made available to all Maktoob customers on a subscription basis.

About Maktoob.com

Maktoob.com was founded in the year 2000 as the world's first free Arabic/English Web-based Email service, offering users the ability to receive and compose Email in either language, regardless of the operating system. Maktoob.com has since grown to become the leading Arab portal offering a full-range of communications tools and quality content offerings. Maktoob.com is the flagship of the Maktoob Group of companies, a network that includes the region's leading auctions marketplace, souq.com; the Middle East's electronic payment solution, CashU.com; The region's first Arabic search engine, Araby.com; and several other websites.

About JumpTV

JumpTV (AIM: JTV) (TSX: JTV) is the world's leading subscription-based broadcaster of ethnic television over the Internet. With over 200 channels from 65+ countries, JumpTV delivers its subscribers full-screen news, sports and entertainment content on a real-time basis from all corners of the globe. JumpTV has subscribers from over 80 countries who view channels on the JumpTV online network via high-speed Internet connections on their home computers, laptops, Internet-enabled televisions and mobile phones.

Forward looking statement

Certain statements herein may constitute forward-looking statements, including those identified by the expressions "may", "will", "should", "could", "anticipate", "believe", "plan", "estimate", "potential", "expect", "intent" and similar expressions to the extent they relate to the Company or its managements. These statements reflect the Company's current expectations and are based on information currently available to management. These forward-looking statements are subject to a number of risks, uncertainties, assumptions and other factors that could cause actual results or events to differ materially from current expectations, including the matters discussed under "Risk Factors" contained in the Company's prospectus (admission document) dated August 1, 2006. These forward-looking statements are made as of the date hereof, and the Company assumes no obligation to update or revise them to reflect new events or circumstances.

Carrie Underwood's Wild Ride

By Peter Cronin

© 2006 CMA Close Up News Service / Country Music Association, Inc.

In the year since she beat out blue-eyed soul shouter Bo Bice to emerge victorious as the 2005 American Idol, Carrie Underwood hasn't had a whole lot of time to savor her victory. As demanding and life-changing as the "Idol" experience was for Underwood, it was only a small taste of what was to come as her life became an endless series of press interviews, TV appearances, photo shoots, awards shows, concerts and coast-to-coast travel. And then she made a record. Released in November 2005 and propelled by its chart-topping leadoff single, "Jesus, Take the Wheel" (six weeks at No. 1), Underwood's debut album, Some Hearts, quickly became the fastest triple-Platinum female Country debut in history, spending a phenomenal 15 weeks at the top of Billboard's Top Country Albums chart. No doubt about it: for this 23-year-old singer from Checotah, Okla., the past 12 months have been one wild ride.

"I think the only word that I can say is, Wow!" Underwood enthused at a recent triple-Platinum celebration thrown by her label, 19 Recordings/Arista Nashville. There's a lot to celebrate. Underwood's is the kind of out-of-the-box success that hits Music Row every once in awhile, boosting percentages and providing the Country format with a much-needed shot in the arm. In other words, everybody's talking about Underwood. They may be debating her pop leanings or her reality-TV beginnings, but there's one thing they all say: This girl can really sing. That is made crystal clear with every one of Underwood's incredibly poised and pitch-perfect live performances. While she's glad her contest days are behind her, Underwood is quick to give some of the credit for her "overnight" success to the sink-or-swim ethic of "American Idol."

"It was basically like a boot camp," she said. "There was nobody to tell me what I should sing, or what to do, and being away from my friends and family, pretty much on my own, I had to grow up. If I could survive that and not go crazy then I could survive everything that followed. It so prepared me for what I do now."

Immediately following her "Idol" win, Underwood was hustled into the studio to record the contest-winning power ballad, "Inside Your Heaven." The single debuted at No. 1 on Billboard's Hot 100 singles chart and became the best-selling song of 2005. While the track displayed her stunning vocal chops in a big pop setting, Underwood insisted on recording a vocally challenging Martina McBride classic for the B-side.

"I think 'Inside Your Heaven' is a good song, but I didn't choose it," she stated. "That's why we put 'Independence Day' on the back, because we don't want to confuse everybody. I like to try new things, but I'm a Country girl and that's the kind of music that I made it clear I wanted to sing."

"Carrie from the very beginning always made the point that she was a Country singer," said SONY BMG Nashville Chairman Joe Galante. "She took a risk by doing that because it's obvious that Simon Cowell is not a fan of the music - but that is who she is. She is going to have a long and successful career here - and that is going to be a big shot for everyone in Country Music!"

Growing up in a fairly typical but non-musical family in small town Oklahoma, Underwood was nonetheless exposed to all kinds of music in all kinds of places.

"We'd take car trips and my parents always had it on the oldies station," she said. "I got a lot of Rolling Stones, Creedence Clearwater Revival, John Denver and all that. My sisters were teenagers when I was growing up and they were in their rebellious stage, so I got a lot of '80s rock music out of them. But being from Oklahoma, Country Music was always playing everywhere. In every store you went into, if there was a radio on, 95-percent of the time it was a Country station. So it was something that had a lot of influence on me."

Songs including "Jesus, Take the Wheel" and the follow-up single, "Don't Forget to Remember Me," are powered by Underwood's undeniably pure Country sensibility, but deeper album cuts "We're Young and Beautiful" and her current single, "Before He Cheats," showcase the singer's more mischievous and sassy side.

"I think that has to do with what I grew up with," she said. "Dann Huff, who was one of the producers of my album, without me saying anything said, 'Do you listen to a lot of rock music?' And I said, 'Yeah, I like it.' And he was like, 'I can tell. A lot of choices you make vocally are choices that a person with a more rock edge would choose.'"

She may be comfortable with her rocking side, and she does possess one of those voices that can go just about anywhere, but when it came time to decide where she wanted to make her music, where she lived, for Underwood there was no hesitation.

"I'm sure a lot of meetings were held to try to figure out a way to market me," she said." But my management company made it very clear that I was going to sing Country Music and that's what I wanted. I love all kinds of music, but I feel like I fit with Country and that's the kind of music I love."

Preparing to record her debut, Underwood went directly to the heart of Nashville's creative songwriting community. Her management team set up a "retreat" at Nashville's Karian Studios, giving Underwood a chance to mingle and even co-write with some of Music Row's biggest hitmakers. Songwriters including Brett James, Hillary Lindsey and Rivers Rutherford took the time to get to know the person behind the image and custom-crafted songs to reflect Underwood's life and concerns, including one she co-wrote about her hometown.

"I wanted to meet the songwriters, get to know them and let them know the kind of album I wanted to make," Underwood said. "They broke off into little groups and I'd bounce around from room to room and give suggestions and sing part of what they'd written. We even recorded some rough drafts right there in the studio. 'I Ain't In Checotah Anymore' came from that time, and I co-wrote on another one that didn't make the album. I can't wait to get into the next one. I want to have a bigger hand in it and co-write on a lot more songs."

Underwood has also been busy touring and getting to know her fellow Country artists, gaining some valuable advice along the way.

"The advice most people have given me is to take it all in," Underwood said. "Don't just go and go and go and not have fun with it. You've got to have fun."

As hectic as things have gotten, Underwood is definitely enjoying the trip, and she makes a point of taking regular breaks, heading home to Checotah and to her alma mater, Northeastern State University in nearby Tahlequah, where she recently graduated Magna Cum Laude and where still loves to spend time with her old, reliable, pre-"Idol" friends.

"I try to get home about once a month, so it's not that bad," she said. "I miss my family and my animals, but they're always waiting for me when I get home. And a lot of my friends still go to college in Tahlequah, so I'll go hang out with my sorority sisters for a few days. The people that knew me before still treat me the same . when we go out it's a different story."

As she reflects on all she's learned and experienced in the past year, including being nominated for four CMA Awards (Horizon, Female Vocalist, Single and Music Video of the Year), and gets ready to perform at "The 40th Annual CMA Awards" in November, Underwood has her Country Music priorities perfectly straight.

"I like the intimacy of the studio and hearing how everything evolves from the demo to the finished product," she said. "But there's nothing like being in front of the fans. Especially now, they come to see me, and they give off a great energy. They're happy to be there . and I'm happy they're there.

On the Web: www.carrieunderwoodofficial.com

NEW ARTIST SPOTLIGHT: Lost Trailers
By Peter Cronin

© 2006 CMA Close Up News Service / Country Music Association, Inc.

Say what you will about the Lost Trailers, but you can't say that this Georgia quintet didn't come by their name honestly. Over the course of their five years of constant roadwork, the band members have suffered more than their share of setbacks, not the least of which was having their trailer, containing all of their equipment, stolen - three times. What doesn't kill you makes you stronger and the Lost Trailers - singer/guitarist Stokes Neilson, singer/keyboardist Ryder Lee, guitarist Manny Medina, bassist Andrew Nielson and drummer Jeff Potter - have emerged from their trials with a self-titled album full of undeniable, hook-filled honky tonk songs.

"We love to bring people together for a good time," Lee said. "But we also know what it's like to be down. Our music is about hanging in there and always looking up, because there's redemption in the end."

For the Lost Trailers, redemption began with the loss of their third trailer. Feeling like they'd "hit bottom," the band pulled together and rallied around Nielson's increasingly powerful songwriting and moved to Nashville. They soon found a fan in Music Row producer Blake Chancey (Dixie Chicks, Montgomery Gentry), and when SONY BMG Nashville Chairman Joe Galante heard the tracks they recorded together and caught the band's take-no-prisoners live set he quickly signed them to his BNA imprint.

The Lost Trailers wrote 10 of the 11 songs on their debut, including the album's leadoff single, "Why Me," which was co-written by Neilson and Jimbeau Hinson. The album was released on Aug. 29.

IN THEIR OWN WORDS:

Which song would you secretly like to cover?
BAND - "'Georgia on My Mind,' but it's a real challenge to even come close to Willie's or Ray's versions."

What do you sing in the shower?
STOKES NEILSON - "Our most recent single 'Why Me' ... you gotta rehearse somewhere in private!"

What actors would portray you in a biopic about your life?
BAND - "The guys from 'Jackass.'"

What moment in your life would you relive if you could?
RYDER LEE - "Family vacations."

If you wrote an autobiography, what would the title be?
BAND - "Tales from the Trail: The Story of the Lost Trailers."

When they look back on your life in 50 years, what do you hope people say about you?
BAND - "The Lost Trailers were the best Country band ever."

On the Web: www.losttrailers.com

The Motion Picture Group, Inc. Announces the Completion of Its Second Feature Film -- ''Fuel''

The Motion Picture Group, Inc. (Pink Sheets:MPRG), a film/entertainment financing and production company, announced today that the production of its second feature film has been completed and the film is ready for domestic and international sales. "FUEL", the debut feature film of Michael Nash, is a collaboration of Protocal Productions and Left Hook Films in association with The Motion Picture Group. The film, written and directed by Michael Nash and produced by Justin Hogan and Michael Nash, stars Dave Buzzotta, Joey D. Vieire, Tammy Tavaeres and Manny Suarez.

Henri Kessler, the Company's Co-President and the film's Executive Producer, stated: "We are very pleased with the results of this film. Michael Nash is a truly talented director and we look forward to establishing a long-term relationship with him. Michael's achievement in "FUEL" defines the very essence of independent filmmaking."

"FUEL" is the story of a troubled genius who attempts to invent a magnetic engine to end the world's oil addiction. Based on current events, this conspiracy drama/thriller follows the journey of Dan Tort, a reclusive intellect, who must battle demons from his past as he searches for a new form of reusable energy. Shot in a cinema verite (documentary filmmaking) style, the film mixes factual events and original footage, leading the viewer down a frightening path filled with intrigue and conspiracy. Detailed information on the film may be found at http://www.fuelthefilm.com.

About The Motion Picture Group, Inc.

Founded by Henri Kessler, Scott Franklin, and Pliny Porter, The Motion Picture Group, Inc. was created to meet the needs of the international entertainment industry through financing and producing commercially driven motion pictures for the domestic and international arenas. The Company's management team has produced and developed many films that have received international acclaim and are box-office successes.

Corporate offices are located at 8157 Mulholland Terrace, Los Angeles, California 90046. Questions should be directed to Henri Kessler, Co-President at (310) 492-5560 or may be emailed to info@themotionpicturegroup.com. More information about the Company and its management is available on the Company's website at http://www.themotionpicturegroup.com.

This press release shall not constitute an offer to sell or a solicitation of an offer to buy securities of The Motion Picture Group, Inc. Certain statements in this release and other written or oral statements made by or on behalf of the Company are "forward looking statements" within the meaning of the federal securities laws. Statements regarding future events and developments and our future performance, as well as management's expectations, beliefs, plans, estimates or projections relating to the future are forward-looking statements within the meaning of these laws. The forward looking statements are subject to a number of risks and uncertainties including market acceptance of the Company's services and projects and the Company's continued access to capital and other risks and uncertainties. The actual results the Company achieves may differ materially from any forward-looking statements due to such risks and uncertainties. These statements are based on our current expectations and speak only as of the date of such statements. The Company undertakes no obligation to publicly update or revise any forward-looking statement, whether as a result of future events, new information or otherwise.

GET YOUR CHOPSTICKS READY FOR BANZAI!




Screenlife, LLC Introduces a One-of-a-Kind Good Time Joy Opportunity in a Game that Fuses
the Flavors of Japanese Humor with a Wacky New Betting Game



Can you guess how many chocolate pies a man in a shopping cart can jump over or if it's possible to catch a squirrel using a fishing pole? Screenlife, the world's leading DVD game developer, is betting that you and all your friends are going to fall over laughing as you try to predict the outcomes to these and other hilariously off-the-wall stunts. Based on the British cult TV hit of the same name, Banzai™ – The DVD Betting Game will have college students and downtown hipsters shouting "Banzai!" as they are introduced to the colorful antics of Mr. Shake Hands Man, Lady One Question, and Tako the Octopus – the game's six-legged host with a black belt in fun!

"Banzai is outrageously funny and smart," says Gary McGrew, the Screenlife game designer and Banzai fanatic, who developed the creative adaptation in response to a company contest that he won. "The game completely captures the addictive nature of the show and challenges players to predict the outcome of bizarre stunts. This season's premier party game has arrived."

The answers to Banzai's laugh-out-loud clips and puzzles are anyone's bet and everyone's entertainment, making it perfect for parties, holiday gatherings or that hard-to-find gift. Players wear Japanese headbands and show off their chopsticks dexterity, while racing to fill the community betting pot with an assortment of sushi pieces with personalities all their own. There is Lois - the Louisiana Squirrel Roll, Kung Fu Carl - the World's Last Starfish Assassin, Chum - a very opinionated tuna, and Tako's own Tentacle – severed in a tragic net accident, it's taken on a life of its own.

Next, players watch a video challenge, place their bets and upon viewing the outcome, the winner takes all. Again, that's laugh, watch clips, laugh, place bets, laugh, see who wins the betting pot – it's that simple!

Players hungry for more can jump into the animated world of Banzai and win free games by visiting myspace.com/takotheocto or by logging onto http://www.banzai.com, where they can find added video clips, game demos, screensavers, and the Tako-gotchi, an interactive program that lets you feed, manipulate and even annoy Banzai's little red host.

Banzai – The DVD Betting Game is sold at Calendar Club, Toys R Us and Drugstore.com. For more information or to request samples of Banzai – The DVD Betting Game, please contact Amanda Sloane at (206) 270-4626.

About Screenlife, LLC
Screenlife, LLC is a premier game company that's bringing a new dimension to the way the world has fun. Screenlife is the creator and world's leading manufacturer of DVD games, including Scene It?, the number one selling DVD game worldwide. Screenlife games feature patented Optreve™ DVD Enhancement Technology and are available in five languages, across 14 countries, and in more than 40,000 retail locations. A leader in entertainment licensing, Screenlife has established thousands of partnerships with major Hollywood studios, sports leagues and recording labels as well as actors, athletes and musicians

FAMILY TIME GETS SLIMED!
Screenlife, LLC and Mattel's Newest Game Dives to the Depths of Bikini Bottom
to Bring a Totally Awesome New Dimension to Family Entertainment



Just in time for the holidays, let your favorite sea sponge shine with a new Scene It?® DVD board game that's gone totally Nick! Scene It? Nickelodeon® has all the airbending, ghost-grabbing, jelly-fishing fun of your favorite Nick shows, with crazy characters, wacky moments and Aaahh! Real Monsters. SpongeBob SquarePants, Tommy Pickles, Danny Phantom, and many more will fuel the fun with over one thousand characters, stars and scenes that will take your family from the halls of Casper High to the rocketing heights of Retroville and every green-slimed city in between.

Kids and their "Fairly OddParents" will be shouting out the answers to on-screen challenges such as "Grosser than Gross™" and "Slime Bucket", as they race around the board answering trivia, watching video clips, and solving challenges from favorites such as Jimmy Neutron , Avatar: The Last Airbender , Drake & Josh, and more. Questions like, what school does Danny Fenton attend or on what show did the green slime Nick is known for first appear? Whether you're a Rugrats fan or a rugrat at heart, everyone from the Nick novice to the resident Nickologist will enjoy the trip through the zany cosmos of the #1 entertainment network for kids.
Scene It? Nickelodeon® is available at Barnes and Noble, Toys R Us, Target, or wherever games are sold. You can also purchase it online at http://www.sceneit.com.

About Screenlife, LLC
Screenlife, LLC is a premier game company that's bringing a new dimension to the way the world has fun. Screenlife is the creator and world's leading manufacturer of DVD games, including Scene It?, the number one selling DVD game worldwide. Screenlife games feature patented Optreve™ DVD Enhancement Technology and are available in five languages, across 14 countries, and in more than 40,000 retail locations. A leader in entertainment licensing, Screenlife has established thousands of partnerships with major Hollywood studios, sports leagues and recording labels as well as actors, athletes and musicians. For more information about Scene It? and other Screenlife games, visit http://www.screenlifegames.com or call (866) DVD-GAME.

About Mattel, Inc.
Mattel, Inc., (NYSE: MAT, http://www.mattel.com) is the worldwide leader in the design, manufacture and marketing of toys and family products, including Barbie®, the most popular fashion doll ever introduced. The Mattel family is comprised of such best-selling brands as Hot Wheels®, Matchbox®, American Girl® and Tyco® R/C, as well as Fisher-Price brands (http://www.fisher-price.com), including Little People®, Rescue Heroes®, Power Wheels® and a wide array of entertainment-inspired toy lines. With worldwide headquarters in El Segundo, Calif., Mattel employs more than 26,000 people in 42 countries and sells products in more than 150 nations throughout the world. The Mattel vision is to be the world's premier toy brands - today and tomorrow.

© 2006 Mattel, Inc. All Rights Reserved.


CLASSIC ICONS ADD CHARACTER TO THE GAME AISLE
Screenlife, LLC`s Newest DVD Games Inspired by Larger Than Life Characters
from Classic Television and the Silver Screen


– From Screenlife, the makers of Scene It?® The DVD Game™, the #1 selling board game brand in the world, comes two new titles for players who prefer their heroes to be super and their martinis shaken, not stirred. Just in time for the holidays, specialty games Scene It? Deluxe Marvel™ Edition and Scene It? James Bond Collector's Edition are here to save the world. Utility belt not required.

Agent 007 is back in the Scene It? James Bond Collector's Edition. The spy friendly game features more than a thousand Bond scenes, stars, and images and includes trivia, on-screen challenges and all the clever thrills of the 21 Bond films, including content from the upcoming movie, Casino Royale. The sleek DVD game comes with bonus playing cards featuring images from the Bond films, collectible metal tokens and a Certificate of Authenticity, making this limited edition tin a must-have for any Bond aficionado. Scene It? James Bond Collector's Edition is available exclusively at Macy's department stores or online at http://www.sceneit.com.

"With great power comes great responsibility," but with Scene It? Deluxe Marvel Edition, your only responsibility is having fun. Fans of the blockbuster action movies, graphic novels and animated series' will enjoy this ultimate Marvel trivia game that comes fully loaded with two DVDs. Your living room will explode with real movie and TV clips, trivia questions and a myriad of mutated puzzlers from Spider-Man, X-Men, Fantastic Four and other edge-of-your-seat Marvel titles. This new game and more are available at most major retailers and online at http://www.sceneit.com.

About Screenlife, LLC
Screenlife, LLC is a premier game company that's bringing a new dimension to the way the world has fun. Screenlife is the creator and world's leading manufacturer of DVD games, including Scene It?, the number one selling DVD game worldwide. Screenlife games feature patented Optreve™ DVD Enhancement Technology and are available in five languages, across 14 countries, and in more than 40,000 retail locations. A leader in entertainment licensing, Screenlife has established thousands of partnerships with major Hollywood studios, sports leagues and recording labels as well as actors, athletes and musicians.

CDC Games Signs Exclusive Agreement to Host The Lord of the Rings Online(TM) Game in China

CDC Games, a business unit of CDC Corporation (NASDAQ: CHINA), today announced that it has signed an exclusive distribution license in China for the online game, The Lord of the Rings Online(TM): Shadows of Angmar(TM), the official online game based on the original literary works of J.R.R. Tolkien. The agreement is between CDC Games and the developer of the game, Turbine, Inc., a premier developer, publisher and operator of online subscription entertainment in the United States.

The Lord of the Rings Online is one of the most highly anticipated online game titles planned for the worldwide markets in 2007. More than 200,000 players in the United States and Europe have already signed up for its Beta Program. CDC Games and Turbine, will work together to localize the game for the China market with an expected launch in 2007.

The Lord of the Rings Online is the first and only massively multiplayer online role-playing game (MMORPG) based on the literary works of J.R.R. Tolkien. It allows players to explore one of the most famous fantasy worlds of all time, fight the evil minions of the Dark Lord Sauron, and advance their heroes by adventuring through the vast reaches of Middle-earth. Gamers can adventure solo or choose from thousands of players online to forge their own fellowships as they face the hideous monsters and fight epic battles to defend Middle-earth.

"The Lord of the Rings is a phenomenal franchise, and the literary work has spawned a tremendous following the world over, achieving over US$2.9 billion in global box office receipts for the three films based on the books," said Fred Wang, chairman of CDC Games and independent director of CDC Corporation. "Many games have been inspired by the characters and stories set out by Tolkien, and we expect a tremendous response from loyal fans and gamers in China."

"We are excited to be partnering with CDC Games, one of the most successful online game companies in China," said Jeffrey Anderson, president and CEO of Turbine. "Based on their outstanding track record, we have high hopes for success with the Chinese gamers. We look forward to a long and successful partnership."

CDC Games has already established a strong foundation of loyal gamers with Yulgang, the company's current blockbuster online game in China. In Q2 of 2006, CDC Games reported registered players of Yulgang exceeding 30 million, and peak concurrent players exceeding 348,000. The Lord of the Rings Online will leverage this growing foundation of gamers and the nationwide network of distribution channels and server groups developed by CDC Games to support its operations.

"We are committed to delivering the best online gaming experience to our players," said Dr. Xiaowei Chen, CEO of CDC Games. "With that commitment in mind, we are very excited to bring The Lord of the Rings Online to China, not only because it represents a major global franchise, but also because Turbine has developed a truly beautiful and engaging game in which players will feel like they are part of Tolkien's world. Our partnership with Turbine underscores the tremendous success, attention to detail and transparency that our operations bring to the best game developers in the world as they seek to enter the massive China market."

About Turbine

Turbine, Inc. is a premier developer, publisher and operator of online games and entertainment and is headquartered in Westwood, Massachusetts. The company is one of the largest privately-held online games company in North America. Turbine's catalogue includes some of the most famous online entertainment brands, including Asheron's Call(R), Dungeons & Dragons Online(TM): Stormreach(TM), and The Lord of the Rings Online(TM): Shadows of Angmar(TM). For more information on Turbine and its services, please visit http://www.turbine.com.

About Tolkien Enterprises

The Saul Zaentz Company d/b/a Tolkien Enterprises is the holder of worldwide motion picture, legitimate stage, merchandising, and other rights in J.R.R. Tolkien's literary works The Lord of the Rings and The Hobbit. Tolkien Enterprises has been producing and licensing films, stage productions and merchandise based on Tolkien's works for almost 30 years. Its headquarters are in Berkeley, California, and its website may be found at http://www.tolkien-ent.com.

About CDC Corporation

The CDC family of companies includes CDC Software focused on enterprise software applications and services, CDC Mobile focused on mobile applications, CDC Games focused on online games, and China.com focused on portals for the greater China markets. For more information about CDC Corporation (NASDAQ: CHINA), please visit http://www.cdccorporation.net.

About CDC Games

CDC Games is focused on building a diversified mix of online game assets and strategic alliances and is a business unit of CDC Corporation (NASDAQ: CHINA). CDC Games is one of the market leaders of online and mobile games in China with over 30 million registered players.

About CDC Mobile

CDC Mobile is the wholly owned subsidiary of China.com Inc and is focused on providing MVAS products to subscribers in China.

About CDC Software

CDC Software, The Customer-Driven Company(TM), is a provider of comprehensive enterprise software applications and services designed to help businesses thrive and become customer-driven market leaders. The company's industry-specific solutions are used by more than 5,000 customers worldwide within the manufacturing, financial services, health care, home building, real estate, and wholesale and retail distribution industries. CDC Software's product suite includes Pivotal CRM (customer relationship management), c360 CRM add-on products, industry solutions and development tools for the Microsoft Dynamics CRM platform, Ross ERP (enterprise resource planning) and SCM (supply chain management), IMI warehouse management and order management, Platinum China HR (human resource) and business analytics solutions. CDC Software is ranked number 18 on the Manufacturing Business Technology 2006 Global 100 List of Enterprise and Supply Chain Management Application vendors. For more information, please visit http://www.cdcsoftware.com.

Cautionary Note Regarding Forward-Looking Statements

This press release includes "forward-looking statements" within the meaning of the United States Private Securities Litigation Reform Act of 1995. These statements are based on management's current expectations and are subject to risks and uncertainties and changes in circumstances. There are important factors that could cause actual results to differ materially from those anticipated in the forward looking statements, including the following: the ability of CDC Games to localize, launch and operate The Lord of the Rings, the popularity of The Lord of the Rings in China, the ability of CDC Games to leverage the infrastructure and foundation of gamers in China, the loyalty of gamers in China. Further information on risks or other factors that could cause results to differ is detailed in filings or submissions with the United States Securities and Exchange Commission made by CDC Corporation in its Annual Report for the year ended December 31, 2005 on Form 20-F filed on June 21, 2006. All forward-looking statements included in this press release are based upon information available to management as of the date of the press release, and you are cautioned not to place undue reliance on any forward looking statements which speak only as of the date of this press release. The company assumes no obligation to update or alter the forward looking statements whether as a result of new information, future events or otherwise.

"The Lord of the Rings Online," "Shadows of Angmar," "Middle-earth," "The Lord of the Rings," and the names of the characters, events, items and places therein are trademarks or registered trademarks of The Saul Zaentz Company d/b/a Tolkien Enterprises under license to Turbine, Inc. Turbine and the Turbine logo are trademarks or registered trademarks of Turbine, Inc. in the United States and/or other jurisdictions. All other trademarks are the property of their respective owners.

 

The Killers Get STRIPPED on the Strip in HD

Clear Channel Communications, Inc. (NYSE:CCU):

Clear Channel Radio's Online unit today announced that The Killers' private STRIPPED concert at the Empire Ballroom in the band's hometown of Las Vegas is now available on-demand. This is the very first STRIPPED session recorded in high-definition, before a live audience.

All STRIPPED performances are now available in HD and shot in a wide angle 24p format and 16 x 9 aspect ratio. Filming and editing in HD offers a richer, deeper cinematic viewing experience, offering audiences an enhanced on-demand performance from their favorite artists. The clarity of HD allows the filmmaking team to add grain, as with film, creating the effect that viewers are watching from the front row of a live concert.

"By filming in high-definition, we are now offering our audience the highest-quality in sound and visual," said Evan Harrison, executive vice president of Clear Channel Radio and head of the company's Online Music & Radio unit. "The energy at The Killers' show was explosive and now our listeners across the country can enjoy the performance as often as they like, online and on-demand."

"STRIPPED Live is the unique conversion of online, on-air & live entertainment; the ultimate listener experience," said Greg Thompson, EVP Island Def Jam Promotion.

The Killers, who kick off their North American tour on October 6th, in Los Angeles unveil songs from their latest project, "Sam's Town", which is scheduled for release today. This intimate performance includes the title track, "Read My Mind" and the hot new single, "When You Were Young" which hail from the new album, and fan-favorites "All These Things That I've Done" and "Somebody Told Me."

This one-of-a-kind concert will be available exclusively on-demand on over 175 Clear Channel Radio Web sites. Log on to http://www.strippedmusic.com for more details.

About Clear Channel Radio

Clear Channel Radio is a leading radio company focused on serving local communities across the U.S. with more than 110 million listeners choosing Clear Channel Radio programming each week. The company's content can be heard on AM/FM stations, HD digital radio channels, on the Internet, via iPods, through Motorola's iRadio cell-phone service, and via mobile-navigation devices from Cobra, Garmin, Kenwood and others. The company's operations include radio broadcasting, syndication and independent media representation. Clear Channel Radio is a division of Clear Channel Communications, Inc. (NYSE:CCU), a leading global media and entertainment company. More information on the company can be found at http://www.clearchannel.com.

Disney Offers Adventures Under the Sea and Gives the Royal Treatment With New Handheld Video Games

Disney Princesses and Ariel are joining the "Disney on the Go" portfolio of handheld video games. New handheld video game titles based on the "Disney Princess" and "The Little Mermaid" franchises are now available at retail stores throughout North America.

The new line-up from Buena Vista Games includes:

-- Disney's The Little Mermaid: Ariel's Undersea Adventure for the Nintendo DS(TM)

-- Disney's The Little Mermaid: Magic in Two Kingdoms for the Game Boy(R) Advance

-- Disney Princess: Royal Adventure for the Game Boy Advance

"Inspired by the award-winning film, 'The Little Mermaid' handheld games provide interactive adventures that kids can take with them on-the-go," said Craig Relyea, vice president of marketing, Buena Vista Games. "With the release of Disney's new two-disc 'The Little Mermaid' Platinum Edition DVD today, fans of Ariel and her friends will have ample opportunities to share in the fun this holiday season."

Featuring six of Disney's most beloved princesses, Disney Princess: Royal Adventure on the Game Boy Advance will be released alongside The Little Mermaid titles.

"Since its debut in 2000, the Disney Princess franchise has become a leading girls lifestyle brand," said Relyea. "Building on the franchise's popularity, the new Disney Princess: Royal Adventure game enables young girls to interact with their favorite characters in a new magical adventure."

About Disney's The Little Mermaid: Ariel's Undersea Adventure

Ariel, Flounder and Sebastian join some new friends on a mysterious aquatic adventure based on the beloved Disney movie. Developed by Gorilla Systems Corp., the game lets players dive into 16 levels of interactive gameplay, and use the unique Nintendo DS features that include:

-- Playing music wirelessly with up to five friends in the "Barnacle Band"

-- Singing into the Nintendo DS microphone to unlock treasure chests

-- Using the Nintendo DS stylus to dig up hidden treasure

About Disney's The Little Mermaid: Magic in Two Kingdoms

Also developed by Gorilla Systems Corp., Disney's The Little Mermaid: Magic in Two Kingdoms lets players embark on a seafaring journey through some favorite "The Little Mermaid" movie moments. Explore as Ariel, Flounder, Sebastian or Prince Eric to unlock eight nautical games. Goals include racing to save Prince Eric from the sinking ship, aiding Sebastian in escaping the French Chef and defeating Ursula, the evil sea-witch.

About Disney Princess: Royal Adventure

Developed by Human Soft, Inc., Disney Princess: Royal Adventure lets players explore an enchanted castle with secret portals leading to the worlds of the Disney Princesses -- Jasmine, Cinderella, Belle, Ariel, Snow White and Sleeping Beauty -- on their quest to find a missing collection of special tiaras. Players can journey into a wonderful world inside the castle and a medley of unique environments in the surrounding village. The Disney Princesses will help players increase their skills while earning enchanted items that are used to solve a mystery that has been forgotten by the village for many years.

About Buena Vista Games

Buena Vista Games, Inc. (BVG) is the interactive entertainment affiliate of The Walt Disney Company (NYSE: DIS). BVG publishes, markets and distributes a broad portfolio of multi-platform video games and interactive entertainment worldwide. The company also licenses properties and works directly with third-party interactive game publishers to bring products for all ages to market. For more information, please log on to http://www.bvg.com.

(C) Disney. Product names, release dates and features may be subject to change.

Game Boy Advance and Nintendo DS are trademarks of Nintendo.

After Shattering Attendance Records In Mexico City, BODIES REVEALED Moves to Monterrey

-- Premier Exhibitions, Inc. (NASDAQ:PRXI) , today announced that it opened BODIES REVEALED in Monterrey, Mexico at Campus De La Salud, Technologico de Monterrey on Friday, September 29th for a limited engagement. The Exhibition showcases real human body specimens giving the public the opportunity to see their own bodies in a fascinating way like never before. The exhibition is presented in conjunction with OCESA, a leader in live entertainment.


"BODIES REVEALED saw hundreds of thousands of visitors in our first venture into Mexico at Folo Polanco and we look forward to continuing our presence in Monterrey and working with OCESA once again," said Arnie Geller, President and CEO of Premier Exhibitions, Inc. "Mexico has enthusiastically embraced the Exhibition's educational messages that have ultimately changed the way individuals see themselves. We are thrilled to reach a new audience and continue our success in the country."


BODIES REVEALED uncovers the truth about the human body. It gives the public the opportunity to see 'what lies beneath' their own skin. The exhibition will allow the visitor inside a world that has been taboo for centuries -- available only to the medical profession. It offers an insider's view of the systems that keep us alive and that carry out the activities that we take for granted every day. The exhibition also serves as a wake-up call reminding us that our own decisions directly affect our health and our lives and includes powerful side by side comparisons of a healthy lung and a black lung ravaged by smoking.


BODIES REVEALED provides visitors with an opportunity to see inside carefully preserved anatomical specimens and learn the detailed structure and function of the human body. In this process, human tissue is permanently preserved using liquid silicone rubber that is treated and hardened. The end result is a rubberized specimen, preserved to the cellular level, showcasing the complexity of the body's many bones, muscles, nerves, blood vessels and organs. The full-body specimens can take more than a year to prepare. After undergoing the polymer preservation process, they become impervious to decomposition.


Premier Exhibitions, Inc. is a major provider of museum quality touring exhibitions throughout the world.


Certain of the above statements contained in this press release are forward-looking statements that involve a number of risks and uncertainties. Such forward-looking statements are within the meaning of that term in Section 27A of the Securities Act of 1933, as amended, and Section 21E of the Securities Exchange Act of 1934, as amended. The Company has based these forward-looking statements on its current expectations and projections about future events, based on the information currently available to it. The forward-looking statements include statements relating to the Company's anticipated financial performance, business prospects, new developments, new strategies and similar matters. The following important factors, in addition to those described in the Company's filings with the Securities and Exchange Commission, including its Annual Report on Form 10-K for the year ended February 28th, 2006, especially in the Risk Factors and the Management's Discussion and Analysis sections, and its Quarterly Reports on Form 10-Q and its Current Reports on Form 8-K (each of which is available upon request from the Company), may affect the future results of the Company and cause those results to differ materially from those expressed in the forward-looking statements, material adverse changes in the economic conditions in the Company's markets, including as a result of terrorist attacks, competition from others, how much capital the Company may receive or may not receive from required financings, whether or not the Company consummates its planned leases to place the exhibits. We disclaim any obligation to update these forward- looking statements.


2007 Volkswagen's Rock With First Act Guitars

John Mayer, Slash and Christopher Guest Transform '07 Volkswagens into Mobile Amps for the Revolutionary First Act GarageMaster Electric Guitar

In a move only Volkswagen could conceive, the iconic brand has teamed up with guitar industry innovator First Act Inc. for a first-of-its-kind musical collaboration that will rock potential car buyers and create a whole new segment of players. Beginning October 3 and continuing through December 31, any customer that purchases or leases a designated Volkswagen model from the new 2007 line -- including Jetta, Jetta GLI, GTI, Rabbit, New Beetle and New Beetle Convertible -- will receive their own completely customized First Act GarageMaster electric guitar that will play seamlessly through the car's existing audio system. The 2006 Jetta, Jetta GLI, GTI, Rabbit, New Beetle and New Beetle Convertible will also come with a custom-made First Act GarageMaster guitar. Each electric guitar is a wholly unique, one-of-a-kind instrument and is available exclusively to those who purchase or lease one of these Volkswagen models through a Volkswagen dealer. No other manufacturer offers a musical experience quite like this to its customers.


The program will be supported through an extensive national television campaign, featuring Grammy-winning artist John Mayer, Velvet Revolver guitarist Slash (formerly of Guns N' Roses) and actor Christopher Guest, well known for his portrayal of Nigel Tufnel in This Is Spinal Tap, as well as through print and radio. Customers can log onto http://www.v-dubsrock.com/ to learn about the Volkswagen program specifics, First Act GarageMaster electric guitar, take interactive guitar lessons with Dweezil Zappa and more.


The First Act GarageMaster electric guitar is a work of customized pop culture art and will undoubtedly become a coveted piece of Volkswagen's music- rich history. Each electric guitar will display the Vehicle Identification Number (VIN) of the owner's Volkswagen vehicle and will also have custom colored pick guards complementing the exterior of the car. The guitar will feature the traditional Volkswagen logo and "V Dub" inlay, a guitar strap made of safety belts, VW knobs, a prominent blue indicator light that matches the trademark instrument panel lighting of Volkswagen vehicles, VW logo guitar picks and a carrying case to take the music anywhere. Volkswagen owners can now create a concert in their garage, play for the entire tailgate party or shred in the beach parking lot.


"The partnership with First Act is the next iteration of Volkswagen's longstanding history with music," said Volkswagen's Director of Brand Innovation Kerri Martin. "The Volkswagen brand is culturally known for its celebration of music and all things creative; this exciting collaboration makes a statement that Volkswagen is a brand with innovative ideas and an unparalleled ability to create unique and appealing connections with its consumers."


"We are excited to be working with Volkswagen because of what our two brands can generate together. Like Volkswagen, we value technological innovation and inspired design," said Bernard Chiu, First Act's Chairman of the Board. "Through this partnership, we've created a revolutionary way for players to perform, with a groundbreaking guitar design and an exciting way to play it," added First Act's Vice President of Marketing, Jeff Walker.


Each First Act GarageMaster guitar has a built-in pre-amp that allows the guitar to plug directly into Volkswagen's auxiliary jack. The pre-amp features First Act's proprietary V-Stack Technology, an analog modeling technique that emulates vintage amplifiers. This innovative technology and promotion brings together car lovers and music lovers alike. The car and music culture become one and creates a unique sense of self-expression.


The joint venture between Volkswagen and First Act launches October 3rd and the unique promotion will last through the end of the year until December 31st. This offer is available on all new, unused 2007 and 2006 Jetta, Jetta GLI, GTI, Rabbit, New Beetle and New Beetle Convertible vehicles -- purchased or leased within the promotional period. The First Act GarageMaster electric guitar will plug into the auxiliary jack of the aforementioned 2007 vehicles as well as the 2006 New Beetle and New Beetle Convertible. Information about Volkswagen and First Act's co-promotion can be found online at http://www.v-dubsrock.com/ and http://www.firstact.com/.


Volkswagen of America, Inc.


Founded in 1955, Volkswagen of America, Inc. is headquartered in Auburn Hills, Michigan. It is a subsidiary of Volkswagen AG, headquartered in Wolfsburg, Germany. Volkswagen is one of the world's largest producers of passenger cars and Europe's largest automaker. Volkswagen sells the Rabbit, New Beetle, New Beetle convertible, GTI, Jetta, GLI, Passat, Passat wagon, Eos, Touareg and Phaeton through more than 600 independent U.S. dealers.


About First Act Inc.


First Act Inc., headquartered in Boston, MA, is a premiere musical products company offering an innovative line of musical instruments to inspire all levels of players. From custom one-of-a-kind guitars crafted for professionals including Aerosmith, Franz Ferdinand, Maroon 5, and others, to a wide range of superior instruments available in stores nationwide.


Source: Volkswagen of America, Inc.

Hit Rapper/Songwriter Baby Bash Signs With Arista Records!

Houston-based rapper and songwriter Baby Bash has signed a recording deal with legendary music man Clive Davis, Chairman and CEO of BMG U.S., and Arista Records. Baby Bash joins a combined Arista/J Records roster of critically-acclaimed and multi- platinum selling artists such as Maroon 5, Alicia Keys, Pearl Jam, Fantasia and Jamie Foxx.


"I feel ultra blessed to be with Clive Davis and the Arista Records familia," states Baby Bash. "I look forward to Arista elevating me to a higher level. This business is crazy and it feels good to have people on my team who see and understand my vision," Bash concludes.


Baby Bash started his musical career in Vallejo, CA where he was a member of Potna Deuce and the seminal rap group Latino Velvet back in the mid-'90s. Bash's career was placed on an upswing when he went to Houston to work with SPM (aka the South Park Mexican). Their successful collaboration catapulted Bash into one of the area's biggest rap star and prompted him to relocate to Texas, where his popularity grew exponentially. In 2003, he inked a deal with Universal Records and released two albums, the gold-selling The Smoking Nephew and Super Saucy, which spawned the #1 hit singles "Suga Suga," and "Baby I'm Back." As a songwriter Baby Bash has penned smash records for artists like Frankie J's "Obsession" and Arista label mate Paula DeAnda's current hit "Doing Too Much." Baby Bash is currently featured on the remix of Mario Vazquez's "Gallery."


Baby Bash is managed by Ed Ocanas/EDO Entertainment, LLC and legally represented by Dina LaPolt, Esq./LaPolt Law, P.C.


Source: Arista Records

Shakira's Oral Fixation Tour Is 'Most Requested Event' of Third Quarter 2006

Chicago Bears Football and The Cheetah Girls Rank 2nd and 3rd on Ticketmaster Chart

Shakira's Oral Fixation national concert tour was the "most requested event" during the third quarter of 2006 according to Ticketmaster, the world's leading ticketing company. Following closely behind on the chart ranked by online page views, information requests, and ticket sales from July 1 through Sept. 30, 2006 were the Chicago Bears NFL home games, and The Cheetah Girls, whose national concert tour is the current teen sensation.


"It is great to see such a diverse list of performers among the most requested events this year," said Ticketmaster's President, Sean Moriarty. "From Shakira to the Chicago Bears to the Red Hot Chili Peppers and Jimmy Buffet, fans have had an incredible lineup to choose from, which speaks to a healthy and vibrant market for live entertainment."


  Following are the Most Requested Events for third quarter of 2006:            |--------|-------------------------------------------|         |        |           MOST REQUESTED EVENTS           |         |  RANK  |   Third Quarter 2006 (7/1/06 - 9/30/06)   |         |--------|-------------------------------------------|         |   1    |   SHAKIRA                                 |         |--------|-------------------------------------------|         |   2    |   CHICAGO BEARS                           |         |--------|-------------------------------------------|         |   3    |   THE CHEETAH GIRLS                       |         |--------|-------------------------------------------|         |   4    |   NEW ENGLAND PATRIOTS                    |         |--------|-------------------------------------------|         |   5    |   DAVE MATTHEWS BAND                      |         |--------|-------------------------------------------|         |   6    |   RED HOT CHILI PEPPERS                   |         |--------|-------------------------------------------|         |   7    |   POP-TARTS PRESENTS AMERICAN IDOLS LIVE  |         |--------|-------------------------------------------|         |   8    |   JIMMY BUFFETT                           |         |--------|-------------------------------------------|         |   9    |   WICKED                                  |         |--------|-------------------------------------------|         |  10    |   ROLLING STONES                          |         |--------|-------------------------------------------|     

Ticketmaster's ranking of the nation's most requested events is based on online page views, information requests, and ticket sales through Ticketmaster sales channels during the third quarter of 2006 (7/1/06 - 9/30/06).


Source: Ticketmaster

Time Warner Cable Announces New Channel Line-Up, Digital Packaging and Pricing in Los Angeles

Just 60 days after the integration of Southern California's Adelphia and Comcast operations, Time Warner Cable, a subsidiary of Time Warner Inc. (NYSE:TWX) , announces a series of product and customer service improvements to its acquired systems. Starting next month, Time Warner Cable Los Angeles Region will roll out a regionwide standardized digital channel line-up, new genre-based programming blocks, additional high-definition channels and ethnic-language networks, 100% digital picture and sound, the launch of new High-Speed Online packages, the start of email domain name changes, and the beginning of Digital Phone launches.


To assist customers during this major transition, Time Warner Cable has launched a comprehensive customer communication campaign consisting of television, radio, outdoor and print advertising. Customers also will receive direct mail, bill inserts and email messages to ensure each customer is aware of the myriad changes.


"Today's announcement is a first step in Time Warner Cable's commitment to offer consumers the best in cable products and services," said Roger Keating, Executive Vice President, Time Warner Cable. "We know from customer feedback and proven successes in other parts of the county that customers want more quality programming that's value driven and rich with choice. These enhancements are designed to address these customer needs."


  Specifically, customers can look forward to the following changes:    *  Digital Channel Line-Up Changes:  Once this enhancement is made,      customers can enjoy programming on the same digital channel no matter      what part of the city they live in.    *  Genre-Based Programming Blocks:  Channels will be grouped in easy-to-      understand categories such as "kids," "sports," "movies" and "HD" (to      minimize on channel surfing).    *  100% Digital Picture and Sound:  All channels will now be available      with digital quality picture and sound including basic channels.    *  MORE HD, Digital, and Ethnic Language Networks:  The new line-up      includes 20 HD channels, a dozen new Spanish-language channels, three      additional Asian-language channels and three networks that cater to the      African American community.    *  New High-Speed Online Packages:  To give customers more choice in their      broadband services, Time Warner Cable is launching three tiers of Road      Runner service -- Basic for $34.95 a month, Standard for $44.95 a month      and Extreme for $54.95 a month.  (Extreme will be launching at end of      the first quarter of 2007.)    *  Domain Name Transition:  Beginning October 20, former Adelphia.net and      Comcast.net customers will migrate to the Time Warner Cable Road Runner      platform.  To ease the transition, emails will be forwarded      automatically for a one year and customers can keep their prefixes.      Domain will change to janesmith@roadrunner.com for previous Adelphia      customers and janesmith@ca.rr.com for former Comcast customers.    *  Digital Phone Launch:  In mid-December, the newly acquired areas of      Time Warner Cable will begin seeing launches of its new digital phone      packages -- bringing customers access to maximum savings through Time      Warner Cable's bundling offers.  

Changes will begin community by community starting October 19, 2006. Customers can go to www.timewarnercable.com/welcome or call 888-twcable for more information.


About Time Warner Cable


Time Warner Cable owns and manages cable systems serving 14.4 million subscribers in 33 states. Passing approximately 28 million homes, Time Warner Cable includes some of the most technologically advanced and best-clustered cable systems in the country, with nearly 85 percent of the Company's customers located in five geographic regions: New York, Texas, Ohio, the Carolinas and southern California. Leveraging its leadership in innovation and quality customer care, Time Warner Cable delivers advanced products and services such as video on demand, high definition television, digital video recorders, high-speed data and Digital Phone. Time Warner Cable is a subsidiary of Time Warner Inc. (NYSE:TWX) .


Source: Time Warner Cable

Bodog Music Artist Nazanin to Speak at Amnesty International Event and Debate at Cambridge University

Iranian-born human rights activist, Bodog Music recording artist and former Miss World Canada Nazanin Afshin-Jam has been invited to participate in two prestigious events. On October 8 at Potsdamer Platz in Berlin, she will be the main speaker for Amnesty International's "World Day Against Death Penalty," which will focus on barring executions of child offenders in Iran.


Says Nazanin: "We will put up eight gallows, each with the names and ages of the eight juveniles who were executed in Iran last year. We will hang postcards addressed to the head of Judiciary, highlighting the case of minors currently in imminent execution. During my speech I will ask the public to cut down the hanging postcards with scissors, thus symbolically cutting them from the noose and gallows."


Nazanin will talk about a 17-year-old girl who shares her first name and who has been sentenced to death for defending herself and her niece from rape by three men. Nazanin's campaign collected more than 200,000 signatures online, which garnered major media attention and support from the UN, EU, Canadian parliament and many human rights organizations, including Amnesty International. To support the "Save Nazanin Campaign" go to www.helpnazanin.com.


On October 5, Cambridge University, England, is again honoring Nazanin with her second invitation to debate at the legendary Cambridge Union for the first debate of the year. Historically, the Cambridge Union has been host to international celebrities and political leaders, such as Hans Blix, Michael Moore, Ronald Reagan, Helmut Kohl, Nelson Mandela, Archbishop Desmond Tutu, Queen Noor and King Hussein of Jordan, and the Dalai Lama, to name a few.


Nazanin is a recording artist for Bodog Music who resides in Vancouver, Canada. Her first single "Someday" from her debut album to be released in early 2007 is a story of her family's experience escaping Iran during the revolution. Nazanin says: "It is written and performed in such a way so that people can relate to those who have experienced great loss or upheaval in their lives, hopefully it will motivate others to reach out to those in need and less fortunate than ourselves. My family and I were extremely lucky to have eventually settled in a country like Canada that allowed us the opportunity to live in freedom and rebuild our lives. But no matter how young I was when we fled Iran the emotional scars still remain with my family, we are still attached."


For further information please contact: publicity@bodogmusic.com.


About Bodog Music


BodogMusic.com is a division of the international digital entertainment giant Bodog.com. With six offices worldwide, the label features a diverse and growing roster of talented musicians. Bodog Music is searching for the top unsigned band in America with "Bodog Battle of the Bands," which is taking place in 17 major markets and features more than 300 live shows. Bodog Music Founder Calvin Ayre, who is recognized as a world authority on branding in the digital entertainment industry, was featured on the cover of Forbes magazine's best-selling "Billionaires" issue in March 2006. The Bodog Entertainment Group also includes a television production unit, an online magazine, Bodog Nation, and further properties coming soon. For more information, contact publicity@bodogmusic.com. BODOG is a registered trademark of Bodog Entertainment Group S.A.


         Web site: http://BodogMusic.com               http://www.helpnazanin.com